|
Daily Newspaper and Travel Guide
for Pecos Country of West Texas
Opinion
Tuesday, July 10, 2001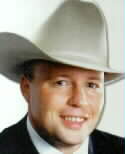 Sage
Views
By Smokey Briggs
<!=====paste copy here==========================>
Maybe we are too insulated
We do not run the air conditioner much at home. We really cannot afford to, or at least we choose not to afford to.
Sometimes we give in. On a really miserable night, when the front porch thermometer reads 91 degrees at midnight, I've been known to get up and turn on the refrigerated air.
"About time you cheapskate," she-who-must-be-obeyed mutters from her side of the bed on my return as though I am the ogre of the a/c and she but the meek princess trapped in the ogre's sweltering lair.
The truth of the matter is that she is even cheaper than I am. I do not think she can enjoy the cool refrigerated breeze unless somebody else turns it on.
So most of the time we run the swamp cooler.
Honestly, we still have a healthy appreciation for the swamp cooler. We lived in Lubbock for a year before we decided to afford one. But we had fans and our little house was built in the 40s when houses were designed to take advantage of a little breeze.
With just a ceiling fan we lived better than most of the world. I was pretty proud of our rebuilt cooler that first August night as we lay in bed and cool moist air blasted over our bodies.
A week or two ago, after a week of 100-plus high temperatures and lows hovering around 90 a cool front blew through Pecos.
The cool air woke me early in the morning and it felt good with a capital "G". I stepped outside to see if any weather was coming with the cool front but the sky was clear and bright.
I stood there for a while in my pajamas, just enjoying the cool breeze and the stars.
It dawned on me as I stood there that it had been a long time since I had really appreciated something as simple as a cool breath of air.
That morning I was especially happy to be alive just because of the temperature.
I probably would not have noticed the change if the air conditioner had been blowing.
I think we cheat ourselves out of a lot of small pleasures these days with modern technology.
Climate controlled houses and cars prevent us from really being thankful and enjoying the passing of summer and winter.
In general we shield ourselves from the world with technology more and more everyday.
Technology is not all bad. I am not ready to give up toilet paper and fire and live in the woods.
But at some point we may be cheating ourselves out of the little pleasures that really are the good parts of life.
God did not put us here to be comfortable all the time. He did send us a cool breeze every now and then.
It is a shame when we are so insulated from the world that we do not notice.
EDITOR'S NOTE: Smokey Briggs is the editor and publisher of the Pecos Enterprise whose column appears on Tuesdays. He can be e-mailed at: smokey@pecos.net
Our View
It takes a lot of work but it's worth it
Well, it's over.
Golden Girl. Rodeo. Night in Old Pecos. Little Miss Cantaloupe. Fourth of July. Fourth of July Parade. Rodeo Dances. The Melodrama.
There are not many groups or organizations in Pecos that do not contribute to these events in one way or another. It takes a tremendous amount of work to put on any one of these events on.
Stacking them all together like we do in one furious week triples the strain.
If you see a member of the Rodeo Committee, the Women's Division of the Chamber, the Chamber of Commerce, the Lions, the Sheriff's Posse, etc..., give them a pat on the back. They earned it.
Every year, you hear the same lament — most of Pecos does not participate, or certainly is not willing to help out and the same tired group of work horses carries the burden to make sure that there will be another rodeo, another Golden Girl, another....
This year, if you are not already involved with a civic group or one of these sponsoring organizations, take a minute and see if you have time to help a little.
And if you are already involved, invite someone who is not to join in.
Being involved with your community is one of the things that makes life in a small town special.
It also makes sure that small town life continues being special.
Your View
PBT-ISD band director proud of students
Dear Editor:
I would like to thank the band members that marched in the rodeo parade July the fourth and let the community know so they could thank them also. These students gave up some of their summer to walk two miles with a heavy instrument in the heat and all they received was a school bus ride for their efforts. They did this to help and support their community, which is sort of a refreshing attitude in our cynical age. I want them to know that I was proud of their efforts and impressed with their performance on short notice and little rehearsal. I want to also thank Mr. Dutchover for helping me with transportation Wednesday morning.
MERLE E. LENFEST
Director of Bands PBT—ISD
Businessman, employees unhappy with policy change
Dear Editor:
What happened to our open door policy at City Hall?
The City Manager claims it is for security reasons. I was not aware that we had security problems at City Hall, unless not wanting to be bothered by the people that pay his wages is a security problem. If the police have had to remove anyone from City Hall for security reasons, I have not heard about it.
From what I hear, we have a lot of unhappy city employees because of this policy change. I am a businessman and need access to our electrical inspectors office sometimes several times a week and like most business people who need access to our city officials, time to me is money so waiting to be buzzed and can cost me money, and my time is just as important as the City Managers. I think he needs to understand this is not El Paso, this is Pecos. All the time I have lived here we have had an open door policy and I for one do not like the change.
RS SMITH
Smith Electrical Service
Veterans need to be recognized for serving their country
Dear Editor:
I strongly disagree with your article "The Army of One, AKA The Army of The Self-Centered Whiners," published on July 3, 2001. Apparently, you have no respect for the American people. You sound like a whiner yourself. If you don't like the ads do something about it, put your network contacts to change the ads.

You stated that "women have no more business in the military than prairie dogs do." I resent your derogatory remarks; you are nothing but a male chauvinist-redneck, who discriminates against women with the old attitude "women belong at home."

I am going to give you a short history lesson, because you failed to research your information concerning women in the military. The WACs began as the Women's Army Auxiliary Corps (WAAC) on May 14, 1942. On August 1943 the name was officially changed to the Women's Army Corp, when the WAC's became a part of the U.S. Army. Congress made the WAC a permanent part of the active and reserve Army in 1948. The waves, WAFS, and Women Marines were never auxiliaries at anytime. The enlistment requirements for women in the military were more strict than the regular G.I. Joe's that were drafted. Women volunteered to serve their country during war and peace; performing defense duties both in the U.S. and overseas. Basic training is the same as the men's—the performance of their job duties have to be above and beyond the ordinary soldier. Respect has to be earned! You sound like a female Marine out did you; that's why you have a negative attitude.

If it had not been for the American women who enlisted in the Armed Forces and those who joined the work force to perform all the jobs that men normally did since WWII thru the present, this great nation would not exist and we would be ruled by Russia, China, Germany, or Japan.

If you are planning to start buying flags from other countries, then you must be anti-American.

I am proud to have served in the WACs from June 1958 to December 1960. I served one year in the U.S. and 18 months in Japan with special assignment to Seoul, Korea, as a communications specialist. We were trained to defend our country just like any Army soldier if we had to; by the way rifles not guns are issued to military personnel unless you are a military police officer that carries a sidearm (gun).

Anyway, all veterans male and female alike need to be recognized for their unselfishness in serving their country, "The United States of America: in order to preserve all our freedoms including your bad attitude. We must also honor those who are still in the military. Our country has had women soldiers die in the line of duty.

The only thing I agree with you is with the Army's idea of issuing black berets to everyone. The black beret was a symbol that was earned by only the elite units.

Thank you,
DORA T. PINEDA

<!==========end copy==================>
---
---
Pecos Enterprise
York M. "Smokey" Briggs, Publisher
Division of Buckner News Alliance, Inc.
324 S. Cedar St., Pecos, TX 79772
Phone 915-445-5475, FAX 915-445-4321
e-mail news@pecos.net
Associated Press text, photo, graphic, audio and/or video material shall not be published, broadcast, rewritten for broadcast or publication or redistributed directly or indirectly in any medium.
We support Newspapers in Education
Copyright 2000 by Pecos Enterprise
---