|
Daily Newspaper and Travel Guide
for Pecos Country of West Texas
Opinion
Tuesday, July 03, 2001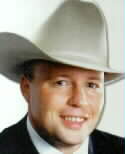 Sage
Views
By Smokey Briggs
<!=====paste copy here==========================>
The Army of One, AKA, the
army of the self-centered whiners
"Be all you can be." "We're looking for a few good men." "Join the Navy, see the world." "Aim high. Air Force." If you lived during the last few decades you remember these recruiting slogans.

Today we have, "An Army of One."

Are they kidding?

Unfortunately, I think they jest not.

Welcome to our brave new world and the brave new United States Army _ new, improved, feminized and devoid of those culturally unacceptable and chauvinist ideas like teamwork, courage, sacrifice, honor, and duty.

All jesting aside, the underlying theme communicated by "An Army of One," is enough to give a person the shivers.

I suppose some public relations firm in deepest, darkest New York dreamed this gumball up, and a committee of over-political generals with more thought to their career than the good of their service accepted it as an appropriate way to attract America's youth to do its patriotic duty.

It is frightening to think that kids coming out of high school these days are generally such self-centered twits that this slogan might actually appeal to them.

It is more frightening to think that some young men might actually be attracted to the Army who otherwise would not have joined.

Yes, I intentionally omitted women in the last sentence. Women have no more business in the military than prairie dogs do except as auxiliaries as were used in World War II such as the WACs, WAVES, WAFs and Women Marines.

It is most frightening to think that the top army brass is facing such problems with recruitment that it would stoop to such a whining appeal to the would-be self-absorbed.

Between this and the latest attempt to bolster morale in the Army by issuing black berets formerly reserved for elite units to every truck driver and typewriter technician, the Army is quickly proving that the current feminine approach to warrior training has a few serious drawbacks.

The biggest one is that you do not create the necessary mentality needed in battle with the current "I'm okay, you're okay, we're all okay," politically correct and decidedly feminine approach to training soldiers. Issuing black berets to everybody and their dog will not fix the problem.

At the same time you do not create the kind of image that entices red-blooded young men to volunteer for long hours of boredom punctuated with moments of pure terror.

The rest of the "Army of One" television commercial boasts that there are 200-plus jobs in the army _ "find out which one is right for you."

It sounds like a recruiting ad at a job fair for computer geeks.

What ever happened to, "Soldiers kill the enemy with knives, guns and flamethrowers. Unfortunately, some of us have to drive trucks and keep the paperwork straight, but at heart, we are all soldiers trained to kill and stand ready when called. You do your duty, even if it is not glorious, because your country needs you."

That was the gist of the speech my drill instructor gave at the end of boot camp when he started handing out orders to training schools to the poor guys who got detailed to something other than the infantry. Of course, that was the Marine Corps.

I have it on good authority, however, that the Army used to teach the same kind of thinking. Those were the old days, I guess.

I cannot wait to see the next example of our brave new military's recruiting slogans.

The Marines can move on to "We're looking for a few okay people of random sexual preference with a lukewarm desire to be socially correct."

The Army's next slogan might be, "We're sorry if we have ever offended anyone. Being a soldier is all about loving each other for whatever we are. So be all that you feel like being today as long as you do it without acting like a man because that might offend someone."

The Air Force can go with, "Aiming is a lot to ask and Aim High sounds pretty elitist. Your new Air Force is all about making each other feel good so just do what feels good."

The Navy will do well with, "500 girls and guys on a boat. How much fun can you stand?"

Personally, I am going to start buying flags from China, Russia and any other country that still trains men to be warriors rather than self-centered socialites well-schooled in the politically correct.

That way I'll have something to wave when the victors are marching down the street after the next real war.

EDITOR'S NOTE: Smokey Briggs is the editor and publisher of the Pecos Enterprise whose column appears on Tuesdays. He can be e-mailed at: smokey@pecos.net
Our View
The BATFF (no that's not a mistake)
The Bureau of Alcohol, Tobacco and Firearms (BATF) may be getting a new set of duties in the near future and America will be better off for it.

The BATF is the elite group of federal agents charged with making sure folks pay their taxes on evil goodies _ basically a branch of the Internal Revenue Service.

According to a recent study by the RAND Institute obese adults have more health problems than smokers and heavy drinkers.

Using the logic that has been used to justify heavy sin taxes on cigarettes and alcohol (public safety) our forward thinking leaders in Washington will no doubt protect us from this new found danger by imposing heavy taxes on deadly, obesity-causing substances _ namely fat.

And where there are heavy taxes, there is sure to be a black market and a need for federal tax enforcement.

So the BATF will need to add fats (saturated and non-saturated) to the list of dangerous items it must regulate and collect taxes for and, of course, the name will change to the Bureau of Alcohol, Tobacco, Firearms and Fats, or BATFF for short.

Registration of all beef cattle stocks will be necessary. Permits will be required with each calf.

Possession of unregistered beef products will be a felony.

It will be good business for headline writers though.

"Cow cops discover contraband burger stash," and "Weenie police bust hotdog felons," will be fun to write.

We can hardly wait.
Your View
Colleague deserves better treatment
Dear Editor:
A few details may clarify the dispute at last Thursday's school board meeting. The discussion was about a person who had taught PE for four years at Austin Elementary and was reassigned last year to teach high school English. He has a minor in English but informed me that he had expressed his preference to remain at Austin, a job that he loved and had performed admirably. However, all personnel are subject to reassignment, and he came to high school where he worked extremely hard all year preparing for his new classes, grading papers, and coaching. At the end of the year, he informed me that if he had to continue to teach English that he wanted to pursue his studies and to devote all his time to teaching _ he is a person who is intent on doing the best job possible for his students. According to item 19 of the dual assignment one-year term contract for a certified classroom teacher, if one coaches, he/she must resign the teaching/coaching position and reapply for a teaching only job. My colleague resigned and his job at the high school was filled by a person who had been teaching PE at Austin Elementary. My co-worker told me that he was led to believe that he could then apply for the Austin position - one for which he is eminently qualified and experienced. Since this was the position that he had always desired, he said that he made it clear that he was more than willing to pick up the dual coaching duties. However, a person new to the district was recommended to fill that position at Austin; my colleague was never interviewed for it. Instead, he was offered a different assignment in the high school English department.

Mr. Flores is quoted in the paper as asking, "Is this the message we want to send out, that we allow people to quit and then pick up another job if that's what they want?" My response to that is twofold. First, obviously if one holds a teaching/coaching position and after several years wants to devote oneself to the classroom, it is not a "message," it is a board requirement. Second, according to local board policy (DC LOCAL), "Current District employees are eligible to apply for any vacancy"; the privilege is reiterated in local board policy (DK LOCAL) that states, "any employee may request reassignment to another position for which he or she is qualified within the District."

My colleague graduated from Pecos High School, has taught in this district for sixteen years, is an excellent role model, and has a home and family here. I am not questioning the qualifications of the person recommended for the position; I am questioning the treatment of a respected member of the community. After all, a school district's reputation derives partly from the way that it treats its employees. If we really do want to do what is "best for our kids," we will make a real effort to keep the good teachers that we have in the positions in which they are the most effective, although I realize that hiring new teachers with no experience is much less expensive. Lastly, I want to thank those school board members at Thursday's meeting who strove to be fair-minded and to act in the best interest of the students.

Sincerely,
PRISS McNUTT <!==========end copy==================>
---
---
Pecos Enterprise
York M. "Smokey" Briggs, Publisher
Division of Buckner News Alliance, Inc.
324 S. Cedar St., Pecos, TX 79772
Phone 915-445-5475, FAX 915-445-4321
e-mail news@pecos.net
Associated Press text, photo, graphic, audio and/or video material shall not be published, broadcast, rewritten for broadcast or publication or redistributed directly or indirectly in any medium.
We support Newspapers in Education
Copyright 2000 by Pecos Enterprise
---