|
Daily Newspaper and Travel Guide
for Pecos Country of West Texas
Opinion
Tuesday, May 22, 2001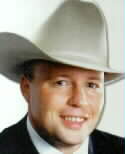 Sage
Views
By Smokey Briggs
<!=====paste copy here==========================>
Least we forget…
Memorial day officially began as a holiday in 1868. President James Garfield presided over a ceremony at Arlington Cemetery that year honoring those who died during the Civil War. The holiday was called "Decoration Day" at the time.
Although the exact origin of the holiday is disputed, it is generally accepted that it began with Southern women decorating the graves of dead Confederate soldiers with flowers.
One of the first "Confederate Decoration Days" was celebrated in the spring of 1866 in Columbus, Georgia.
In 1868 General John A. Logan, commander of the Grand Army of the Republic that was occupying the defeated Confederate states, ordered that May 30 th be set aside to honor the dead of the Civil War.
Over the years the name has changed to "Memorial Day," and all of America's dead heroes are honored.
It is easy to forget why we have a Memorial Day.
Taking a day off from work makes us feel good. It's the beginning of summer. Lake waters are warm and the fish are biting. It's the first break most of us have had since Christmas. A three-day weekend sounds good.
All those feelings run contrary to the somber fact that we're taking the day off to honor those who died so that we might live free and enjoy a weekend at the lake.
Death and celebration are not natural companions.
The combination of the two makes for an uncomfortable feeling.
Being human, it is natural that we might ignore the uncomfortable, somber side of this holiday and concentrate on the festive.
But sometime in between the hotdogs, water skiing, and stockcar racing, we need to take a moment and remember in our hearts all those who made the ultimate sacrifice for us.
On most of the inhabited continents on this earth there are huge fields of white crosses that stretch as far as the eye can see.
They stretch for miles across the countryside of Europe, on little islands in the Pacific Ocean, across our homeland, in Asia, and in Australia.
Each cross marks the final resting place of a man who answered his country's call and paid the ultimate price. A man who never saw another Memorial Day, never went on another picnic, and never came home to his family.
If these men had not answered that call, we would not enjoy the freedom and prosperity that we do today.
So sometime this weekend, as you go about your affairs, take a minute and remember these fallen countrymen. Remember the sacrifice they made, and celebrate the freedom they died for.
EDITOR'S NOTE: Smokey Briggs is the editor and publisher of the Pecos Enterprise whose column appears on Tuesdays. He can be e-mailed at: smokey@pecos.net
Our View
Small town America at its best
Pecos residents raised more than $14,000 for The American Cancer Society last weekend during the Relay for Life.
More than 280 people walked around the high school track for at least 30 minutes. Most walked for much longer. Local businesses and organizations formed teams and kept at least one member of the team on the track for 16 straight hours.
An event like this takes a lot of organization and a lot of effort to be successful. This year's Relay for Life was definitely a success. The relay committee of Tracy Shaw, Sherry Marshall, Terri Spence, Brent Shaw, Cindy Velez and Maxine Wickson deserve a pat on the back.
So does everyone else _ the businesses and organizations that got involved and all the folks doing the walking.
Anybody that peeked in on the nightlong festivities will note that almost everyone involved also had a very good time. Children played late into the night and so did most of the adults.
It does the heart good to see Pecos pulling together like that, and having a very good time in the process.
To put it in the words of a Pecos man who had been out at the relay helping the Lions Club cook breakfast, "That cancer walk was small town America at its best."
That pretty much sums it up.
Your View
Citizen concerned for teachers and coaches
Dear Editor:
I have a great concern for our school district and our community. We are on the verge of losing good and qualified teachers and this is a great concern of mine.
I have a son that will graduate on May 25 and he has received an excellent education here in Pecos.
"But", if some changes are not made and made soon we will lose teachers, and I fear that we will not be able to attract new teachers. Just recently I spoke with a young lady about coming to Pecos and teaching. She then attended Texas A&M and will graduate this May with a teaching certificate. I talked to her on several occasions about coming home and teaching and each time her concern was the pay that a starting teacher receives here in Pecos. I'm not saying that we can raise our educators to the same pay level as other school districts, but we must be able to compete to keep the teachers we have and be able to attract "good" teachers for the future. There has to be a starting point in getting "all" our school employees up to standard with other districts within our area.
Hopefully, the new school board can start working on a plan to keep our employees and be able to attract new employees.
If you have not met our teachers and coaches that teach and coach your children, you need to meet these people. All the teachers and coaches are very caring people and want to educate our children and I do not want to lose any of these educators.
Sincerely,
PAUL S. DEISHLER


Parents want children to be successful in life
Dear Editor:
I wholeheartedly agree with your statement that social promotion would be detrimental to the "graduate" who thought he was a graduate. What I would like to know is where do these social promotion-ist think these children are going to find work when they cannot even read a job application? How will these children know what they are going to get paid IF they get the job when they cannot add or multiply? Forget the social impact and think of their future in the work place!
Do we really want our children to be socially accepted but illiterate or do we want them to acheive things beyond our successes? Isn't that what every parents' dream is for their children? I know it is mine and was my parents' dream for me. I have known several people who were held back in school who have gone on to graduate and even attend college!
When the child is held back is the problem. If they are pushed from grade to grade without being evaluated on their comprehension in elementary where the basics for all grades beyond fifth are established then it is detrimental to their psyche when they are held back in junior high or high school.
The lower grades, I feel, is where the child should be held back if it is deemed necessary.
There should be an evaluation more than just once a year with a STATE test but also with tests that the teachers and/or principles create to see if their students are grasping the lessons! My teachers in elementary had tests for everything to see how well you as an individual were comprehending the subject then if they saw a problem they alerted the parents so that there could be solutions discussed.
I do realize as a parent myself, that most parents now days do not care; they just want the teachers to do it for them! My thought on that subject is for another letter! I've often wondered what would happen if we gave back the powers to the teachers that we have taken away and allowed them to do the job that they were trained to do? I didn't turn out so bad with "the old school of teaching"!
Sincerely,
MACHELLE TAYLOR
Guest Column
We don't care what McVeigh thinks. He needs to die. Quietly.
Take a letter, please, Miss W. This is to Smokey Briggs. He's the high mucky mucky down there at the Pecos Enterprise. Head it…

Yo, Smokey,

Let me tell you something, boy. I started covering school board meetings when you were still in diapers. Hell, you might not even have been born. I have been out of the day-to-day news biz for some time now, just an old has-been no one wants.

Do you need an Executive Editor? That's a guy with gray hair who walks around and waits for people to defer to him. But that's not what I am writing about.

Here's the deal, Smokey. I am out of the loop. I need help. There are things going on in the news business totally puzzling to me. Like this Timothy McVeigh story.

I mean, what's the deal? Diane Sawyer literally gushes over the hideous creep loser. Just wait, she breathes heavily, until you hear what Tim McVeigh has to say about such and such. Hey, Diane, Peter, Wolf, Tom, Dan…we don't CARE what this sicko has to say about ANYTHING!

Smokey, I swear this is true. Just after the FBI screw-up with the missing evidence, CNN was showing a bunch of reporters who were shouting questions at one of McVeigh's lawyers. "Have you asked Tim about his reaction to this?" one of the newsmen queried.

Tim? TIM!??! What, we are on a first-name basis with this puke? I would suggest the words "Timothy McVeigh" would be more appropriate than the friendly "Tim." Or, come to think of it, "deranged baby killer" might do the job.

I read in the newspaper the TV networks are drawing straws to see who gets to witness the execution. Why? We want perhaps to preserve for history this guy's final remarks? Who is he, Abe Lincoln? Don't give him the attention. You're playing right into his hands. He loves it!

Here's how they should do the execution. Two guys. One pulls the lever. The second walks out and signs an affidavit that says, "He's dead. I saw it." And we all go on with our lives.

Actually, I am morally opposed to the death penalty. But, somehow, I have made an exception for McVeigh. It is a dilemma. I am trying to work it out with my Executive Editor in the sky.

I don't know, Smokey. Maybe it is too late for me. I just don't get it anymore. Maybe you ought to let me come down there, give me a notepad and pencil, and let me hang out with Jon Fulbright and Rosie Flores. Maybe they can teach me a thing or two. I could cover city hall, or the cop shop or something.

Or, hey, Smokey, here's a good idea. Do you possibly have any need for an Executive Editor? I sure got the gray hair for it.

That's it, Miss W. Just sign it….

Always available,
NED CANTWELL

<!==========end copy==================>
---
---
Pecos Enterprise
York M. "Smokey" Briggs, Publisher
Division of Buckner News Alliance, Inc.
324 S. Cedar St., Pecos, TX 79772
Phone 915-445-5475, FAX 915-445-4321
e-mail news@pecos.net
Associated Press text, photo, graphic, audio and/or video material shall not be published, broadcast, rewritten for broadcast or publication or redistributed directly or indirectly in any medium.
We support Newspapers in Education
Copyright 2000 by Pecos Enterprise
---