|
Daily Newspaper and Travel Guide
for Pecos Country of West Texas
Opinion
Tuesday, May 15, 2001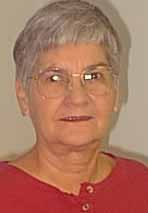 Squarely
Pegged
By Peggy McCracken
<!=====paste copy here==========================>
Hall of Fame top rodeo event
I have been reading about the Texas Rodeo Hall of Fame Museum for years, and am wondering why it is taking so long to make it a reality. Red tape, I guess.
My interest in the hall of fame is made keener by my visit to the National Rodeo Cowboy Hall of Fame in Oklahoma City some years ago. My grandkids were old enough to enjoy looking at the exhibits but still young enough to think going places with Grandma was the cats meow.
After driving up I-35 from Dallas with Amanda and Jason, we plowed on through the big city of OK and headed out a road labeled "Wichita." Too late I realized the sign was for Wichita, Kansas instead of Wichita Falls, Texas, where I wanted to go. That's because the hall of fame is located on U.S. Highway 144, which skirts Oklahoma City on the north and west.
As soon as I found a place where I could make a U-turn, I headed back west and before long found the entrance to the rodeo hall of fame. Scanning the parking lot for my daughter's car, I pulled into a slot near the front portico where we were to meet. Grandson Scott was to join me and his cousins for the return trip to Pecos via Quitaque, where we would visit their great grand parents.
Back to the hall of fame. The porch along the front of that massive building is a welcome respite from the hot summer sun, and we enjoyed watching the fish in the adjoining pond. But it was the interior that knocked my socks off.
Clothing and tack once used by world famous rodeo champions were showcased in huge glassed-in mini rooms along the walls. I recognized the names of bull riders, ropers, bronc riders and `doggers who had performed at the West of the Pecos Rodeo in past years. I don't recall seeing a stuffed horse in any of the displays, but it wouldn't have surprised me.
Displays for less famous performers had more modest accommodations. Some just a photograph in a revolving album. That's where my bronc-bustin' Daddy and his nemesis "Red Hoy" shared the spotlight for a time.
"Red Hoy" was a horse that was famous for unloading anybody dumb enough to climb in his saddle. It was said nobody could ride him, but Daddy had to try everytime the traveling rodeo came to Flomot. He often quoted a cowboy sage: "There ain't never been a horse that couldn't be rode, and ain't never been a cowboy that couldn't be throwed."
Daddy did ride "Red Hoy" to a standstill, and the snapshot in the National Rodeo Cowboy Hall of Fame showed the bronc high in the air, with Daddy still in the saddle, digging in his spurs to keep the show interesting.
I haven't talked to any of the local hall of fame organizers, but several questions have come to mind. Who decides what cowboys will be honored? What criteria will they use to select the honorees? How will they gather materials for the exhibits? Will the honorees have a say in what will be exhibited and how it will be displayed? Who is going to pay for all this? How much will it cost to view the exhibits? Will cowboys be invited to hold autograph sessions in the museum during rodeo week?
This is a big deal for Pecos. I hope someone is asking and answering those same questions and many more.
"It is a trap for a man to dedicate something rashly and only later to consider his vows." Proverbs 20:25, NIV
EDITOR'S NOTE: Peggy McCracken is Enterprise business manager. Her email address is peg2@pecos.net.
Our View
Social promotion ban is a good thing
Social promotion is wrong.

Next year a new and supposedly more rigorous Texas Assessment of Academic Skills (TASS) test will become part of the Texas Public Schools' curriculum.

At the same time a ban on social promotion will go into effect. Social promotion is when children are allowed to progress to the next grade even though they are not ready.

Last week a measure passed the Texas House that will postpone the ban on social promotion for a year. A majority of state representatives supposedly believe that this needs to be studied for a while longer.

What they really believe is that a lot of their constituents' children will fail the new test and get held back a year and that their stupid constituents will blame them and take their anger out on them in the voting booth.

Unfortunately, they are probably right.

Now it will go to the Senate.

Hopefully it will die there.

There can be no justification for social promotion.

Proponents of social promotion wring their hands over the damage caused to a child's self-esteem when he is told, "you failed Junior, you will repeat the 3rd grade next year."

Their solution is to simply pass Junior to the next grade and hope he catches up.

This will not work. It never has, and it never will.

First, Junior will know he failed, even if he does not get the opportunity to repeat the grade. Deep in his human heart he will know. So we have not avoided that. He will brand himself a failure if he is not given a chance to prove otherwise.

Second, even if the social promotion did avoid this feeling of failure, it is a temporary fix. Some day, Junior will graduate. He will have been told he is a high school graduate and he might even believe it.

And then he will get a job, or go to college. In the real world there is no social promotion for those who cannot perform. Then, he will fail and it will be brutal.

Junior and society will be a lot better off if he deals with failure in the third grade when something can be done about it, rather than at 19 as a freshman in college.

<!==========end copy==================>
---
---
Pecos Enterprise
York M. "Smokey" Briggs, Publisher
Division of Buckner News Alliance, Inc.
324 S. Cedar St., Pecos, TX 79772
Phone 915-445-5475, FAX 915-445-4321
e-mail news@pecos.net
Associated Press text, photo, graphic, audio and/or video material shall not be published, broadcast, rewritten for broadcast or publication or redistributed directly or indirectly in any medium.
We support Newspapers in Education
Copyright 2000 by Pecos Enterprise
---