|
Daily Newspaper and Travel Guide
for Pecos Country of West Texas
Opinion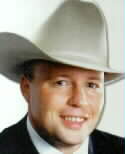 Sage
Views
By Smokey Briggs
<!=====paste copy here==========================>
Tuesday, April 10, 2001
Shooting from the hip
President Bush's budget "cut" prompts a few thoughts.
First, the budget cut is not really a cut. The federal budget will grow by four percent this year. It is still growing, just not at the eight percent rate the government enjoyed under the Clinton administration.
Maybe one day we can elect a president and congress capable of really cutting the budget.
Knowing the nature of politicians and voters, the probability is low.
Second, the relative rate of spending was much higher under Clinton when you consider that while he grew government at eight percent per year, he did not spend the necessary money on our military. Instead he coasted on the military procurements of the Reagan/Bush years.
Anyone that owns a car knows that you can save a few bucks in the short-term by putting off minor repairs and maintenance. Most of us also know that you will pay double and triple later on as minor problems turn into big ones.
Clinton did not check under the hood of our military for eight years and we are going to get the bill shortly.
Bush has a tough row to hoe if he is going to reverse eight years of neglect in our fighting forces and cut government spending as well.
***
It is probably just as well that nobody died and made me king.
Or president for that matter.
I would counter China's demand for an apology with an offer — an offer to stomp a mud hole in their country and then stomp it dry if they did not have all our people and every scrap of that airplane back home in 48 hours.
Period.
If the plane did not come home, we would commence to stomping.
There is no other way to deal with a bully like China, whether you are on a third-grade playground or the stage of international affairs.
Like everything in this world, there is a price.
There is a price for doing what is right, and a price for not doing it as well.
If we are not willing to do what is right and pay that price that goes with it, our days are already numbered as a free country.
And one day, we will get to pay the price of appeasing a bully. It is a fair bet the cost will be a lot higher then.
***
I took great joy in reading where an Italian-American group has sued HBO for its stereotypical portrayal of Italians as mobsters in "The Sopranos."
It is offensive to the Italians.
Okay.
I do hope that they are doing it tongue-in-cheek to point out the silliness of many American's long cruise on the good ship Ethnic/Gender Sensitivity.
As we are beginning to see, the destination on this cruise is Port Absurd in the land of the Morons.
Speaking for myself, I will stay on the dock in America where I have the right to offend, as well as be offended, without worry of civil or criminal prosecution.
So far at least.
EDITOR'S NOTE: Smokey Briggs is the editor and publisher of the Pecos Enterprise whose column appears on Tuesdays. He can be e-mailed at: smokey@pecos.net
Our View
DOT spending your money to squash free speech
There is a fellow named Pat Barber who has been fighting our state for the last couple of years over his right to speak freely.
He just won. It is unfortunate that he had to fight at all, and doubly so that he had to go to the Texas Supreme Court before he did.
Barber is an attorney. He also has some pretty strong feelings about the Constitution and likes to spread the word.
Near Colorado City, along Interstate 20, he put up a sign on his own land that read, "Just Say NO to Searches." If you dialed the telephone number on the sign you got a recording telling you to exercise your constitutional right to say no when police ask to search your car.
The Texas Department of Transportation ordered him to remove the sign. Apparently, the sign was not well received by some.
One of the most bothersome aspects to the whole story is that many of those most opposed to the sign were reportedly members of the law enforcement community.
If it true, it is a shame. Texas Peace Officers are sworn to protect the Constitution — not subvert it in the name of making a few more busts.
The U. S. Constitution protects all Americans against unreasonable searches, including peace officers, and for very good reason. The prohibition against unreasonable searches is one of just a few checks written into the Constitution to prevent our country from becoming a police state.
If a peace officer has probable cause he can search your car whether you consent or not. All he has to do is obtain a search warrant. If he does not have probable cause, he cannot search your car unless you give consent.
You do not have to give consent.
And no peace officer should begrudge a fellow American this right.
When we get to the point that the ends justify the means — when we are willing to sacrifice basic rights to accomplish a minor goal, we've lost the war for freedom.
All the drug busts in the world will not fix what is wrong with our country at that point.
Pat Barber deserves a medal for his stand against the petty bureaucrats of the Department of Transportation that would prefer to keep the Constitution safely in the dark, and away from the eyes of the people.
The DOT officials involved ought to be fired, and then forcibly immigrated to China where they would be more comfortable with police search procedures. <!==========end copy==================>
---
---
Pecos Enterprise
York M. "Smokey" Briggs, Publisher
Division of Buckner News Alliance, Inc.
324 S. Cedar St., Pecos, TX 79772
Phone 915-445-5475, FAX 915-445-4321
e-mail news@pecos.net
Associated Press text, photo, graphic, audio and/or video material shall not be published, broadcast, rewritten for broadcast or publication or redistributed directly or indirectly in any medium.
We support Newspapers in Education
Copyright 2000 by Pecos Enterprise
---