|
Daily Newspaper and Travel Guide
for Pecos Country of West Texas
Opinion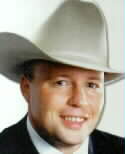 Sage
Views
By Smokey Briggs
<!=====paste copy here==========================>
Tuesday, January 9, 2001
Football isn't what
it used to be
Sports used to be a better training ground for the real Big Show — Life.
I liked football a lot more when the game was a better reflection of life in the real world. When some of the traits that made for a good football player were similar to some of the traits of a good person.
That was back before we changed the rules to emphasize skill over character.
Now I'm not totally stupid. I know skill was always a part of the game. But, I'm convinced that other things had more of a bearing on the outcome in years past.
I watched the Orange Bowl the other day. It was the only football game I watched on television all year.
When it was over, I remembered why I do not watch college or professional sports anymore. As far as I'm concerned, it was simply a contest of physical ability and very little else.
I like physical competition. I liked playing football. I like competing in anything. But physical competition by itself is meaningless.
Physical competition becomes meaningful when it requires those traits of character that make human beings great. Traits that can be summed up as "heart."
Football did not simply change with the times. People did not change. We changed the rules and the new rules have increasingly made skill more important than heart.
The big leap was when free substitution became part of the game. Before free substitution was legalized, you lined 11 men up on either side of the ball and nobody came out unless they were injured or the final whistle blew.
That was football. That was football geared for a general athlete. In that setting, heart had a greater bearing on the final score.
Today, football is geared to the specialty player. This is fine if raw skill and talent make the game interesting for you.
Skill does not do it for me.
I guess that is because skill does not count that much in real life — not compared to heart.
Eventually, no matter how skilled you are, you will run into someone who is more skilled than you. Someone who is a little smarter, or faster, or stronger, or better educated.
When that day comes, the only thing left to fall back on is heart.
And in life, heart can triumph over skill.
It ought to matter more in sports. When the rules shift the emphasis of the game away from heart, everyone loses.
EDITOR'S NOTE: Smokey Briggs is the editor and publisher of the Pecos Enterprise whose column appears on Tuesdays. He can be e-mailed at: smokey@pecos.net
Our View
Don't confirm Chavez, and tighten up the border
President-elect George W. Bush's labor secretary nominee, Linda Chavez, may very well have employed an illegal alien as a domestic worker.
From her statements to the Associated Press it certainly sounds like she did. If so, the Senate should not confirm her nomination.
A person who willingly violated labor laws has no business being secretary of labor.
On the other hand, the Senate Democrats are straining the limits of credibility with their sudden concern over the employment of illegal immigrants.
Considering the Democrats' lax stance on immigration and immigration enforcement over the past decade the sudden outrage does not wash.
Maybe, however, the Democratic Senators' outrage will extend to pushing for beefed up funds for immigration law enforcement.
If their stand on Chavez is anything more than political posturing, it will.
Your View
School board members deserve recognition
Dear Editor:
January is School Board Recognition Month. It affords us the opportunity to show our appreciation to the dedicated men and women who elected to serve on the Pecos-Barstow-Toyah Independent School District Board of Education.

The school board members exemplify local citizen control and decision making in education. They volunteer time and energy to assure that our schools are providing the best education possible for the children of our community. They are citizens whose decisions affect our children _ what they learn, who will teach them and what kinds of facilities house their classrooms.

School board members must receive at least ten hours of continuing education training during their first year of service. Thereafter, they must annually receive at least five hours of continuing education training in team building and leadership duties. In addition, they attend numerous meetings, conferences and seminars, unselfishly devoting their time. They do not receive compensation for serving on the school board.

Please make a special effort during the month of January to let your school board members know that you appreciate them. The men and women of the Pecos-Barstow-Toyah Independent School District Board of Education are: Louis Matta, President; Earl Bates, Vice President; Brent Shaw, Secretary; Steve Valenzuela, David Flores, Paul Deishler and Mrs. Billie Sadler.

DON LOVE
Superintendent of Schools
PBT — ISD

<!==========end copy==================>
---
---
Pecos Enterprise
York M. "Smokey" Briggs, Publisher
Peggy McCracken, Webmaster
Division of Buckner News Alliance, Inc.
324 S. Cedar St., Pecos, TX 79772
Phone 915-445-5475, FAX 915-445-4321
e-mail news@pecos.net
Associated Press text, photo, graphic, audio and/or video material shall not be published, broadcast, rewritten for broadcast or publication or redistributed directly or indirectly in any medium.
We support Newspapers in Education
Copyright 2000 by Pecos Enterprise
---