|
Daily Newspaper and Travel Guide
for Pecos Country of West Texas
Opinion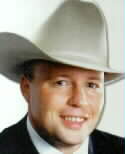 Sage
Views
By Smokey Briggs
<!=====paste copy here==========================>
Tuesday, December 5, 2000
Celebrating World Animal Day
Somebody told me that this last Sunday was World Animal Day. I got this news on Saturday so I did not have much time to prepare for the occasion.
Actually, I am not sure what World Animal Day is, and I have not been able to confirm that such a day really exists, but I did not want to take any chances.
The environment and this earth we live on mean a lot to me. Passing up a celebration of the many creatures that we share the world with was inconceivable — no matter how inconvenient or how much trouble the celebrating of this day was.
So I went hunting.
Quail hunting to be exact.
I love quail. I have a slim but informative book on nothing but the cooking of these tasty little flying morsels of meat.
The little birds also make for a great diet. At least they do if I only get to eat the ones I shoot.
A friend here in Pecos with a passion for hunting with a partner whose wing shooting makes his look really good invited me.
This time, however, I shot just as good as Bill. Unfortunately, the only way I can stay even with Bill is when neither of us gets off a single shot.
But that was okay. It was still a fine day hunting. Any day hunting is a fine day hunting for that matter.
Most people who know me also know that I believe that the Second Amendment right of all men to keep and bear arms is the foundation of all the other God-granted freedoms written down in the Bill of Rights.
But freedom is not the only benefit of firearms ownership and proficiency.
The shooting sports of all varieties are pursuits that can yield a lifetime of pleasure and satisfaction.
The shooting sports emphasize and demand much of what is good in human beings and leave no room for that which is not. Patience, discipline, courtesy, dedication, sportsmanship, safety — all are demanded by the target range and hunting fields.
My father gave me a single-shot, 22-caliber rifle for my sixth birthday after I had memorized and demonstrated proficiency with the firearms safety rules published by the National Rifle Association.
That winter, I went hunting for the first time.
Being wet and cold with numb feet and fingers frozen to gunmetal brings back a lot of fine memories for me.
Memories of dew-wet grass on near-frozen mornings with an almost-useless hound dog cutting for a scent. Memories of good days shared with my father and friends.
I learned a lot with a rifle in my hands. I cannot think of anything bad that I learned. I can think of many good things.
It is hard to find many activities you can say that about.
So introduce a kid to the shooting sports if you can. Teach him or her the proper and safe way to handle a firearm and to respect it for the deadly tool that it is. Take your student to the range and later take him or her hunting.
When you do you will open the door to life-long pursuits that build character, useful skills, and good memories.
And for goodness sake, teach them to wing shoot, so they do not starve to death during quail season.
EDITOR'S NOTE: Smokey Briggs is the editor and publisher of the Pecos Enterprise whose column appears on Tuesdays. He can be e-mailed at: smokey@pecos.net
Our View
The election crisis
The United States is in the middle of what is being called the most serious presidential election crisis in her 200+ yearlong history.

Turn on the television news and you will hear that we are in a "constitutional crisis" as Vice President Al Gore and Texas Governor George Bush battle over election results in Florida.

Well, if this is a crisis, we should all be proud to be Americans.

Yes, there have been demonstrations by both sides. Yes, there are accusations of skullduggery in the counting and re-counting of votes. Yes, it is taking longer than normal to sort out the winner of this year's election. The courts are involved and the supreme courts of Florida and the United States have both been appealed to.

And so far, everything is working as it should. Antagonists are taking their claims to the courts. The courts are rendering decisions. These decisions are being appealed. People are abiding by these decisions. Not just the real players, but also most of the regular people that a good nation is made of. Honest election officials, and police officers, and regular citizens who favor one candidate, but are doing their duty under the law despite their personal political stance.

Even the contestants seem to be first looking at the law and then drawing up battle plans and strategies based on that law. They may be looking for a loophole, or an interpretation that defies common sense — but everyone is playing within the boundaries of the playing field laid out by the Constitution, the legislatures, and the courts.

So far, no one has called for a revolution over these election contortions. Neither side has attempted to assassinate the other. Judges handing down unfavorable rulings are not blowing up when they crank their cars. Armed thugs disguised as police officers have not threatened voters or voting officials.

Everyone seems to be playing by the broad rules of our system. Folks, this is a far cry from what most countries call an election crisis. We should be proud of that. Our system is a good one, and the core of that system, the American people, is not rotten.

<!==========end copy==================>
---
---
Pecos Enterprise
York M. "Smokey" Briggs, Publisher
Peggy McCracken, Webmaster
Division of Buckner News Alliance, Inc.
324 S. Cedar St., Pecos, TX 79772
Phone 915-445-5475, FAX 915-445-4321
e-mail news@pecos.net
Associated Press text, photo, graphic, audio and/or video material shall not be published, broadcast, rewritten for broadcast or publication or redistributed directly or indirectly in any medium.
We support Newspapers in Education
Copyright 2000 by Pecos Enterprise
---