|
Daily Newspaper and Travel Guide
for Pecos Country of West Texas
Opinion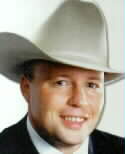 Sage
Views
By Smokey Briggs
<!=====paste copy here==========================>
Tuesday, November 14, 2000
Thoughts on the presidential election
So your vote does not count? It's not worth the effort to vote, right? Last week there was a column in an area newspaper stating that voting was really just a symbolic act reaffirming your belief in democracy, or some such garbage.

Phooey! The day we quit believing in our one little vote, democracy is dead.

And, considering the margin in many states between Al Gore and George W. Bush, it is glaringly apparent that each stinking little vote counts. Sometimes it counts a lot.
***
It is interesting that going into the election last week one got a sense from the national, talking-head media that Bush might win the popular vote, and Gore might win the Electoral College vote.

It was almost as though we were being prepared for such an eventuality and even Al Gore went on record saying it could happen and it wasn't a bad thing.

What is interesting is that since the shoe is now on the other foot, the national press has done a very neat "about face." Now they appear ready to spearhead the drive to ditch the Electoral College as outdated and unfair with the commiecrat camp of Al Gore in the vanguard.
***
Another interesting election trend in the media is the subject of "Mandate."

As soon as it appeared that Bush might actually win the election, talking heads on a dozen stations started questioning his lack of a "mandate" from the people since the voting margin was close.

Yet, when Bill Clinton was elected in the last two elections he claimed a mandate from the people and the national media backed him.

Ironically, Gore and Bush have both managed to garner a greater percentage of the popular vote than Clinton ever managed. Either can more rightfully claim a mandate than Clinton ever could.
***
The commiecrats are still trying to find new and improved ways to count the votes in Florida.

You can almost hear Gore campaign chairman Bill Daley grumbling, "If we had known it would be this close we would have stuffed more of the ballot boxes." Obviously he did not pay attention when his dad was teaching him how these things are done back in Chicago.

The scary part is that every time they count the votes they seem to find more Gore votes and fewer Bush votes. What is the statistical probability of that?
***
As for the idiots who were too dumb to mark a ballot correctly _ good. I consider this democratic Darwinism. If you are too dumb to punch the right hole, you are too dumb to participate in the process.

Monday a group of third graders was given the ballot in question and asked to vote with it. All of them managed to vote for who they thought they were voting for.

These were third graders. Eight-year-olds. Kids just learning cursive and their multiplication tables.

As for the people who think they voted for the wrong person - they are not only too dumb to vote, they are too dumb to live. If they thought they punched the wrong hole, why didn't they ask for a new ballot?

"Oh well, I'll just punch a couple of holes and they will know what I meant."

Either they are terminally stupid or they are lying. Probably both.

EDITOR'S NOTE: Smokey Briggs is the editor and publisher of the Pecos Enterprise whose column appears on Tuesdays. He can be e-mailed at: smokey@pecos.net
Our View
"Al and the Electoral College," and other democrat fairy tales
Well, according to the democrat loyalists, the sky is falling. Al Gore has won the popular vote (maybe, a bunch of states are still counting) and he may lose the electoral vote.

Accordingly, it is time to abolish the Electoral College, or so they say.

Reportedly, Senator-elect Hillary Clinton, has stated that one of her first actions as a senator will be to introduce legislation to abolish the Electoral College.

One can only hope that her intent is to start the process of amending the Constitution, and not, as it sounded, to simply vote the electoral college out of existence on the floors of Congress.

One must hope that she has at least this rudimentary understanding of constitutional democracy.

Hillary has hit on a popular theme at the moment. Around the nation and here in wee Pecos, folks are decrying the electoral system where it is possible to loose the popular vote by a slim margin and win the electoral vote.

A little bit of rational thought might serve us well before we toss this system in the trashcan.

In its defense, the Electoral College has provided for 200 years of successful presidential elections. Two hundred years with peaceful transfers of power from one administration to the next, save for that one little glitch in 1860.

That is an impressive record that you cannot simply ignore and believe that the same results would have been accomplished with a simple popular vote.

The Electoral College is the friend of the minority. It helps prevent a few populous states from electing the president without input from all the rest. If we had a simple popular vote system in place, Texas, New York, California and Florida could team up and elect their own president every year no matter what the other 46 states wanted.

Although the Electoral College does not prevent this, it does create a roadblock to such a system.

With the electoral college system, you basically have 50 state elections for president, and then a second election where each state casts its representative votes.

This gives each state a more equal say in the process and helps prevent a total disenfranchisement of a geographical region.

This is a good thing. When an entire region feels disenfranchised revolution is around the corner. The Civil War taught us that much at least.
Your View
Show Respect!
Coaches seek support at Friday's Playoff Game
Dear Editor:
This Friday evening at 7:30 pm the Pecos Eagles Football team will be playing at Eagle Stadium. From what I have been told this is the first ever playoff game for the Eagles at home.

This group of young men have worked extremely hard this year. On their undershirts, it says ATTITUDE AND RESPECT. They have persevered much this season and each and everyday have shown a good attitude in class, to each other, their coaches, and on the practice field.

Three overtime losses, injuries, and illness would have made it easy for these young men to quit and play for another season. But due to good senior leadership this never entered their minds, instead hard work and dedication is what came out. We have enjoyed the support from the community and our loyal following.

However, I ask one simple question. Have they earned your RESPECT? We cannot assure victory Friday night, but if you have attended our games, we can assure you an entertaining game. Show your respect to these young men who deserve it and let's pack the stadium Friday night. What a great sight for the players to turn around and see the stands packed with loyal supporters. If there ever was a time, it's this Friday at 7:30 p.m.

COACHES;
A.D. BUBBA WILLIAMS
GARY GRUBBS
BRIAN GIBSON
ELIAS PAYAN
CHARLIE BUNCH
JUNIOR WILLIAMS
JOE FLORES <!==========end copy==================>
---
---
Pecos Enterprise
York M. "Smokey" Briggs, Publisher
Peggy McCracken, Webmaster
Division of Buckner News Alliance, Inc.
324 S. Cedar St., Pecos, TX 79772
Phone 915-445-5475, FAX 915-445-4321
e-mail news@pecos.net
Associated Press text, photo, graphic, audio and/or video material shall not be published, broadcast, rewritten for broadcast or publication or redistributed directly or indirectly in any medium.
We support Newspapers in Education
Copyright 2000 by Pecos Enterprise
---