|
Daily Newspaper and Travel Guide
for Pecos Country of West Texas
Opinion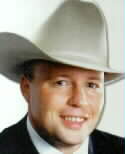 Sage
Views
By Smokey Briggs
<!=====paste copy here==========================>
Tuesday, September 26, 2000
From the hip
Television is the only activity I know of where an entire family can sit in one room for hours without spending any time with each other.

The thing is Satan incarnate. It drains the mind and dulls the senses while it prevents you from interacting with your family.

Turn it off. Watch a movie or a show or a game and then turn the foolish thing off and do something. The operative word here is "do."

Television happens to you. Every other form of entertainment on earth requires some degree of participation.

Do something. Your life and the lives of those around you will be better for it.

***

You can lead a fool to wisdom but you cannot make him think. Witness the entire Democratic Party.

***

On a regular basis these days we are being bombarded with a verb that does not exist - usually it appears in the language of our national sports stars who supposedly were qualified to go to college for a couple of years if not actually graduate.

With all due respect, disrespect is not a verb. It serves well as a noun, and disrespectful is an old soldier as an adjective, but the word is not a verb.

"He disrespected me," or "You don't disrespect someone...," are nothing more than street slang butchery of the language.

Anyone caught using some form of disrespect as a verb should have any degree they possess revoked from college to grammar school.

***

"Families shouldn't have to drain their wallets to drive their cars or heat their homes," President Clinton has been quoted as he justifies his decision to release part of the U. S. emergency oil reserve.

As usual our national press has failed to ask the logical question - Why not?

Who ever said driving a car or keeping the house warm enough to break a sweat in your skivvies was some sort of a right? What business of the government's is it if gas prices go up?

Last time I checked I was not pledging allegiance to the United Socialist States of America."

I suppose there is a long underwear shortage that prevents people from simply dressing warmer and turning the thermostat down, and human feet are no longer capable of pounding the pavement or peddling a bicycle.

One wonders how the human race managed to survive into these last few decades of whining consumption without governmentally priced fuel to run our cars, air conditioners, heaters and electric plants.

***

Economies are like aircraft carriers on the open sea - you don't turn the things on a dime and there are some things you cannot influence with "policy" just like you cannot influence a hurricane with a ship's rudder.

Right now Clinton and Gore are taking credit for an economy created by 12 years of Reagan-Bush policies.

In the near future we will probably all get a sample of the result of Democrat economics, which follow this simple mantra - tax more, spend more, regulate more, and do not spend a dime on national defense.

Funny, I've never heard any of these policies cited by an economist (or more especially a businessman) as the building blocks of a healthy economy.

Of course, according to Al Gore and company, a healthy economy is one where the Government hands everyone their "fair" share of the wealth. Marx and Lenin would be proud.

EDITOR'S NOTE: Smokey Briggs is the editor and publisher of the Pecos Enterprise whose column appears on Tuesdays. He can be e-mailed at: smokey@pecos.net
Our View
Gore's nickel will cost
Vice President/presidential candidate Al Gore's support for releasing oil from the country's strategic reserve is a window into the basic differences between Gore and Texas Governor George W. Bush.

The decision to release the oil is stupid and politically motivated with no rationale except to buy votes for Clinton's vice president from the spoiled brats that many Americans have become who are whining because their gas bill has gone up.

The strategic oil reserve was created to give the U. S. a fallback supply of oil in case of national emergency or war. Higher fuel prices do not fall into either category.

This move clearly illustrates Gore's willingness to sacrifice anything, including national security assets, for the benefit of a few votes and a percentage point in the polls.

Bush's willingness to support the right decision, even though it will not buy him any votes among the whiners, is evidence of the courage America needs in her president.

This year's presidential election, perhaps more than any before, is about philosophy, not policy. Gore's philosophy is to do anything that will buy him a vote.

Bush's philosophy seems to at least cast a glance toward the nation's welfare and the long-term effects of his decisions.

While Gore may promise to put a nickel in your pocket today, voters would be wise to add up the true cost of that nickel. In the long run, it will cost Americans a lot more than they gained.

The day America finds herself without a viable strategic oil reserve, or with Al Gore as president, she will be in trouble.
Your View
PHS Band looked unprofessional at parade
Dear Editor:
A few lines to inform you and those that might be interested, of how some family members, friends, and neighbors feel about our Pecos Band's unorganized appearance during the 16 of September parade.

The young ladies and gentlemen wearing their uniforms illuminated their pride and honor as they proudly marched and played.

However, their illumination was darkened by their role models (upper class band members) who chose or were told to wear everyday street clothes. No uniformity in color was even achieved to slightly blend in with the younger band members, looking eloquent, distinguished, and quite distinct in uniform.

Why would uniformed band members be mixed in with street clothed band members? It is apparent the younger members were thrown in with the upper members at the last minute.

This was unprofessional, unethical, and unacceptable to say the least, as it was unappealing and chaotic to the eye.

Band members should have been separated by dress code.

Is it any wonder why our Pecos Eagle Band has declined and continues to do so?

Where is the arrogant pride that was luminous; symbolic of our city's true spirit _ OUR PURPLE AND GOLD?

The younger members should be commended for wearing their uniforms, respecting it's meaning or wearing it, and expressing it wholly; along with weathering the heat.

In retrospect of all Pecos Eagle Band members, you are greatly admired, appreciated, and supported for all your endeavors.

Sincerely,
L.G. and DIANA CRAWFORD
JOSAPHINE INGRAM
BETTY HERRERA
Fiesta celebration wasn't enjoyable for visitor
Dear Editor:
I was passing through Pecos and stopped at the fiestas. It was interesting to see, but there was one thing I didn't understand.

Why did they have a fashion show, and then to top it off, the speaker was speaking pure English.

I don't recall that, that is what the Mexicans celebrate. The music was nice, but the Mariachi who was playing was saying they play for all kinds of occasions. It was not nice to mention for divorces!

Why?

I don't know, but if that was the case, he should have mentioned all kinds of disgraces, like having a child without a father.

That was not neccesary, because it was to celebrate the Independence of Mexico. Besides it wasn't the place to mention it at all.

Some people now a days do not know the meaning of the celebration. We need to respect more of our heritage and church.

The food was great and good. The people at the booths were very friendly, some were upset, because of the fight the night before.

But then again it all has to do with how they organize a program for such a celebration.

From were I come from, they celebrate for four days. Everyone does different.

I hope this doesn't offend anyone, but if we all need a change it's got to be for the best.

Maybe next year will be better or maybe another attitude toward the public. Use proper language or words toward the public.

Because the church should be sacred, that goes with the church grounds. I bet that place was full of broken beer bottles.

We need to know the difference between celebrating the Independence of Mexico on church grounds and celebrating in a bar. Very different places.

Better, best wishes for next year,
Josue Chacon
El Paso, TX
Critic's Corner
Former Pecosite publishes cookbook for all seasons
Everyday can be a holiday. With the right food that is.

One author is bringing those recipes together in a new cookbook that features recipes for each month of the year.

Carolyn Eisenwine Carson, of Ft. Worth, and formerly from Pecos, has published a cookbook, Recipes To Make All Days Holidays, which is now on sale at the West of the Pecos Museum.

The cookbook is full of new and some "favorite" recipes, which have been tried by the author. This festive cookbook contains over 700 recipes, including many of her recipes which have been published in Southern Living, as well as recipes from Pecos pioneer famlies, quick and easy recipes, and Southwestern dishes.

The unique feature of this popular cookbook is that it is divided into the 12 months of the year, and there is a suggested menu at the beginning of each month. You will find more soups in the winter months, salads in the summer months, and holiday recipes from Nannie's Eggnog to 4th of July Sandwich Loaf.

The author states, "My interest in cooking began when I was a little girl growing up in Pecos. My wonderful mother always let me play in the kitchen and experiment with recipes. Her only rule was that I cleaned up the mess! I began collecting recipes from magazines and later from family and friends. I loved to try and copy any dish that I heard about, or that we had in a restaurant and thought was special. As the years went by, my collection grew, and my friends began encouraging me to publish a cookbook."

Carson started working on the cookbook several years ago when she lived in El Paso, where she raised her children and taught school for 27 years.

Two of the recipes she has listed for the month of October include Mar's Goodie Dip and Halloween Punch. Both are easy to make and require a few ingredients. To give you a "taste" of some of her delicious recipes, you can try these two at home before going out and buying the entire book.

Mar's Goodie Dip
8 oz. Hellman's mayonnaise
1 pt. Sour cream
½ teaspoon Worcestershire sauce
2 Tbsp. Picante sauce
1 pkg. Hidden Valley Ranch Original dressing mix
2 Tbsp. Oil
2 Tbsp. Lemon juice
Combine all and serve with veggies or Fritos.

Halloween Punch
2 c. water
½ c. sugar
2 ½ c. orange juice
1 c. pineapple juice
1 ½ tsp. Grated lemon rind
6 c. apple cider, chilled
Combine water and sugar in a saucepan, cook over medium heat until sugar dissolves. Cool. Add orange juice, pineapple juice, and lemon rind. Cover and chill. Add cider just before serving. <!==========end copy==================>
---
---
Pecos Enterprise
York M. "Smokey" Briggs, Publisher
Peggy McCracken, Webmaster
Division of Buckner News Alliance, Inc.
324 S. Cedar St., Pecos, TX 79772
Phone 915-445-5475, FAX 915-445-4321
e-mail news@pecos.net
Associated Press text, photo, graphic, audio and/or video material shall not be published, broadcast, rewritten for broadcast or publication or redistributed directly or indirectly in any medium.
We support Newspapers in Education
Copyright 2000 by Pecos Enterprise
---