|
Daily Newspaper and Travel Guide
for Pecos Country of West Texas
Opinion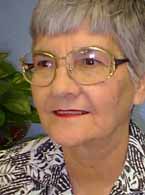 Squarely
Pegged
By Peggy McCracken
<!=====paste copy here==========================>
Tuesday, August 29, 2000
Franklin minted ideas
about business success
I'm out of sorts this Monday morning.

Out of sorts? What is a sort?

Benjamin Franklin may have coined the phrase "out of sorts" while writing Poor Richard's Almanack. Franklin was a printer who used sorts daily, and when he was out of sorts, he was not happy. Thus the term "out of sorts" means a person is angry or disturbed about something.

Why did Franklin use sorts? One definition of a sort is a font character used in printing. It might be an A, a, B, b, comma, period, blank space or any other character used in printing. Back in the 1700s, printers placed individual characters into a holder for each line of type. And I guess some still do.

And you may be thinking that a "font" is a place to baptize babies. Well, it is, but a font is also a type style and face. On a computer, you can choose a font style and size and your printer will produce just what you ordered. Or you can post it on your web site.

It's a bit ironic that I am reading Franklin's autobiography and at the same time reviewing a book named `Poor Richard's Internet Marketing and Promotions." Author Peter Kent has much in common with Franklin, although he uses the modern method of choosing fonts and printing characters. I haven't reached the point in Franklin's biography where the started the almanack, so I don't know why he used the name Poor Richard. I suspect it has something to do with finances, as does Kent's work. He shows how to use the Internet without spending lots of money.

In his autobiography, Franklin describes his thrift, which helped him succeed in the printing business. He also worked long hours to turn out quality printing jobs in a timely manner.

I admire anyone who watches the pennies while putting in the necessary time to do a job well.

Cora Moody called me last week about just such a man who has earned her respect and admiration. Roberto Vasquez has not let paralysis stop him from earning a living with his brain. Despite being confined to a wheel chair since the age of 16, Vasquez refuses to depend on government welfare payments. He has for years operated an income-tax preparation business from his home.

"He is a remarkable man," said Moody. "He has little use of his arms, but he works daily and makes his own living. He had a hard time this last year, but he keeps going."

Franklin would have admired Vasquez and others who show that type of grit. And refuse to get "out of sorts" when things don't go just right.

"How long will you lie there, you sluggard? When will you get up from your sleep? A little sleep, a little slumber, a little folding of the hands to rest _ and poverty will come on you like a bandit and scarcity like an armed man." Proverbs 6:9-11

EDITOR'S NOTE: Peggy McCracken is business manager and webmaster for the Enterprise. Contact her at peg2@pecos.net.
Our View
Book helps create site without spending wads of money
Just the name Poor Richard connotes thrift. And books by Poor Richard help the thrifty in online endeavors.

I met Poor Richard, author Peter Kent, through his book, "Poor Richard's Web Site." Now he's updated that book and published another called "Internet Marketing and Promotions."

Whether you want to promote yourself, your business or your ideas online, Peter Kent tells you how to create and post a site in the first book, and he and co-author Tara Calishain tell you how to go about it without spending wads of money in the second.

In the early chapters, Kent and Calishain deal with preparation and web site registrations. Then they detail how to promote your site in newsgroups and mailing lists, through grass roots marketing, newsletters and discussion groups, advertising and affiliate programs.

One section is devoted to e-mail, reaching journalists online and creating electronic press releases.

Real-world promotions outside the Internet and sales basics round out the thick manual on promotions.

I even found a reference to my friends at askSam, the database people who introduced me to the Internet. They now have a shareware program called SurfSaver that pulls pages, graphics and all, from the web and saves them in an archive on your computer. Kent recommends that method of saving a site you may want to refer to later as a good or bad example.

If you are planning to set up a web site, we recommend checking out http://PoorRichard.com/ for free information and links to hundreds of web sites that can help you set up and promote your site. Information on his 37 books is also available there.

Either book is available in bookstores at $29.95 or toll-free 800-247-6553.

-Peggy McCracken
Your View
University of Florida needs information on World War II
Dear WWII Veterans/Defense Workers and Families:
Help save the personal legacy of World War II. The experiences and memorabilia of those who served in the armed forces and defense industries is a valuable part of this nation's history. The Florida State University's Department of History has set up The Institute on World War II and the Human Experience to collect and preserve this physical heritage for research, teaching and exhibition. If you or someone you know has letters, diaries, photographs or mementos of the period, please contact the Institute at the Department of History, Florida State University; Tallahassee, FL 323062200 [8506449033]. We will be delighted to send an information packet and answer any questions concerning donation of materials to the Institute and their future use.

WILLIAM O. ODLSON
Professor of History
GOTOBUTTON BM_1_ ww2@ww2.fsu.edu
http://www.fsu.edu/~ww2/
Institute on WWII & the Human Experience Department of History
PHONE: 850-644-9033
FAX: 850-644-6402
Florida State University
Tallahassee, FL 32306-2200
<ww2@ww2.fsu.edu>
<http://www.fsu.edu/~ww2/>
Military basic training not easy on new soldiers
Dear Editor:
Hello, I am Specialist Jeffery Perkins and I am a Communications Specialist in the United States Army. In your column, you stated that the military's new prime directive is not to hurt anyones feelings.... And on down the page you made the assumption that todays Army Drill Instructors were being easy on the new soldiers in Basic Training.

Well Mr. Briggs have you been to any Basic Training unit within the last 2 years????

I have. And I can assure you that there is nothing ever said to the effect of, and I qoute, "You are good enough, Private. It's okay to feel feminine son."

I attended two different basic training posts. Ft. Benning, GA, and Ft. Jackson, SC. When the new "trainees" get off the bus they are approached within seconds by a man in a round hat, and a uniform, screaming at the top of his lungs. Giving orders and yelling obscenities. That happens to every new soldier and is a constant.

I suffered through 8 weeks of U.S. Army Basic Combat training, and 19 weeks of Advanced Individual Training, and have been to the Combined Military Training Center 4 times for two months at a time and have never heard those words come from a leader, or anyone for that matter.

I am a resident of Pecos and a 1998 graduate of Pecos High. Currently stationed in Central Germany. I thank you Mr. Briggs for your time.

SPC Jeffery Perkins
HHC 123 Combat Support Battalion
CMR 406 APO AE 09110
perkinsj@dexcom.1ad.army.mil . <!==========end copy==================>
---
---
Pecos Enterprise
York M. "Smokey" Briggs, Publisher
Peggy McCracken, Webmaster
Division of Buckner News Alliance, Inc.
324 S. Cedar St., Pecos, TX 79772
Phone 915-445-5475, FAX 915-445-4321
e-mail news@pecos.net
Associated Press text, photo, graphic, audio and/or video material shall not be published, broadcast, rewritten for broadcast or publication or redistributed directly or indirectly in any medium.
We support Newspapers in Education
Copyright 2000 by Pecos Enterprise
---