|
Daily Newspaper and Travel Guide
for Pecos Country of West Texas
Opinion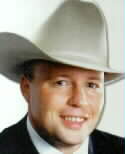 Sage
Views
By Smokey Briggs
<!=====paste copy here==========================>
Tuesday, August 15, 2000
A little warm irony
Some days it is hard to find much humor in the world - unless you enjoy an ironic twist.

We note with irony the hand wringing of many self-proclaimed environmentalist concerning the many forests that are being consumed in this season's forest fires.

Here is the irony. No matter what you think of logging, it is logging that reduces the risk of wildfires, and logging that creates roads that give firefighters access to fires, and loggers who do much of the real fire fighting with their heavy equipment.

In the last 15 years so-called environmental groups have counted many victories over logging interests. With decreased logging brush and dead falls have piled up making ideal fire conditions.

Abandoned access roads have also been overgrown and are not passable.

Out of work loggers have also gradually left the region to seek other employment.

So we have created forests prone to catch fire, eliminated the roads needed to move fire-fighting equipment, and run-off the loggers to operate the heavy equipment that puts out most fires.

And now, we are surprised that the forests are burning and we can't put the fires out?

As the Greenpeacers whine, you have to wonder if they ever considered the long-term consequences of their political actions or simply operated on whether or not something felt good at the moment.

As to real environmental impact, the burned areas, which look far worse than any area ever touched by lumberjacks, will sprout good graze for elk and deer populations next year.

In coming years hunters will have the tree-huggers to thank for plentiful game - an irony that may be lost on the environmentalist crowd which usually like people who shoot Bambi even less than people who chop down trees.

Like most things, however, there will be a cost.

High-mountain trout populations may be devastated this year when winter rains wash ash and large amounts of easily eroded soil into the creeks and streams.

In high school physics we learned that for every action there is an equal reaction. Maybe the Greenpeace guys skipped class that day.

EDITOR'S NOTE: Smokey Briggs is the editor and publisher of the Pecos Enterprise whose column appears on Tuesdays. He can be e-mailed at: smokey@pecos.net
Our View
Cooperation key for city and county jail projects
The Town of Pecos City may have a good idea in building a new jail facility to house federal prisoners.

In a city fighting low revenues and high taxes a new revenue source is a good thing.

From what city officials have said, it sounds like the business is out there, and Pecos needs only to build the facility to start making money.

The only obvious fly in the ointment is the potential for competition between the city and county for the same inmates.

Currently the county houses federal inmates at the county jail as a revenue source and expansion of that facility is also in the works.

What the city of Pecos and Reeves County must avoid is overbuilding and creating two marginal or money-loosing facilities.

Maybe there are enough federal prisoners to go around and maybe not.

To avoid a potential disaster, County and City officials must work together on these projects.

If they do not, the citizens of the county and the city will be the real losers.
Your View
Top notch talent not needed for Fall Fair
Dear Editor:
I just wanted to comment again on the concert for the Fall Fair.

Remember, there are a lot of country Texas singer/songwriters that would be happy to put on a concert that wouldn't break your budget.

You don't need top notch talent or big bucks, just quality. You have a lot of very talented country artists residing right here in our very own back yards. It won't hurt to look into it.

Just thought I'd help out. I know there's places here in Plano that have local country singers/bands that are excellent. I know they couldn't cost a whole lot of money because the places that have these folks on stage don't have a whole lot of money to put up either. Here's some web links that might help out in your search.

http://www.larryjoetaylor.com/; Larry Joe Taylor is country's answer to Jimmy Buffet.

http://www.maxstalling.com/ The best description I can give you for Max Stalling is "comfortable" country music.

http://www.1100springs.com/ 1100 Springs is country like we used to have out at the Posse Barn dances in the earlier days. Before Nashville started coming out with disco and calling it "country" music.

http://www.hardcountryradio.com/links.html This web site has all those links I listed above, plus more.

Hope this helps out a little.

KIM BALOG
Reader explains difference between landfill, transfer station
Dear Editor:
This letter is in reference to the City Council meeting that was held on August 10, 2000. It seems that our Councilman Mr. Johnny Terrazas does not know the difference between a Landfill and a Transfer Station. Councilman Terrazas, to put it as simply as possible, a landfill is a designated area that has a hole in the ground and is filled with trash and debris. A Transfer Station (which is what Pecos has) is a building that temporary houses the trash and debris until it is loaded and transferred to a landfill.

Also Councilman Terrazas please re-read the city ordinance that you as councilman signed - it states that lumber and pipes longer than four foot long will not be accepted. In the future please read what you sign, for your sake and that of the citizens of Pecos.

Also this same contract states that citizens are allowed to dump ONE FREE LOAD A MONTH up to 2000 lbs. per month. We require the citizens to show proof of their residence by showing a Water bill or Drivers Licence. If your interpretation of hassling means, I am going by the rules, which I have stated above - that you as a councilman voted for - then I am hassling.

Also the Pecos Transfer Station is open 6 days a week. Monday thru Friday 8:00 a.m. to 5:00 p.m. (in addition we are opened through the lunch hour) Saturday 8:00 a.m. till 12:00 noon. So where is the little access to the site???

In addition let's not blame the trash in the alleys on the Transfer Station - because as I have explained already the Transfer Station is NOT in charge of picking up the trash - we transfer it.

With all this in mind Councilman Terrazas lets look at the problem realistically with open eyes and not jump to conclusions and point fingers, until you know all the facts. If any of the above of which I have stated is not in accordance with the City Council. Please enlightened me as, I am only going on what you as part of the City Council voted on. I welcome anyone including you Councilman Terrazas to call me or come by and visit with me if you have any questions or concerns, my phone number is 447-9133.

JERRY MILLAN
Pecos Transfer Station Manager
Citizen's death causes concern for family, friends
It saddens me to think about the family of Ysmael M. Lara and what they must be going through after their father died in the custody of Reeves County.

I have been waiting for an article to come out in the paper, saying what really happened that evening Mr. Lara was arrested. An autopsy was ordered and found that Mr. Lara was not intoxicated. The reputation of a hard working man was damaged when you printed an article stating that he was arrested for intoxication.

I would like to see the paper print another article stating the facts. It's not going to change what happened, but maybe, just maybe, give his family a sense that someone cares. To see how Mr. Laras image was tarnished by one article and the actions by Reeves County Sheriff's Department.

My question, did they give him a breathalyzer test? Did they smell alcohol on his breath? Mr. Lara suffered from a heart attack and he laid in that cell, and he cried out asking for someone to help him, until he died. When he arrived at the hospital, it was too late.

FROM
A CONCERNED CITIZEN
Company loses revenue over internet services
Dear Editor:
Quite a bit has been written here lately about the free distribution of music over the Internet. It's important to remember that free distribution of copyright material has been going on since Gutenberg invented the printing press. Lending Libraries do it. Napster is in trouble because they make it possible for you to buy a single CD and distribute it to 300,000 of your closest friends. The big record companies are in trouble because each time someone does this the company loses revenue. On the other hand, I make easy listening music and upload it to MP3.com where it is available to the public for free. MP3.com pays their musicians! What is it that the legislators are missing here? The solution to this problem will undoubtedly bring an end to the music industry as we know it but here's the bottom line: If the musicians and their producers don't get paid for their work there will be no more original music for anyone to fight over.

R B FIELD
www.mp3.com/rbfield
(email via the above site please)
Centrepoint, box 19532
Vancouver B.C.
Canada V5T 4E7 <!==========end copy==================>
---
---
Pecos Enterprise
York M. "Smokey" Briggs, Publisher
Peggy McCracken, Webmaster
Division of Buckner News Alliance, Inc.
324 S. Cedar St., Pecos, TX 79772
Phone 915-445-5475, FAX 915-445-4321
e-mail news@pecos.net
Associated Press text, photo, graphic, audio and/or video material shall not be published, broadcast, rewritten for broadcast or publication or redistributed directly or indirectly in any medium.
We support Newspapers in Education
Copyright 2000 by Pecos Enterprise
---