|
Daily Newspaper and Travel Guide
for Pecos Country of West Texas
Opinion
Tuesday, August 8, 2000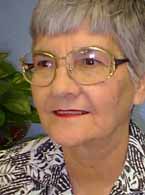 Squarely
Pegged
By Peggy McCracken
<!=====paste copy here==========================>
Pecos museum is a
good stop for tourist
Have you visited the West of the Pecos Museum lately?

One of the finest collections of Texana is located in the museum's little shop. Among them are books about Texas, including Pecos, and books by Texas authors, including Pecos' own Joe Gunn.

I even found a book of paintings by Otho Stubbs of Turkey. You remember Turkey, the home of Bob Wills. It is 15 miles from Flomot. Otho Stubbs paints beautiful landscapes, many depicting Indians as they probably looked when they inhabited that area of the caprocks and beyond. I wanted the book, but was too tight to pay $40 plus tax. Maybe later.

One thing I found in the gift shop was fish that I bought as gifts for my vacation bible school workers. Our theme of Ocean Odyssey just called out for a fish motif. And these were only 65 cents plus tax, of course. The problem was that they were fortune-telling fish, which I didn't notice until I got back to the church. Now fortune telling is a sin, as any good Bible student knows, so the fish were not appropriate for church folks. So I threw away the envelope explaining the meaning of the red transparent fish's movements and put them in "churchy" envelopes.

You may have guessed, when I told each worker my fish tale, every one wanted the instructions.

Back at the museum the next week, I found a lot more interesting items. Pecos Bill pins. Cantaloupe stuff. Rodeo T-shirts. Bandanas. Even a stuffed horny toad.

Horny toads being a protected species now that they are disappearing from the desert, that stuffed replica was the only horny toad my St. Louis granddaughter saw while she was here. She had a little trouble believing that horny toads spit blood in your eye, and that you can hypnotize them by turning them on their back, rubbing their stomach and drawing a circle around them clockwise. When you draw the circle counter-clockwise, it breaks the hypnotic spell and they kick those short legs, turn over and scamper off.

I enjoyed the Joplin family exhibit and the new décor in the east room. Curator Dorinda Millan and executive director Debbie Thomas are doing a great job. They have a lot of help from volunteers, who are always cheerful and full of information. I think they still have some paid help, too, but I don't know who at the moment.

Pecos has little to offer tourists, and the museum is usually their first stop. And maybe their last. I wonder if we will ever develop a tourism attitude and create an atmosphere that will keep them here awhile. Stickers on the cash register proclaiming a business as "Texas Friendly" don't quite fill the bill.

Even if you've been through the museum several times, you may want to go again just to see the changes. And to chat with the friendly volunteers. I enjoy every visit.

Tourists might be intrigued by the cutout sign north of town on U.S. Hwy. 285 that proclaims Pecos as the home of the world's first rodeo. Someone who passed through here saw it and asked me to take a photo. It is in need of repair and some mesquite trimming to make it attractive once again.

Have you noticed the "Ten Commandment" signs planted at every entrance to Pecos? The bright yellow signs just jump out at you as you approach town. They are a reminder that God watches over us and expects our devotion in return.

Jesus said: "'Love the Lord your God with all your heart and with all your soul and with all your mind.' This is the first and greatest commandment. And the second is like it: `Love your neighbor as yourself.' All the Law and the Prophets hang on these two commandments." Matt: 22-37-40 NIV

EDITOR'S NOTE: Peggy McCracken is business manager and webmaster for the Pecos Enterprise. Contact her at peg2@pecos.net.
Your View
Summer program give thanks to all helpers
Dear Editor:
The Pecos 2000 Summer League Basketball Team would like to thank a number of individuals for their generosity for the youth in our community.

We would like to thank Hair by Connie, Herrera's Grocery, and the First National Bank for their generous donations for our out-of-town trips.

We would like to thank Mr. and Mrs. Ruvel Carrasco, Mr. Julio Torres and Mr. Joe Ortega for their time transporting the team on our out-of-town trips. Your help was greatly appreciated.

We would also like to thank Head Basketball Coach Tino Acosta, Principal Danny Rodriguez, Principal Juanita Davila and the Pecos-Barstow-Toyah ISD for allowing us to use the basketball gyms for practice and games.

Your generosity and dedication to the 2000 Summer League Basketball Program and the youth in our community is greatly appreciated.

Thank you,
JON COOK
VALDO HINOJOS
DAVID CHAVEZ
SAUL GARCIA
EDDIE CERVANTES
JASON CARRILLO
JOEY ORTEGA
RUVEL CARRASCO
FREDDIE TORRES
ISRA VARELA
ADRIAN TARIN <!==========end copy==================>
---
---
Pecos Enterprise
York M. "Smokey" Briggs, Publisher
Peggy McCracken, Webmaster
Division of Buckner News Alliance, Inc.
324 S. Cedar St., Pecos, TX 79772
Phone 915-445-5475, FAX 915-445-4321
e-mail news@pecos.net
Associated Press text, photo, graphic, audio and/or video material shall not be published, broadcast, rewritten for broadcast or publication or redistributed directly or indirectly in any medium.
We support Newspapers in Education
Copyright 2000 by Pecos Enterprise
---