|
Daily Newspaper and Travel Guide
for Pecos Country of West Texas
Opinion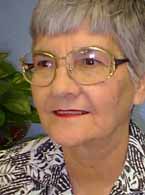 Squarely
Pegged
By Peggy McCracken
<!=====paste copy here==========================>
Tuesday, August 1, 2000
Summer vacation with family enjoyed
Rattlesnakes are still alive and kicking in the Pecos Valley. Well, not kicking, maybe, but at least wagging their tails.

Dana, my beautiful and talented 11-year-old granddaughter, wanted to go rattlesnake hunting last night, so we piled into my little Sunfire and headed for the cotton patch. Jerry Workman, the bug scout, told me that they are thick around the old concrete irrigation ditches, especially where they are broken up to allow them to crawl underneath.

Scott, who last was my snake-hunting companion, drove south and west until he spotted a likely-looking ditch, parked, got out and walked across the road. Before I could get out the door, he was back. "There's one lying right there," he said, grabbing the snake stick and heading back to the ditch. Sure enough, a juvenile snake was curled up amongst the dried-out tumbleweeds piled in the ditch.

Using the noose his granddaddy attached to one end of the stick a half century ago, Scott eased it over the snake's head and lifted her from the ditch. I know it was a female, because she kicked and screamed about having her nap disturbed. Just as I would.

Dana took the stick and displayed the rattler for videotaping by her mother. You remember Peggy Lynn, who once worked as a reporter here at the Enterprise. She is a much better writer than I am, and she should be writing this column.

Peggy Lynn and Scott took AMTRAK from St. Louis to Alpine last Saturday and drove on up in a rental car. It was sort of a trip back in time, because they had come to Pecos on AMTRAK from Wyoming when he was 5 years old. Now he's 24, two heads taller than me, wears earrings, a tattoo and a goatee. And I love him just like he is.

You've missed my grandchildren/vacation stories since I moved into the business office, I know. So while Smokey is off vacationing, I thought I would bring you up to date.

Dana flew down by herself from St. Louis and I picked her up at the airport to start my vacation. We also picked up great-granddaughter Jasmine in Midland and the two entertained me royally for a week. I directed Vacation Bible School at West Park Baptist Church while they attended their respective classes. Both had a ball and learned a lot, I am sure. It was the best vacation ever for all three of us. Jasmine said she was never going home (she did), and Dana said she could stay in Texas forever.

We attended the first movie at the State Theatre, swam in the city pool and Balmorhea State Park, worked jigsaw puzzles, played music (I bought them French Harps), took evening walks and gardened.

Scott fixed my garden tractor so it will run, and he and Peggy Lynn will take it back to St. Louis to use in their landscape business. Dana says she will mow the big lawn at their new country home now that she has something to ride.

Oh yes, don't let me forget the biggie. I showed Dana how to write HTML and construct her own web page. She posted it at www.pecos.net/news/pages/dana.htm where you can view it.

It's been nice chatting with you again. We must do this again soon. In the meantime, don't forget me, buried in this office under piles of outgoing statements and incoming bills. Ask God to give me the patience and perseverance to keep on keeping on.

"My help comes from the LORD, the Make of heaven and earth. He will not let your foot slip-he who watches over you will not slumber." Psalm 121:2-3, NIV.

EDITOR'S NOTE: Peggy McCracken is business manager and webmaster. Send her an email at peg2@pecos.net.
Your View
Good, bad news for Pecos
Dear Editor:
It's good news, bad news for Pecos.

The good news is that after many years the State Theatre (picture show to me) has been revived thanks to the hard work, dedication and big bucks of the Creasy, Lillian and Richard. They deserve heartiest congratulations and gratitude.

What a treat to watch a movie on wide screen in air-conditioned comfort. When the Creasys first began work on the theatre, I promised to be there everytime the marquee changed, and I intend to keep that promise.

More good news. The dedication of the Pecos Technical Training Center of Odessa College, which I attended last Saturday. And to which I can only say, "Wow!" What a marvelous facility and one in which Pecos people should feel great pride. Maybe there really is a new day dawning here.

And now for the bad news.

Like the State theatre, it too is located on Oak Street _ at the other end. I am referring, of course, to the Tom and Evelyn Linebery building, the windows of which have been broken three times in nearly as many weeks. It is/was such an attractive display with the cowboy chuck box and western setting but which now is boarded up to protect against further vandalism.

I often wonder what kind of vicarious thrill (?) a person gets by hurling a rock or brick through a big plate glass window.

This part of Oak Street with the caboose, depot, Linebery building and museum nearly need to be preserved.

Please, Pecos, be as proud as I am of what we have and lets all help take care of it.

Your very sincerely,
EMILY FERNANDES
Questions asked on District Attorney
Dear Editor:
I have some questions about the District Attorney's race. I have repeatedly heard that having the District Attorney's main office in Marfa will bring substantial money into Marfa??? I don't understand this statement! It has been traditional for the County who has the main office of the District Attorney to pay the bulk of the 6 counties', which are, Reagan, Presidio, Brewster, Upton, Jeff Davis, Pecos Counties, share of expenses.

Currently the State of Texas pays only the District Attorney's salary and a small stipend towards office expenses. The operating budget of approximately $250,000.00 is paid by the 6 counties in the 83rd Judicial District. Pecos County has served as the District Attorney's main office location and as a result has been paying about $185,000.00 of the operating budget. This is as much as the other 5 counties combined pay. Presidio County budgeted $18,500.00 in their 1999 budget toward the District Attorney's budget. Presidio County's budget was amended later that year to $42,000 to include an additional $24,000 to help fund the Assistant District Attorney in Marfa. The 2000 budget again includes a sum of $20,000.00 above the $18,500 usually budgeted for a total of $38,500.00. This additional amount of $20,000 is not for helping to fund the Assistant District Attorney in Marfa since that office is no longer in Marfa but is a sum asked for by the District Attorney's office to allow them to request a matching fund grant for victims assistance for the District. The 83rd Judicial District, which is our District Attorney's District, does not follow county lines so that some counties such as Pecos County are paying into more than one District Attorney's budget - the 83rd and 112th Districts. This would seem to make it even more unlikely they would agree to continue funding the 83rd at a high rate if they do not have the local office.

Can Presidio County Afford to pay 4 or 5 times it's current budget and if so where will this money come from? It is my understanding that there is no Robinhood law that mandates counties to pay according to their income. In any case the county that is home to the main District Attorney's office would pay a greater sum. The added amount of revenue in Marfa due to additional staff would seem to be more than offset by an increased share of expense for the county. There is also the expense of moving the office. I understand Frank Brown intends to keep the Main office in Ft. Stockton allowing Pecos County to continue to pay the bulk of the operating expenses and would have a small satellite office in the Brewster County Courthouse in Alpine with an 800 number for residents of other areas to call toll free. Who can answer these questions?

It may seem that eliminating one Assistant District Attorney (we currently have two ADA) as mentioned at times by Mr. Spurgin may save money; but since we now have two Judges instead of one for the District Attorney and Assistant District Attorneys to appear before, I don't see that this is a solution that would get the job done. I understand Mr. Jepson, current ADA, during his campaign indicated the Job cannot be adequately done without two Assistant District Attorneys.

It appears to me the current Assistant District Attorneys are underpaid compared to other starting attorneys in the State and will also need their salaries raised. Since the State pays only the District Attorney's salary, not the Assistant District Attorneys I don't see how money can be saved here.

Since I am new to the area, perhaps I don't have a full understanding of this issue. Although I have never run for office I have held several appointed positions that are equivalent to elected positions here.

Who can answer these questions on the internet for all voters to see?

This letter was hand delivered to The Big Bend Sentinel and The International this past Tuesday by 4 p.m, the deadline being 5 p.m...

Apparently, this concern was not printed or acknowledged in the paper due to too many letters and paid articles for this week's paper...

Copies are now being sent to:

Big Bend Sentinel, Ft. Davis Dispatch, Alpine Avalanche, Alpine

Observer, Pecos Enterprise and The Ft. Stockton Pioneer

RELLA COLEMAN
Marfa, Texas
Ex-teacher enjoys Pecosgab site
Dear Editor:
I just recently discovered this site and must say that it is one of the most enjoyable places I have ever visited on the internet. It is so great to sit and read the names and experiences of old friends, students, and fellow teachers. I taught Auto Mechanics at PHS for 18 years and must say I have missed Pecos. I now live in Abilene and am self-employed. I would love to be contacted by ex-students and friends at bdl22@hotmail.com

BENNIE LONGBINE <!==========end copy==================>
---
---
Pecos Enterprise
York M. "Smokey" Briggs, Publisher
Peggy McCracken, Webmaster
Division of Buckner News Alliance, Inc.
324 S. Cedar St., Pecos, TX 79772
Phone 915-445-5475, FAX 915-445-4321
e-mail news@pecos.net
Associated Press text, photo, graphic, audio and/or video material shall not be published, broadcast, rewritten for broadcast or publication or redistributed directly or indirectly in any medium.
We support Newspapers in Education
Copyright 2000 by Pecos Enterprise
---