|
Daily Newspaper and Travel Guide
for Pecos Country of West Texas
Opinion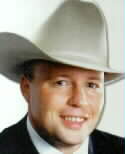 Sage
Views
By Smokey Briggs
<!=====paste copy here==========================>
Tuesday, July 11, 2000
Good things in Pecos
Some weeks are better than others.

Last week was a good one.

In a town where entertainment is scarce the week of July 4th is chock-full of fun things to do and see in Pecos.

In the last few days we got to see the Little Miss Cantaloupe and Golden Girl of the Old West Pageant, a very "sweet" melodrama, a good parade and a fine rodeo.

All of the events are testimony to the hard work and generosity of the people that put these events together.

The Golden Girl pageant was well done and entertaining. I didn't realize how much work goes into this production until my wife got involved with it this year.

As a side note, the Golden Girl Committee should be commended for the way it handled the situation at the end of the pageant where the wrong name was called as the winner.

Less honest and forthright people might have tried to hide the mistake and cheat the true winner out of her honors.

Instead, the committee made things right.

Mistakes happen. Great people acknowledge the mistake, make things right, and get on with life. If more people had that kind of courage the world would be a much better place.

Speaking of making things right _ the Windmill Players did just that with their production of "Somebody Save My Baby Ruth."

The play was an absolute joy to see and if you missed it, you really missed something special.

Now that the Players have a permanent home at the State Theater we hope to see more regular performances by this talented group.

While we're on the topic _ if you haven't dropped by the State Theater lately, you should. Richard and Lillian Creasy have almost finished the renovation and the place looks great.

It is our understanding that movies will soon be back on the big screen in Pecos.

This year's rodeo was also very well done. I am prejudiced on this account as I had a very small part in putting this year's rodeo on.

Having been hornswaggled into being on the Rodeo Committee I now understand what it means to be a Rodeo Director.

What it means is that you are unpaid, grunt labor that everyone gripes at over the most trivial matters on the face of the earth.

I wouldn't be president of the roedo committee for all the tea in China.

This year's president, Starkey Warren, and the rest of his committee deserve a pat on the back for producing another great rodeo. By all accounts, Pecos shouldn't be able to produce a rodeo of that caliber.

That it happened is a tribute to a lot of sweat and time by committee members and volunteers, and the continued support of all the rodeo sponsors _ most of whom are local merchants.

Not a bad week in Pecos, Texas.

Now if it will just rain a little more.

EDITOR'S NOTE: Smokey Briggs is the editor and publisher of the Pecos Enterprise whose column appears on Tuesdays. He can be e-mailed at: smokey@pecos.net
Our View
Freedom is not Free
Editor's Note:
In recent years the following history lesson has circulated regularly on the Internet in various forms under the title "Freedom isn't free." A quick check reveals that it is historically accurate.
It took a lot of courage to sign our Declaration of Independence _ especially when you consider that signing that document was treason, and the punishment for treason was death.
Hopefully America can still count such brave souls among her citizens.
The 56 signers of the Declaration of Independence were such souls.
Just for the record, their courage and conviction cost many of them dearly. Many paid the price with their own blood, and the blood of their families.
Five signers were captured by the British as traitors and tortured before they died. Twelve had their homes ransacked and burned.
Two lost their sons in the war and another had two sons captured.
Nine of the 56 died from wounds and hardship while serving in the Revolutionary Army.
Carter Braxton saw his fleet of merchant ships swept from the seas by the British Navy. He sold his home to pay his debts and died in rags.
Thomas McKeam was so hounded by the British that he was forced to move his family constantly. He served in Congress without pay, and kept his family in hiding. He lost everything and ended up a pauper.
Vandals and soldiers looted the properties of Dillery, Hall, Clymer, Walton, Gwinnett, Heyward, Ruttledge, and Middelton.
At the battle of Yorktown, Thomas Nelson, Jr., noted that the British general, Cornwallis, had taken over his home for his headquarters. Nelson quietly urged General Washington to open fire. His home was destroyed.
Francis Lewis had his home and property destroyed. The British jailed his wife and she died in jail.
John Hart was driven from his wife's bedside as she was dying. Their 13 children fled for their lives and his fields and gristmill were destroyed. For more than a year he lived in hiding in the forest.
When he returned home he found his wife dead and children vanished. He died a few weeks later.
Norris and Livingston suffered similar fates.
These men were not wild-eyed idealists. Most were well educated, and men of above-average means.
All were financially secure.
But they valued liberty over their property and comfort, and even their lives.
On that grand piece of parchment they pledged: "For the support of this declaration, with firm reliance on the protection of the divine providence, we mutually pledge to each other, our lives, our fortunes, and our sacred honor."
In doing so, they gave birth to a free nation that is the birthright of all Americans.
And for this, we owe them a great debt.
This debt cannot be completely re-paid.
But we can service the interest due on this note with our eternal vigilance, by jealously protecting our liberty, and by never taking our freedom for granted.
Your View
Book captivates reader
Dear Editor:
I first met Joe Gunn in the late 1940s when he and Francis lived at the Air Base apts near my parents W. G. and Edna Locker.

Joe and I were not real close only because our paths were not the same. My wife and I both respected Joe and Francis and considered them our friends.

Recently, our son Darrell Locker of Monahans acquired Joe's book entitled, One day at a time. This is the most captivating book I have read in a long time. Even better than most of the New York bestsellers.

In Tom Brokaw's, The Greatest Generation, most of his stories would not compare with, One Day at a Time, in my estimation. So, I feel that Pecos has a real life hero living in your midst.

JAMES D. LOCKER, SR.
Every member is as important whether rich or poor
Dear Editor:
In response to fellow Comrade Matta's letter on June 13, 2000, Mr. Matta has never been denied assistance by our post. As a matter of fact, we have helped him on six different occasions.

Mr. Matta is well aware of V.F.W. procedures concerning the distribution of funds to help needy people. We must have two signatures on every check. Distribution of funds can only be done once a month during our monthly meetings.

According to the bylaws of the V.F.W., Mr. Matta has been asked to attend the post meetings and submit his request. He hasn't shown up. Mr. Matta is also aware of the 1-800 number of the V.F.W. Transportation Network out of Big Spring. He has been told to contact that number when he needs transportation. They will then contact a driver to pick him up. This procedure must be followed in order for the transportation drivers and veterans to be covered by the insurance. The driver is not authorized to transport anyone on his own.

This was also one of the reasons Mr. Matta was appointed V.F.W. Post Veteran's Service Officer, so that he could help other veterans as well as himself. Mr. Matta also knows that he can contact the County Judge Office for help in an emergency.

And as for members having new cars and him being poor does not have anything to do with Post Policy. Every veteran's organization stresses that every member is as important as the next, whether rich or poor and regardless of race, color or creed.

CHARLES A. HANNAH
BAKER-CURTIS
V.F.W. Post 6437
Pecos, Tx.
Local teacher proud of young ladies' honesty
Dear Editor:
How nice to see an article in the paper that is positive concerning two young students in our school system. We have some very good students who attend P-B-T - ISD.

I would like to congratulate and thank Adrianna and Rhonda for their honesty in returning the check to Mr. West that they recently found. The honesty these two young ladies have demonstrated was not just taught in the classroom, but had to begin at home first. Their parents should also be commended for teaching these values to their children. children learn so many things in school, but their first teachers are their parents. Children follow their parents lead.

I was so pleased to read that these two young ladies had just attended Church services. I know they are really being taught good values for life. These two young ladies will be valued members of our society in the future.

I am very proud of both of these young ladies.

It is so nice when one reads good things in the paper about former students. Adrianna was a student of mine when she was in the first grade at Austin Elementary. Thank you Adrianna, you made my day when I read about you.

I am proud that you once touched my life by being in my classroom. I know you will continue on the good path you are taking now. Thank you Mrs. Lujan for your honesty too. Thank you Mr. West for expressing your gratitude to these fine young ladies.

Your friend,
MRS. GERBERT
First Grade Teacher
Austin Elementary
Opinion wanting to be heard
Dear Editor:
I've only lived in this town for a little over a year, but I fell in love with it instantly. My mom and I moved here from Tyler so things were quit different and it took some adjusting. I'm not trying to complain, but it's kind of hard not to. So maybe getting my opinion heard will help.

Granted, P-B-T School District doesn't have a million dollar budget or the funding for one, but either it could do more to try and spruce up the schools. The teaching atmosphere isn't that inviting in most classrooms and there are many problems to be addressed too.

The first thing that I notice when I start a new school is the room itself. To be honest I was shocked the first time I stepped into my first classroom here. They are somewhat unwelcoming and I think that is why some students find it difficult to learn.

It's somewhat easier to learn when you are surrounded by a great atmosphere. Colorful, neat, welcoming.

Maybe if the school board spent a little more time on their decisions this could all come true.

Security is another thing that should have more attention, not what color nail polish a student is wearing. I have seen my share of pocket knives being drifted around school. Mrs. Woods does an excellent job at trying to protect the student population, but is one person really enough?

Maybe there should be a community meeting. I'm sure that more voices like mine are wanting to be heard. Maybe my opinion isn't welcome, but it's a start.

Thank You,
KAREN EISENBERG
Summer events take dedication
Dear Editor:
This summer I found myself involved in many of the traditional events that June and July bring to life in our town.

With each event I participated in, I became more and more amazed at the effort, time, dedication, and talent that so many members of our community put forth to make each event happen.

I am proud of the people in our community for the energy they put forth for Pecos.

I am proud to have been a part of all of the happenings and celebrations, and I hope that the excitement we have created continues past this week, so that we can make Pecos as good and strong as it has the potential to be all year long.

I hope that this energetic spirit catches on to our whole community, and we all realize the spirit and talent that is right here in Pecos. Then perhaps next year's audience at the Little Miss Cantaloupe/Golden Girl and Out of Town Belle Revue will stay in the auditorium another minute or two, to watch the Golden Girl be crowned and congratulate the hard work of all of the Revue participants, producers, and the Belles, who come from outside of Pecos, to help make this presentation happen.

LAURA BRIGGS
Pecos, Texas
Kane sentenced for shooting officer
Dear Editor:
Hello my name is Beatriz Flores.

I was reading on Mr. Kane being sentenced to jail for shooting of a border patrol officer. He also shot the man of my life and the father of my babies.

I was just typing in his name on the internet and suddenly I saw his name on the page and the town he lived in (wendover) I thought he was being sentenced in Marfa, Tx - guess not but is that man going to be punished for what he did to Guillermo and to all of us who love him.

Can you inform me whats going on, he took everything that made us be us.

Thank you,
BEATRIZ FLORES
PO Box 3194
West Wendover NV 89883
Several great organizations will lend a hand
Dear Editor:
You are responsible for yourself and your family, if you have one. For those who cannot help themselves, there are many great organizations who will lend a hand. When you ask the government for help, you are asking the government to Force your friends and neighbors to help you, whether they wish to or not. No one is entitled to free or subsidized health care, health insurance, food, housing, or a job.

Government subsidies force the tax payer to prop up businesses that should stand or fail on their own merits. This type of government is called Socialism, and it has failed in China, Cuba, the Soviet Union, and everywhere else that it has been tried. The end result of this type of government is that the industrious and ambitious get tired of carrying the whole load and give up or leave.

It is so much more satisfying to say, "I did it myself!", than to have to admit, "The government forced my friends and neighbors to do it for me."

If enough people adopt the "do it yourself" policy, we might even get to keep more than fifty percent of our income instead of handing it over to a bloated government!

LYNN L. WILLIAMS
5403 Twenty Seventh St.
Lubbock, Tx. 806-795-8434
Citizens of Andrews gain magnificent educator
Dear Editor:
I am sincerely saddened to learn that Mr. Workman will not be teaching at PHS...the citizens of Andrews, Texas are gaining a magnificent educator.

Don't misunderstand me... as I happen to be one of the kids that absolutely hated Bro. Workman with a passion. Through the years I have come to understand his vision and hope for the students he taught.

I sat through Chemistry with Brother Workman and I say "sat" because he was so far beyond my level of comprehension. Throughout the year he kept telling me that if I kept trying eventually I would succeed. I really don't know how much of "Chemistry" I learned or retained, but that year I learned about pursuing my goals and the value of effort.

In his own somber way, Mr. Workman changed me from a person who didn't believe I could achieve, to someone who was forced to examine their own potential. Many times while attending Texas Tech I didn't understand...but I kept at it. Eventually I succeeded in attaining the goal... my degree. My foundation was built at Pecos High School by people like Mr. Workman, John Briggs, Ms. McNutt, and Mr. Carrico.

Whenever I return to Pecos I sense an air of "majority righteousness". Whoever has the most followers at the time, rules. Well many mistakes have been made by the majority and the price paid is the loss of industry, educators and potential residents. I look to Pecos with fond memories of times past, yet know in my heart that I could never return because that Pecos has been successfully destroyed by the "majority".

Regretfully,
ANA MARIA MIRAMONTES_ROQUEMORE <!==========end copy==================>
---
---
Pecos Enterprise
York M. "Smokey" Briggs, Publisher
Peggy McCracken, Webmaster
Division of Buckner News Alliance, Inc.
324 S. Cedar St., Pecos, TX 79772
Phone 915-445-5475, FAX 915-445-4321
e-mail news@pecos.net
Associated Press text, photo, graphic, audio and/or video material shall not be published, broadcast, rewritten for broadcast or publication or redistributed directly or indirectly in any medium.
We support Newspapers in Education
Copyright 2000 by Pecos Enterprise
---