|
Daily Newspaper and Travel Guide
for Pecos Country of West Texas
Opinion
Tuesday, June 27, 2000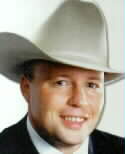 Sage
Views
By Smokey Briggs
<!=====paste copy here==========================>
Work teaches kids all
the wrong things
Well, President Clinton has come up with another great idea - more legislation limiting when and where and how kids can work.

I am whole-heartedly relieved that he is finally going to address this issue.

I have been saying for years that the problem with American kids these days is too much work. If these kids just had more time on their hands, less responsibility, then most of the ills of our youth would be cured.

Especially farm labor, which the new legislation addresses specifically.

Farm work is hard, and really hard work breeds lazy, ill-mannered, irresponsible twerps who drive around all afternoon with weird sounds blaring out of cracked speakers. Right?

That was my experience as a kid. After a 14-hour day chucking hay onto moving trailers and then stacking it in a barn full of dust, I was ready for an all-night episode of spray paint and hanging with a gang. Or least a couple of hours of mind-expanding Nintendo games and some junk food.

Well, not quite.

After 14 hours of work, I wanted supper and bed, in that order, and as quickly as possible. Most nights, I knew that 5:30 a.m. would come very early the next morning, and it would be back in the pickup truck and back to the hay fields.

The pay was a nice incentive though. Of course, my dad would have made me do it anyway, even without pay. But the dime-a-bale I earned was better than nothing. It subsidized my ice-water habit I later had to go to rehab to kick.

That stuff is addictive when you are chucking hay out of some East Texas swamp of a field in July with every single mosquito west of the Mississippi River fighting to get a grip on your flesh.

Most of the skeeters died though. They drowned in the rivers of sweat. I'm of sure of it.

Somewhere in that hay field, I learned a lot of the things that send kids down the wrong path on this earth - responsibility, the value of hard work, teamwork, hatred of slackers. (Anybody that has every pulled hay out of a field with a lazy slacker throwing one bale for every two you throw knows what I mean).

Somehow I managed to overcome these disabling behavior patterns and stay out of jail and off drugs, except for the ice-water habit.

I guess I just got lucky.

Thankfully, our esteemed president has spotted this problem and tomorrow's kids will be protected from the evils of work.

In the process we'll create some more federal regulations and that means more productive jobs.

Maybe next week he will support a law that provides free spray paint to kids who want to explore alternative states of consciousness while exercising their artistic abilities.

I can't wait.

EDITOR'S NOTE: Smokey Briggs is the editor and publisher of the Pecos Enterprise whose column appears on Tuesdays. He can be e-mailed at: smokey@pecos.net
Our View
Pride goes a long way
Rodeo week is upon us again.

The rodeo kicks off next Monday with slack performances and there will be a special slack and bull riding performance on July 4th. The first actual performance is scheduled for July 5th.

The West of the Pecos Rodeo is the largest outdoor rodeo in Texas, one of the top rodeos in the country, and is considered by many to be a continuation of the very first rodeo.

It is quite an accomplishment for a town the size of Pecos to put this rodeo together.

That it happens every year is a tribute to Pecos, Pecosans, and the Rodeo Committee.

Pecos should be proud of this accomplishment.

The rodeo is an example of what pride and determination can create in the face of huge odds.

By all rights, Pecos should not be able to put this rodeo on. But it does.

Pride seems to be the glue that holds the whole thing together - people too proud to let the rodeo die in the face of a nearly dead economy.

You can do a lot with pride. Proud people make the best of what they have. Pride translates into effort and effort is visible even when the results are not perfect.

If Pecos made the same kind of effort, city-wide, on a daily basis, it would make a real difference.

One day, that difference might translate into attracting new types of industry and business to Pecos.

In the same breath, Pecos needs to realize that a rodeo this size does not just happen and that its continued existence is not certain - and Pecos needs the rodeo.

Events like the rodeo are good for the local economy.
Your View
Veteran complaints
Dear Editor:
I read your paper via the Internet and I was, to say the least, shocked by an article in your column about the treatment of veterans by local Veteran's organizations.

I agree with the writer of the article on certain comments made in this article, however, I also disagree with a lot of his comments.

Veteran's organizations are supposed to be in place to help veterans. When we loose touch with our reasons for being, than maybe it is time to replace leadership. In order to do this, he should stay a member of the chapter and try to change the chapter's priorities. The writer can also forward his complaints to the chapter's parent organization.

I do not feel that the community should provide transportation to and from V.A. facilities, but it would be nice if the community could seek out solutions to help veterans find that transportation.

As far as the Reeves County Hospital removing him from the program, I would talk to a V.A. benefits counselor to find out if he could be seen in Pecos at the V.A.'s expense (or at least at a fair split). This is not unheard of under certain circumstances.

Veteran's records lost in the fire cannot be replaced, but there are ways to prove or disprove combat service, injury, awards, etc.. Ask the V.A. to help in locating ways to prove or disprove records lost in the fire. If they cannot or will not help, ask veteran's organizations to help. Most veteran's organizations will help. As far as dishonest employees at the V.A., I have done an internship and have worked as a work study student at the Lubbock V.A. Out-Patient Clinic and have found that the employees of the V.A., at least here in Lubbock, are dedicated to veteran service, as a lot of them are vets themselves and know veteran's needs I cannot speak on behalf of the PBT-ISD, so I will let that alone.

I am truly sorry about your accident and the outcome of the trial. Our legal system is a whole other article.

As far as the author's "wise" words, I would tell the potential military recruits of Pecos to go ahead and join our nations service. We should not look at joining the military as a bad thing without rewards. We should look at it with pride and patriotism. In a lot of cases, the military will help you with career decisions, self-pride, and self-discipline.

I will agree that a veteran needs to be aware of veteran organizations they choose to join. There are ways to check on these organizations before you join, you just have to do a little research.

Not all veteran's organizations are untrustworthy. The VFW, American Legion, Disabled American Veterans, and a lot of other veteran organizations have excellent agendas. What happens at the local level can only be changed by its members.

As a veteran of the U.S. Army and a member of the Disabled American Veterans, I do not feel as though vets are "looked down upon". I am proud of my service to my country. I hold my head high when I tell people I am a vet, I get a lump in my throat every time I hear our National Anthem or Taps, I fly the American flag in front of my home, I even have a web page dedicated to our nation's veterans.

Please writer, don't speak for other vets, especially this one, unless you know for certain that your fellow veterans feel the same way, without question.

MARTIN GOMEZ
U.S. Army Veteran
Member: Disabled American Veterans
Via email from Lubbock, Texas
e-mail: mgomez@spc.cc.tx.us
Web site: www.geocities.com/gilt88/martins_webpage.html
Problems cost school district long-time teacher
Dear Editor:
How disappointing to see an education system that has taught so many gifted people begin to resemble the Clinton Administration by falling apart at the seams. I read the Pecos Enterprise web pages daily. I grew up in Pecos, was educated by the Pecos-Barstow-Toyah ISD and much of my family continues to live and work there.

I don't believe in grade changing. Perhaps this entire situation could well have been avoided if a student old enough to be responsible for their own actions had taken their studies more seriously or if administrators weren't so anxious to pacify ruffled parents. We will never know the alternatives to the situation we now find the district in. But I'm sure that Mr. Rodriguez has questioned the wisdom of the decision he made to change the grade and whether it was worth enduring the sizeable response to appease one student's parents. Regardless of the circumstances, the powers that be will decide the outcome soon enough.

The point of this letter is not to address any one individual but the entire community. So much of what you hear about Pecos is negative and that is due to a lot of factors. So many have forgotten that there are some truly incredible people that have graduated from PHS and gone on to do wonderful things both within and outside of the Pecos city limits. Unquestionably, there are some fantastic teachers that are truly dedicated to their profession, love kids, and love to see the progression of those kids learning. Mrs. Priscilla McNutt, Mr. John Barfield, Mrs. Caroline Rankin, and Mr. Jerry Workman, my father, are a few.

My dad resigned from PBT-ISD effective May 31 of this year. Brother Workman' has been a Chemistry teacher and UIL sponsor since 1965 and in that time he has also served as a bus driver and athletic supporter. He will continue to teach for the Andrews ISD in the fall. Dad loves to teach. He has dedicated his life to our community and educating its children. He loves Pecos athletics and can usually be spotted between the home dugout and tennis courts when there's a home baseball game or sometimes keeping the bus warm when the Eagles play out of town. I've come home many times to find him tutoring students at our kitchen table. There will be some that won't be sorry to see him go. Integrity isn't always appreciated. But there are many more that realize what the community is losing.

The question I pose to the community is this: Shouldn't it say something to all of us that someone like Mr. Workman, who has spent his lifetime in one community, is going somewhere else to teach? I know the frustration he felt with administration, parents, and lack of discipline in the past years has only increased since I graduated in 1997. He feels that discipline and order no longer exist in the district. There are too many factions working against each other. The kids, the parents, the school board, and the admin. get tangled up with political pressure and guarding jobs, and the result is disastrous. But that is the way of the world. The situation with grade changing only demonstrates my argument. There is no way to point at one person and say that this situation is entirely their responsibility. There are too many people involved that could have had a hand in stopping it.

I know Dad feels like he is giving up on the community. He has spent his life in Pecos and now feels he has to go. But I have to say that I am so proud of him for changing so many lives for the better. And all I can say is that I am truly sorry that the next few thousand PHS students won't get to experience Train Wreck or make peanut brittle in order to demonstrate the various states of matter.

As for an inability to attract teachers to Pecos, I think a lot of things will have to change for Pecos to thrive again. The only people that will ever know what really happened in this situation are those directly involved. Finger pointing and calling others ignorant will not solve the problem, but will only cause more tension. Teachers, remember that you change lives and set an example. Parents, discipline your children and remember that they need to learn responsibility. It's a big, mean world out there. If they can't stand on their own, they will not survive. Students, let me tell you from experience, there is no one to baby-sit you in college.

Professors don't care if you do your homework and they don't care if you blow off class. If you miss a test or fail miserably, they will tell you to your face and without sympathy that it's your own tough luck. You will be a number and your parents will not be able to smooth the way for you. If you blow it, you blew it and there will be no one else to blame. Any student who learned the wrong lesson from this incident will find out the hard way that things don't always happen the way you want in the real world.

Administrators and board members, there is so much pressure for you to conform to the wishes of the community members and its leaders. But your responsibility is to the community as a whole and its welfare. Be fair. Be honest. Do your best. Stick to your guns when you know you're right and don't be afraid to say you were wrong.

It's a great life if you don't weaken.

LINDLEY WORKMAN
PHS Class of 1997
Teacher shares portions of a letter with Pecos
Dear Editor:
Without further straining the patience of your readers concerning the issues dividing the school administrators and school board trustees of this school district on the one hand, and ourselves on the other, we wish to share with the people of Pecos portions of a letter to the Texas Education Agency dated April 10, 2000, which constituted our final Appeal to the TEA to overturn what we still believe to be unlawful actions committed by the school administrators and approved by the school board trustees.

In the following excerpts of the Appeal which follow, "Petitioner" should be understood to mean ourselves, whereas "Respondent" should be taken to mean the Pecos School District.

"As you already know, the second semester failing grade of 61, which was conferred by Mrs. Bauer on one of her students during the 1998-1999 school te@ has been overturned by administrators of the Pecos-Barstow-Toyah Independent School District, and has been replaced with a passing grade of 80. Because no evidence has been provided by Respondent to justify this arbitrary grade change, we are appealing to the Texas Education Agency to have the original grade of 61 upheld.

"Although no evidence has been provided by Respondent, a charge of discrimination in the grading of the student was brought against Mrs. Bauer by the student's parents in a letter addressed to the Pecos High School Principal dated Friday, October 15, 1999, of which you have been provided a copy. This false and baseless charge of discrimination was denied by Mrs. Bauer in her Employee Complaint Form: Level One dated Monday, October 25, 1999, of which you also have a copy, and has been denied on numerous occasions since then, with supporting documentation to verify Mrs. Bauer's position. Subsequently in her Notice of Appeal, Level Two, dated Monday, November 8, 1999, Mrs. Bauer explained in detail the manner in which the grade had been determined, and it differed in no way from the manner in which the grades had been determined for all Mrs. Bauer's other students.

"Nevertheless, on Monday, November 15, 1999, the Pecos ffigh School Principal executed a Grade Change Form, which adjusted the student's failing grade of 61 to a passing grade of 80. The reason for this change of grade on the form itself is given as "administrative decision." As you have already been provided a copy of this Pecos Ifigh School Grade-Change For@ you may verify the accuracy of our observation. "`Administrative decision" is not an explanation for this grade-change, for it provides no "reason" for executing this grade-change. If Mrs. Bauer has been at fault in confeffing the grade, then the Respondent should be obliged to explain why Mrs. Bauer has been at fault, yet no reasonable explanation has been given by Respondent for his arbitrary action.

We are consequently left with only one explanation, because only one specific charge has been made against Mrs. Bauer in the connection with the grade awarded. The charge of discrimination was made by the student's parents in reference to Mrs. Bauer's country of national origin, which is the Republic of Panama, and which differs from that of the student and her parents. Because no reasonable explanation for the grade-change has been provided by the Respondent, who nevertheless acted on the demand of the parents that the grade be changed based on the demonstrably false charge of discrimination, the Respondent himself has behaved in a discriminatory manner toward Mrs. Bauer in wrongfully altering the grade she conferred, and has retaliated against Mr. Bauer when he has sought to defend his wife and colleague. In doing so, the Respondent has violated not only local school regulations, but state statutes and federal law as well.

"Your attention is invited to the Introduction to the Pecos-Barstow-Toyah ISD Texas Association of School Boards (TASB) Manual (Attachment One). In the Introduction, it is clearly stated that "The (LEGAL) policies track the language of the U.S. and Texas Constitutions, federal and state statutes including the Texas Education Code..... as well as other sources of legal authority defining school district governance."

"Under the heading of "Employment Objectives: Equal Employment Opportunity" of the Pecos School District TASB Manual, will be found that section dealing with "Civil Rights (Title VII) and Title IV." (Attachment Two). An examination of this paragraph reveals that "The District shall not fail or refuse to hire or discharge any individual with respect to compensation, terms, conditions, or privileges of employment because of an individual's.....national origin." Obviously, when Mrs. Bauer's grade is overturned without good cause, this act by the Respondent constitutes a violation of her civil rights as an employee of this school district, when the only reason for the gradechange is a false and unsubstantiated charge of discrimination which in itself is discriminatory.

"Under the title "Academic Achievement: Grading/Progress Reports to Parents" of the Pecos School District TASB Manual (Attachment Three), it will be found that under the sub-heading "Guidelines for Grading," the Manual states "These guidelines shall ensure that grading reflects student achievement....." As previously explained in Mrs. Bauer's Notice of Appeal, Level Two of November 8, 1999, of which you have already been provided a copy, Mrs. Bauer protested the Respondent's arbitrary "dropping" of the student's grade of 15 which the student achieved on her Second Semester Examination. Obviously, "dropping" the final exam grade is a clear violation of the Pecos School District regulations stipulating that "Grading reflects student achievement."

"Elsewhere in the Pecos-Barstow-Toyah School District TASB Manual, under the heading "Term Contracts: Non-renewal," (Attachment Four) it will be noted that within a list of 26 items for which violation can be cited for Non-renewal of Contract is Item Number 21: "Falsification of records or other documents related to the District's activities." By directing that a failing grade be changed to a passing grade for no legitimate cause, Respondent clearly demonstrates a willful falsification of a school record, specifically a Pecos High School Grade-Change Form, in that the true academic performance of the student is distorted by "dropping" the final examination grade, which constitutes 25% of the semester grade. This deliberate falsification of the Grade-Change Form, in turn, is reflected in the falsification of the student's State of Texas Academic Achievement Record (grade transcript), of which you have also been provided a copy.

"In view of the complete absence of any documentary evidence provided by the Respondent to justify his arbitrary behavior and discriminatory treatment of both Mr. and Mrs. Bauer, and whereas both Mr. and Mrs. Bauer have between them supplied an overwhelming preponderance of documentary evidence to support their position, the Petitioner requests that the grade of 61 that she originally conferred upon the student be upheld by the Texas Education Agency."

We lost this Appeal to the Texas Education Agency because the TEA judge ruled that "Petitioner has failed to identify a potential violation of the school laws of this state. While Petitioner contends that certain policies of Respondent were violated, school board policies are not to be defined to be a part of the school laws of this state. The Texas Education Code does not prohibit a principal from changing a grade given by a teacher."

In other words, the State of Texas is washing its hands of the matter, because it has no jurisdiction in a local dispute. The dispute must therefore be settled in accordance with local policy guidelines.

Those readers of the Pecos Enterprise who have followed this story are by now well aware of the fact that we appeared before the Pecos School Board of Trustees on Thursday, December 9, 1999, to present a Grievance protesting an unlawful gradechange. A total of 37 pieces of documentary evidence to support Mrs. Bauer's Grievance was submitted to these trustees of the school board, while nothing was submitted by either of the two administrators. It has been our experience, however, that such people of authority in American public schools frequently either don't read, won't read, or can't read documents which are submitted to them. No other reason can be given for such people who reach a unanimous decision that is directly contrary to the facts presented. By their unanimous decision, one student and one student alone was granted preferential treatment prejudicial to the best interests of her classmates. And yet these very same school board trustees are trusted by the members of this community to safeguard the best interests of our children. From the foregoing it appears that our trust has been rather badly misplaced.

As public school teachers certified by the State of Texas, we trusted our principal to make the right decision but he chose the wrong one instead; we trusted our superintendent to make the right decision, but he falsely accused us of breaking the FERPA law instead; we trusted the trustees of the school board, but they put their trust in the school administrators instead; we trusted the State of Texas but it has no jurisdiction in this matter.

As has been amply demonstrated above, we are no lawyers nor have we consulted one. Yet because of the dysfunctional system of public education which obtains in so many parts of this country today, we have had to struggle alone against parents, school administrators, school board trustees, school district lawyers, and the State of Texas itself in an effort to provide fairness to all the students of Pecos High School. The last, the best lesson that we can leave our students now is never to compromise between what is clearly right and clearly wrong. Although the cost of doing so may sometimes be high, the knowledge that what you have done is right is all that really matters.

We wish to take this opportunity to thank the many people of Pecos for the kindness and sympathy they have shown us since the onset of this unfortunate contest, and to assure them that our quarrel with the school district is in no way a reflection of the high regard we have for them and the love we have for Pecos.

Thanking you for your time and attention to this letter, and hoping that we have not imposed too much upon the patience of your readers, Mr. Briggs, we remain

Sincerely,
Bruce A. Bauer
Brenilda R. Bauer <!==========end copy==================>
---
---
Pecos Enterprise
York M. "Smokey" Briggs, Publisher
Peggy McCracken, Webmaster
Division of Buckner News Alliance, Inc.
324 S. Cedar St., Pecos, TX 79772
Phone 915-445-5475, FAX 915-445-4321
e-mail news@pecos.net
Associated Press text, photo, graphic, audio and/or video material shall not be published, broadcast, rewritten for broadcast or publication or redistributed directly or indirectly in any medium.
We support Newspapers in Education
Copyright 2000 by Pecos Enterprise
---