|
Daily Newspaper and Travel Guide
for Pecos Country of West Texas
Opinion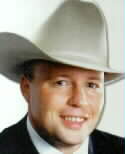 Sage
Views
By Smokey Briggs
<!=====paste copy here==========================>
Tuesday, June 13, 2000
From the hip...
We note with interest the Clinton administration's love affair with anti-trust litigation. First Microsoft, now Visa/Master Card.

After seven years of Clinton, it seems doubtful that these monopoly-busting suits are motivated by the Justice Department's simple desire to enforce the law.

More likely, the lesser giants of these two industries have contributed enough to the Clinton legal defense fund to purchase these lawsuits. In the bargain they may have purchased the dragon slaying sword they could not forge in the free market.

In the same stroke, the Clinton regime has guaranteed that Bill Gate's campaign contributions will be addressed to Austin.

Al Gore must really appreciate the help.

As for Mr. Gates - he should pick up his marbles and go home. Shut down the company. Give everyone a nice severance, and head for a long vacation where he could spend his time watching Justice Department spokespersons explain to CNN why Windows is no longer supported, and it just isn't the department's fault.

***

Last week's news that Rosie O'Donnell has proved herself the hypocrite I have always suspected her of being brought a smile to my face.

An intrepid reporter in her hometown unearthed the fact that her family bodyguard recently applied for a handgun permit.

O'Donnell, who stands proudly in the shadow of Hitler and Stalin on gun control issues, told the press that it was not inconsistent with her anti-gun stance for her to hire body guards packing iron.

For me, this elegantly illustrates the elitist hypocrisy of the anti-gun crowd. I suppose that in O'Donnell's perfect world, only the very wealthy should be able to afford the protection of a firearm.

Marie Antoinette would be proud. I have no doubt that if asked how regular Joes should protect their families and houses Ms. O'Donnell would reply, "Let them use a cake."

No thanks Ms. O'Donnell; I'll stick with my Colt.

EDITOR'S NOTE: Smokey Briggs is the editor and publisher of the Pecos Enterprise whose column appears on Tuesdays. He can be e-mailed at: smokey@pecos.net
Our View
Rodeo Committee deserves credit
The gate has not been pulled for the first bronc rider and the clowns aren't dodging bulls yet, but your rodeo committee deserves a pat on the back.

Nobody knows if this year's rodeo will be successful. We have all got our fingers crossed, but you never know.

What we do know is that in light of falling attendance and revenue over the past few years, this year's committee has cowboyed up and made some changes to try and revive the rodeo.

The committee has taken plenty of heat for making changes to an event as steeped in tradition as the West of the Pecos 4th of July Rodeo.

For starters, opening night won't be until July 5th, although a special slack performances and bull riding will be held on the 4th.

The idea is to have the rodeo wind up on a Friday and Saturday - two days when folks from surrounding communities can stay up late and not have to go to work the next morning.

Change just for the sake of change is not good.

But when the ship is sinking, you have to do something. Simply hanging your head and muttering that `we've always done it this way' doesn't cut it.

Making these changes took courage, whether they bear fruit or not, and your rodeo committee should be congratulated.
Former Pecos graduate finds opinion disgusting
Letter to Editor:
I was browsing recently trying to keep up with the events happening in my home town. After catching my breath from rigorous laughter over the comment in a recent opinion article about our school boards actions, I was completely disgusted. The comment of "no wonder Pecos cannot attract teachers", was both hysterical and ludicrous.

This argument was based on the belief that our administrators and school board are not smart enough to do their jobs adequately.

Once again let me catch my breath. Okay, first of all the reason Pecos cannot attract anyone is the constant uneducated criticism of its school board as well as administrators.

As a proud graduate of Pecos High School, I am appalled at the constant bad reputation that you put upon your school representatives. To act as if they are not educated is difficult to perceive. I am sure the school board and the administrators made decisions that they felt were in the best interest of the school. The responsibilities they undergo on a daily basis is more than you could possibly fathom.

Personally if I was a young teacher looking to find a job somewhere i wouldn't choose Pecos either. However it wouldn't be because of your ridiculous justification, but because I would look on this website and the first thing I would see is the constant attacking that you use. I would not want to be a part of something that is constantly being ridiculed.

Maybe the reason you don't know any of the facts is because it really is none of your business as well as mine. Sometime try and focus on the positive effects the school board does for the community, but that would be too much to ask I guess. We all know the focus of the ignorant is negativity.

In Disgust,
CASEY LOVE
Citizen concerned wants a fair, equitable solution
Letter to Editor:
As a private and concerned citizen of Pecos, Reeves County, Texas, with no agenda, except to seek and find a fair and equitable solution to a questionable issue, I congratulate Mr. Briggs for his articles on the controversy surrounding the recent action of the PBT-ISD school board and 2 administrators.

I have carefully read each article reported in the Pecos Enterprise. Also, the Tuesday, June 6, 2000 edition. Mr. Briggs is entirely correct in his statement that this situation needs a complete investigation by the Texas Education Agency. Is there or has there been any denial or rebuttal of the information as reported? If this reporting is factual, then the blatant lack of leadership by this school board, this superintendent, and this principal is a travesty, shortchanging the taxpayers and the students of this school district.

Students must learn that they are responsible for his or her actions and the consequences thereof. To lower standards is an injustice to all. This principle, also applies to school department heads, school administrators, and school board members.

Now is the time to examine critically and estimate the merit of the actions taken by all persons involved. When all the facts are made public knowledge by all these parties, then a fair and honorable closure can be reached with mutual benefits for one and all.

ZELMA L. CANON
Local veteran lacks help and assistance
Letter to Editor:
I am writing this letter and I hope that you publish it in your newspaper, as this is a very important subject that needs to have attention to it by the people since we have very little help for veterans in this city. I am a ten-year veteran and have not had much if any help or assistance from our Post and community in times of need.

"Fighting for Justice"

On Friday, June 2, 2000, there was a documentary on television on ABC's 20/20. This program was very interesting to me and a lot of veterans. I am a United States veteran and I served in the Continental United States, South Korea, and overseas in Europe, Turkey, and Greece.

After viewing the TV program about veterans and the problems encountered by veterans after they have been released, from serving all those years for our country, I was very disappointed with the reality of the truth revealed in the program about the treatment of veterans. Seems that most veterans' holidays are geared to those or are about those who served and died in combat and not much is mentioned about the survivors.

The program disclosed the truth about how military records, especially medical records, were burnt or lost during a fire, which occurred at Milpersen years back, and no emphasis has been made to recover or acquire those very important documents. Some records were allegedly also intentionally burned and disposed of by people who worked at this office. This happened for some unknown reasons or excuses.

There are also several cases, in which hundreds of thousands of veterans' cases being turned down when disability was brought into the picture. Through unauthorized and careless misconduct of certain personnel who worked at these offices who did and are not doing what they are supposed to or doing what is right and legal to help the veterans now in their time of need.

I am totally upset with the fact that Pecos doesn't provide veterans with transportation to Veterans Medical Center in Big Spring, Texas. Just recently, I tried to acquire a bus ticket from my Post 6437 of which I have been a member. All I needed was for someone to sign a form from our account in which we have several thousand dollars and I would have been able to go to my appointment. This appointment was very important because it dealt with by leg, which needed to be x-rayed, and about arranging paperwork for some type of disability, not to mention acquiring pain pills, which I so desperately need.

Just because of some haggling and arguing about who was supposed to be commander, I never acquired the check and was told to wait and postpone my appointment. This orthopedic appointment has now been moved to another two months of waiting. My car is broken down and has been in the shop for months. That is why I so badly needed this transportation.

The other veterans who are also members of the Post are all a lot older and retired and have new cars, money, and transportation, but I am poor and I need to do whatever it takes to get to Big Spring. I have given up hope of getting help, so I have decided to turn in my resignation from this post and my position as service officer and chaplain. I have been an active member, but it is useless for me to go to the meetings since I am not considered to be important enough for them to waste money on my problems.

Also, since I was run over by a drunk driver from Pecos two years ago, I have been partially disabled. The court proceeding turned out to be a disaster since the attempted felony charge was reduced to a mere misdemeanor and the guy got probation for two years. I then had to find ways to help myself. I was accepted into the Indigent Program from Reeves County Hospital, but as soon as they found out I was a United States veteran, they decided to stop assistance and remove me from the program. They said I had to go to my own hospital, which is Medical Center in Big Spring. To further add to the problem was the fact that PBT-ISD where I was employed would not hire me even as a substitute teacher, which I had been employed as before. I worked as a teacher's aide for eight years and because of something in my past record that happened 15 years ago, I was refused employment, even as a veteran who is supposed to get special privileges for our service and equal opportunity.

Pecos and Texas and other states would rather give assistance to illegal aliens, especially those that come from across the border. They don't serve in our military, don't deserve social security nor food stamps or welfare, but our government gives it all to them on a silver platter. More has been offered to that little boy, Elian Gonzales, who is here illegally and should be shipped back to his native country for immigrating into our country without permission from the federal government. A word to the wise, don't join the service unless you have planned some kind of help for yourself afterwards. Be careful which Post (VFW), American Legion, or veterans group you choose to join. The question is why we the veterans are looked down upon is something I will never understand, but will have to accept. Thank you for your time and patience for letting me speak out for my fellow countrymen, comrades-in-arms, and veterans for veterans. Good luck and may peace be with you!

ISRAEL MATTA
United States Army
1972-1981
Teachers, students out of control towards each other
Dear Editor:
This was our first year in the PBT-ISD, where my child attended Zavala Middle School. I was amazed as the year unfolded before my eyes. Teachers were out of control, yelling obscenities, calling children names like morons, idiots, and even shows of physical violence towards students. Students who verbally and physically abused other students and teachers, and were not disciplined. These were not isolated incidences! Parents, ask your children, they will tell you this is a daily occurrence in the classroom.

When attempting to address these issues with some teachers and the administrative staff, I found a very apathetic attitude. They seem to be indifferent to the problems in this school. If the administrative staff chooses not to do the task at hand, and it is a choice, perhaps it is time for a change. When this attitude is tolerated by teachers, administrative staff, and parents, what are the values we are teaching?

We as parents have all heard the stories from our children, however, if the abuse was not directed towards our own child and even sometimes when it is, we tend to turn a blind eye so as not to rock the boat. I know good teachers and administrative staff are hard to find, so what? The role models our children have before them NOW will impact their lives forever. Are we as parents becoming apathetic as well? What is our example to our children when we as parents tolerate this behavior from teachers, administrative staff, and students? Shame on you PBT-ISD, for tolerating this behavior as well.

Hats off to the teachers who still care and try to make a difference in our childrens' lives in spite of the adverse conditions and attitudes in this school. We are very grateful and you are much appreciated. We know who you are, and our children know who you are by your example.

I wish I had the option of moving or sending my child elsewhere for his education as others do, but I do not. So I will stay and try to make a difference.

Think about this. What will you do next time your child reports inappropriate behavior of a student or teacher to you? What will your example be to your child? You do have a choice!

JOSEPHINE INGRAM
Web reader remembers old days
Dear Editor:
I am a former resident of Big Spring; hauled and sold Pecos Cantaloupes for school money, back in the 1940s.

Tonight, I was reading the Monahans paper on the net. I had never found it before and E-mailed them a letter in which I asked about Mr. Billy S. Estis. Then, to my surprise I found myself reading the Pecos paper. It was like "old home week".

I have a question; do the Todd Farms still grow cantaloupe on their original land a few miles west of Pecos, and north of the Bankhead highway?

It has been so very long ago, and I have NEVER been able to remember the name of the farms, until I sat down to write this letter. Amazing, how things that fill a place in ones life come flooding back. At my age, that's not easy.

When the tires would blow out on my old truck, which they often did, I bought many a tire in Monahans.

Its been near thirty years, perhaps more, but Pecos and Monahans still have something for me and the memories of growing up the hard way, in West Texas; of the soot filled skies from Wink and Kermit carbon black plants.

Memories of coiling up in the floor of Dad's old Diamond-T truck; of he and I making bets on whether or not the old truck could out run the steam engine, pulling the T&P trains, a mile or more long, as they wound like a desert snake across the prairie, much of which never saw darkness because the oilfield fires that doted the night.

And, tonight, I still see the thousands of B-29 bombers, all rowed up on Pyote Army Air Core base. Huge airplanes, like huge herds of cattle, waiting for the slaughter; just waiting, as far as the eye could see.

I also remember stopping at the desert sand dunes, near Monahans, to scoop up a #3 wash tub full of that sand for a dear old friend in Midland, who mixed it with oil and sharpened things, like the old push type lawn mowers, with the mixture.

Sometimes, I thought he was only buying it from me to make me feel good.

When he died, he had requested I help carry him to his final resting place.

Well, thanks for taking the time to read such a long dissertation; but like others my age, we tend to carry on, and on.

Wm. S. Birdwell;
4870 hwy. 93 S. 29
Whitefish, MT 59937
E-Mail wsbj@webtv.net <!==========end copy==================>
---
---
Pecos Enterprise
York M. "Smokey" Briggs, Publisher
Peggy McCracken, Webmaster
Division of Buckner News Alliance, Inc.
324 S. Cedar St., Pecos, TX 79772
Phone 915-445-5475, FAX 915-445-4321
e-mail news@pecos.net
Associated Press text, photo, graphic, audio and/or video material shall not be published, broadcast, rewritten for broadcast or publication or redistributed directly or indirectly in any medium.
We support Newspapers in Education
Copyright 2000 by Pecos Enterprise
---