|
Daily Newspaper and Travel Guide
for Pecos Country of West Texas
Opinion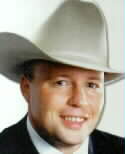 Sage
Views
By Smokey Briggs
<!=====paste copy here==========================>
Tuesday, May 16, 2000
Maybe there are plenty of good people left
I had a good experience this weekend.

We loaded up the truck and trekked over to Carlsbad.

Ruby, our two-year-old daughter, and I had not seen the caverns before. My beautiful bride saw the caverns once before and assured me that this big hole in the ground was worth the trip.

She was right. The caverns are magnificent. Even for the mildly claustrophobic the place is so big that it does not take much effort to forget that you are stomping around with a billion tons of rock over your head.

Interestingly, the big hole in the ground and the cool rock formations were not the most pleasing part of the trip.

The best part was the behavior of the many people we shared the experience with.

These days, I dread going out in public. I despise ill-mannered people and bad manners seem to be the norm.

I can't stand people who talk in movie theaters as though they are in their living room.

I could drive a monster truck over rows of radio-blasting cars with a smile on my face - and whatever music I felt like listening to would be playing at a polite level in the cab.

People who curse in front of women and children make my blood boil.

And as I get older I find it harder and harder to muster a polite or legal response to such transgressions.

Well, the folks at Carlsbad Caverns on Sunday made me proud to be an American.

Everyone was polite. People smiled at each another.

The park rangers presented themselves with just the right amount of guardianship for the caves and a sense of service and duty to the public they work for.

I didn't hear a single curse word.

Inside the cavern, people whispered in low voices, and stood to one side of the narrow trail to let others pass while they gawked at this stalactite or that stalagmite.

Not once during the entire trip did I have to stifle the urge to choke some impolite twit.

And these folks were not just Texans. There were Yankees of all different breeds and foreigners from Florida and even California.

It was enough to give a man hope that maybe, just maybe, this country is not traveling towards Hades at the speed of a roller coaster.

EDITOR'S NOTE: Smokey Briggs is the editor and publisher of the Pecos Enterprise whose column appears on Tuesdays. He can be e-mailed at: smokey@pecos.net
Our View
Ex-politicians deserve "thank you" for service
Three incumbent politicians lost their positions last week in the city elections: Dot Stafford as mayor, Greg Luna from the hospital board, and Steve Armstrong from the school board.

None of these positions receives much of anything in the way of compensation. You don't do this kind of work for the money and if you do it right, it is a lot of work.

Why weren't they re-elected? That is always a good question the day after an election _ and one that is impossible to answer. Ask 100 people the same question and you will probably get 100 different answers.

At this point, it really doesn't matter.

However, when you see these folks on the street or at the grocery store, you might shake their hands and thank them for their service.

All three served Pecos and seemed to always have Pecos first in their thoughts _ not their own political ambitions or financial interests. You really can't ask for more than that.

Stafford served six years as mayor. Luna served four years on the hospital board. Armstrong has served a total of 7 years on the school board.

Thanks to each of you for your service.
Your View
Lets not forget the citizen
Dear Editor:
As a free people, we are entitled to our opinions and attitudes. The United States Constitution grants the right of expression, verbally and in printed form. Let's not lose sight of this important freedom. Hopefully, our statements will be made with dignity arid truth without intent to harm others. In Ward County, there is a hotly-debated, highly controversial issue ongoing concerning radioactive nuclear waste disposal. A private company, envirocare, has chosen Ward County for a possible site. This is any first public statement concerning this issue and my objective is twofold. One is to relay what I believe to be a fair assessment of the situation todate and the other is to share my personal thoughts.

Are you aware that Ward County has NOT been designated as the permanent "disposal," site for waste coming from Maine and Vermont through the Compact? Only one Texas counter is going to be the site and it might well end up being any West Texas county. Could be yours. Are you also aware that Envirocare is not the private company selected to handle this compact waste? It could be Waste Control Specialists, Envirocare or another. Now, how do I know this? Because, there are no laws governing the disposal of this waste in the State of Texas and will not be until the State Legislature meets in 2001. A county and a company will be decided AFTER a law is created. Not now.

The key word in this whole issue is "Storage" versus "Disposal". "Disposal" is where the big money is because the Compact of 1997 between Maine, Vermont and Texas calls for permanent "disposal" of the waste, which means digging a hole in the ground and burying it. Licensing at this tune has to go through the State Legislature and TNRC. Then Texas gets $50 million and the "host" county gets $5 million. Envirocare has a pending application to the Texas Dept. of Health for a license to "store" low-level radioactive waste for 500 years in above-ground bunkers. The proposal is called "assured isolation". But Compact money doesn't go with storage at this time or through The Texas Dept. of Health In a recent County magazine it is explained that Envirocare wants their proposal of above-ground "storage" to be declared acceptable to the Compact; although the Compact calls for "disposal".

Envirocare has selected Ward County for this proposed "storage," site. Shouldn't. someone have asked the majority of citizens of Ward County if that's what they wanted? It is imports to remember Ward County has not chosen Envirocare or radioactive nuclear waste to be in their county.

There are many factors to this issue, but I'll share what I consider three main points: Safety: Choice: and The Role of Elected Officials.

On Safety: I believe the burden of proof for prevention of exposure to radioactivity on human beings rests squarely on the shoulders of the State of Texas. They have an ethical obligation to the citizens. To simply read and accept as proof any glossy, colorful brochure from any private company who might have a vested interest is not enough for me. I think we would be very naive to accept anything short of hard facts frown experts. This radioactive material could have serious health ramifications if stored above-ground in a region known for tornados. Those of us Who watched in horror as the twin tornados hit Ward County in 1977, and lived with the aftermath, I find it impossible to accept Envirocare's representative, Mr. Jacobi's, answer that his facility is "tornado proof" as he stated in a Grandfalls Texas meeting. How can the damage be "undone" if a tornado hits the facility and blows that stuff all over us? There are also some hard questions to be answered on the protection of our water source.

On Choice: It is inconceivable that the State of Texas would even consider placing the psychological and physical burden of risk on citizens without their permission. Each registered voter in evenly county should be allowed the freedom to express their choice by voting on this issue. This vote should be protected by law so it could not be overturned by Commissioners' Court or the State Legislature. And before each county votes, the State would provide and pay for the top certified experts in the United States to educate the citizens on the pros and cons of the safety and financial issues. After all, it's our tax money. Anything less than a final `BINDING' vote by registered voters through the normal voting process in each county is unacceptable in my eyes. Why? Because this is our land, it's where we work, go to school, worship our Lord and have on babies. It's the air we breath and the water we drink. How dare anyone presume to tell us we have no choice when it is we who will bear the risk.

The Role of Elected Officials: These are my personal thoughts from having been in county government for 20 years. There is an old saying, "A Public Servant always places the best interest of the citizen first; Politicians always place their own best interest first". Never before in the historic of West Texas has it been so vital that we, as elected officials on the local and state level, listen to the citizens zenith the heart of a Public Servant. The unspoken trust between the official and the citizen cannot be legislated by law, and a true public servant will be sensitive to any possible betrayal of that trust. Elected of finials should have the desire to protect that trust, because when it's gone, our goverrunent begins to deteriorate.

How shamefu1 we would be if we publicly spoke for the very citizens we serve as to their desires without knowing for sure what they are. How can we know until they cast their vote?

Would it not be service in the truest sense of the word for elected officials to work together to assure a "BINDING" vote for the citizens of all West Texas counties concemmg this issue?

I believe every citizen deserves that.

JO ANN OCIANA WIDDESS
District Clerk
143rd Judicial District
Ward County, Texas
Envirocare not wanted in Ward County
Dear Editor:
In your article dated May 12, 2000 entitled "Envirocare says site would withstand wildfires" it was stated that Gene Brown, Envirocare's West Texas Director of Community Relations, is a minister at churches in Monahans and Kermit. Mr. Brown WAS a minister at the First Christian Church in Monahans before he took the position with Envirocare. HE IS NO LONGER A MINISTER AT THE FIRST CHRISTIAN CHURCH IN MONAHANS.

I don't know whether the church in Kermit allowed him to continue as minister, but Monahans did not allow him to continue as minister after he took the position with Envirocare.

Just what are Mr. Brown's "credentials" for stating that the "proposed" site could withstand wildfires? He is merely a public relations person and has absolutely no experience with nuclear waste.

Let me also say that just because Envirocare has opened in office in Monahans, it does not mean that this site is a "done deal". As a matter of fact, it means absolutely NOTHING. They have not been granted a license of any kind regarding the proposed site at Barstow. The Texas Low Level Radioactive Waste Disposal Authority opened an office in Sierra Blanca while that site was proposed and they were defeated.

The PEOPLE of this area DO-NOT WANT ENVIROCARE here, They need to pack up their bags and go back to Utah.

LAURA BURNETT
Chairperson, Friends of Ward County
Group organized to OPPOSE Envirocare
Grandfalls, TX <!==========end copy==================>
---
---
Pecos Enterprise
York M. "Smokey" Briggs, Publisher
Peggy McCracken, Webmaster
Division of Buckner News Alliance, Inc.
324 S. Cedar St., Pecos, TX 79772
Phone 915-445-5475, FAX 915-445-4321
e-mail news@pecos.net
Associated Press text, photo, graphic, audio and/or video material shall not be published, broadcast, rewritten for broadcast or publication or redistributed directly or indirectly in any medium.
We support Newspapers in Education
Copyright 2000 by Pecos Enterprise
---