|
Daily Newspaper and Travel Guide
for Pecos Country of West Texas
Opinion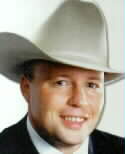 Sage
Views
By Smokey Briggs
<!=====paste copy here==========================>
Tuesday, May 9, 2000
Sacagawea on a coin?
I tried to buy a soft drink from a machine the other day. I spent about five minutes trying shove my quarter through the vending machine slot _ without success.

Maddened by thirst and frustration I palmed the offending coin and examined this quarter that refused to purchase a cold drink.

To my surprise, it wasn't a quarter. It was gold and had an Indian gal with baby on her back on the "heads" side.

With the mental agility of a buffalo, I gradually realized that in my hand was one of the new dollar coins.

Wishing desperately it was a quarter so I could buy a drink, I dropped it in my pocket and went in search of a lowly quarter _ a coin much more valuable to me at the time considering my parched state.

It was several days later when I next had an opportunity to contemplate the funny sized coin in my pocket.

I wasn't impressed.

It looks like play money to me. The gold looks fake, which makes sense, since it is fake. I understand that Congress decreed that the new coin must be gold to help differentiate the coin from quarters, and hopefully make it more successful that the ill-thought Susan B. Anthony dollar.

But it still looks tacky _ not like the currency of a first-rate world power.

Of course, after eight years of the Clinton Administration, our military doesn't look like the military of a first-rate world power either, so maybe the coin is fitting.

And then there is the subject.

Sacagawea?

Everyone learns in 7th grade history that Sacagawea was a Shoshone Indian girl sold or given by her captors to a French fur trapper for a wife, who later helped the Lewis and Clarke Expedition navigate from St. Louis to the Pacific from 1804 to 1806.

Captain Clark himself acknowledges the debt his expedition owed the woman. She was an important part of its success.

I'm not sure though that such exploits qualify a person to be the subject of a general circulation United States Coin _ or at least to completely steal the lime light from Lewis and Clark, the two guys who ramrodded the expedition and are credited with opening the American West to exploration and settlement.

I was curious, so I started poking around the U.S. Mint web page.

According to the web page at usmint.gov, the U.S. Dollar Coin Act of 1997 provided for the physical specifications of the coin and the Secretary of the Treasury required the new coin to have one or more women on one side (dead of course), and an eagle on the other.

So much for Lewis and Clark. Despite any historical contributions made to our country, they no longer qualify for recognition on our coinage since they were both males.

To dictate the gender of whomever was to be on the coin seems to be a gross violation of basic equality _ something supposedly important in our society.

It also detracts from the person selected _ in this case Sacagawea. Although she probably doesn't care.

The Secretary's requirement implies that no woman could be selected without the design committee being limited to women only.

If that is the case, then there are many people of more historical significance than Sacagawea who should be the subject of the coin.

If this is not the case, then a women would have been selected anyway _ without any gender bias on the part of the Secretary.

Either way, the Secretary's requirement is discriminatory and shows great disregard for women of historical significance.

EDITOR'S NOTE: Smokey Briggs is the editor and publisher of the Pecos Enterprise whose column appears on Tuesdays. He can be e-mailed at: smokey@pecos.net
Our View
Help firemen buy a rescue cam
These days we are constantly bombarded with solicitations for money that will "save a life." From cancer research to eliminating world hunger _ and they are all "good" causes.

But sometimes a person has to wonder about just how much bang-for-your-buck you get with many causes.

By the time you subtract the charity's administration costs, advertising, etc… only a fraction of your donation actually ends up being used for what you donated it for.

Right now in Pecos, there is a really good cause that just might save a life. Even better, the "bang-for-your-buck" ratio is right at 100 percent.

The Pecos Volunteer Fire Department is raising money to purchase a "Rescue Cam."

The rescue cam is a thermal imaging camera. The camera allows firefighters to see through the smoke in a burning building to find victims. According to the literature firefighters can find victims 90 percent faster with the camera than without.

Putting statistics to the side, common sense says that this camera can and will save lives.

The camera costs $15,550. So far, Chief Roy Pena and his men have raised about one half of the needed money, with Reeves County donating the lion's share of the money.

In the future the fire department will be holding different fund raisers including a car wash scheduled for this coming Saturday.

If you can patronize these fundraisers, please do. Or if you can spare a dime, drop it off at the fire department.

The rescue cam is a good idea, and will benefit everyone in Pecos and the surrounding area.
Your View
Online reader realizes responsibilities
Dear Editor:
While reading the Pecos Enterprise online, as I usually do, your article on people joining the military caught my attention. You see, before I joined I pretty much took everything for granted, but I am proud to say after a long and rugous basic training and long waits in the chow line, as you mentioned, I finally realized what it takes to live in a free country.

Today's men and women in uniform have twice the responsibility as they ever did, do to the down sizing of the military. The military is often at times overlooked but people seem to forget that its people like me and the guy next to me that this country is able to prosper.

GABRIEL VILLA
Ft. Myer, VA. <!==========end copy==================>
---
---
Pecos Enterprise
York M. "Smokey" Briggs, Publisher
Peggy McCracken, Webmaster
Division of Buckner News Alliance, Inc.
324 S. Cedar St., Pecos, TX 79772
Phone 915-445-5475, FAX 915-445-4321
e-mail news@pecos.net
Associated Press text, photo, graphic, audio and/or video material shall not be published, broadcast, rewritten for broadcast or publication or redistributed directly or indirectly in any medium.
We support Newspapers in Education
Copyright 2000 by Pecos Enterprise
---