|
Daily Newspaper and Travel Guide
for Pecos Country of West Texas
Opinion
Tuesday, April 11, 2000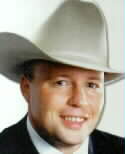 Sage
Views
By Smokey Briggs
<!=====paste copy here==========================>
The "customer friendly" IRS
I sat down to figure out my taxes over the weekend.

A lot has been made of the new "customer-friendly" approach to tax collecting that the IRS is advertising.

I must admit, I was impressed with the new "Forms and Instructions" book the IRS mailed to me this year.

The cover is much friendlier, with soothing headlines like, "Need Help?" and "Increased Tax Benefits," playing across the front.

Unfortunately, the help section consists of about 100 pages of instructions that were obviously written by the graduating class of Helga's School for the Verbally Challenged, and the increased tax benefits I discovered didn't apply to me since I'm not left-handed, wasn't born on February 29th, and do not draw pentagrams on the floor on Saturday nights for spiritual guidance.

On page four of this guide to my monetary partnership with the government is a letter from the Commissioner of the IRS. In his letter, Commissioner Rossotti states that he and the rest of the IRS are working hard to put service first for American taxpayers.

Below the letter is a nice concise "Mission Statement."

It reads, "Provide America's taxpayers top quality service by helping them understand and meet their tax responsibilities and by applying the tax law with integrity and fairness to all."

I wonder how many of my tax dollars went to creating that little piece of work. Sounds like the beginning of a good joke - How many IRS agents does it take to create a mission statement that does not use the following words: prison, blood, pound of flesh, penalty, torture, or "All hail his holiness the Dark Master."

Whoever wrote this mission statement is good. If he had written one for the Holy Inquisition it would have read: "To provide infidels and blasphemers with the help and encouragement necessary to see the error of their ways and ease them down the path of righteousness."

Well, after reading the Commissioner's letter to me, and the mission statement, I threw myself into figuring my taxes with newfound vigor and hope.

"These guys are on my side," I thought to myself. "I'm the customer here. This is a new millennium and this is the new IRS."

I felt good. I felt like a customer rather than a peasant who was about to have the lord of the manor drive off three-fourths of his sheep herd and his first-born child.

Six hours later, I was finished, I think. My brain was the consistency of oatmeal and my calculator was flashing, "Tilt."

Surely I had misplaced a decimal or something. So I added up all the numbers again.

After the third go with the calculator I realized that the number starring back at me was correct.

If this is "customer-friendly" tax collecting, then Jesse James pioneered "customer-friendly" banking.

The only difference I see is that the guy with the bandanna over his face said "please" before he took my wallet.

As I contemplated my fate I ran my eyes back over my "customer-friendly" guide to figuring my taxes.

And then I saw it.

The IRS really has changed I realized. There, mid-way down the Commissioners letter I saw the magic words - if you owe money you can pay it with your credit card.

A huge grin spread across my face as I reached into my back pocket for my wallet.

I love America. You pretty much can't go to jail for not paying your bills. The only exception to that rule was not paying the IRS. And now our "customer-friendly" IRS has solved that problem.

So this year I'm paying with plastic. Owing money to a credit card company is a lot less frightening than owing it to the IRS _ even the new, customer-friendly version.

EDITOR'S NOTE: Smokey Briggs is the editor and publisher of the Pecos Enterprise whose column appears each Tuesday. He can be e-mailed at:smokey@pecos.net
Our View
High school diploma should be
more than attendance certificate
Exit testing of high-school students continues to be a hot topic _ and has now graduated from state governments to Washington, D.C.

Exit testing is the practice of requiring that a high school student pass a high school exit exam before he or she is issued a diploma.

It was instituted as a way of making sure that kids didn't get a diploma without gaining basic skills.

The criticism of the practice is that some kids don't pass. These kids are unfairly disadvantaged because they don't have a high school diploma, the critics argue.

Everyone can agree that these young people will be disadvantaged by not having a high school diploma.

Unfortunately, the answer is not simply to lower the bar another notch so that everyone can pass the exit exam.

When we do that, we lower the value of the high school diploma for everyone. Eventually it will become the attendance certificate it once was, rather than a diploma guaranteeing that the holder has mastered certain skills.

We have an exit test in Texas, and Pecos graduates have to take it. Our goal should be to make sure that our students get a good education. If they do, they will pass.

In the process, we need to remember that education is a voluntary matter, and even with the best motivation from home and teachers, some kids may not volunteer.
Your View
Why were these teachers fired?
Dear Mr. Briggs:
This-past Friday on Page One of your newspaper it was reported that the trustees of the Pecos School Board had supported the non-renewal of the teaching contracts of both Brenilda R. Bauer and Bruce A. Bauer.

It was additionally reported that these Board members convened behind closed doors in a special session to which the public was excluded. The Board disclosed no reason for the discharge of these two public school teachers who have received high professional evaluations, and have maintained perfect attendance records throughout the seven years of their residence in this community.

When it is publicly announced in a city newspaper that two employees have been discharged by their employer, the implication is that these employees must have committed some infraction that would justify their discharge.

The readers of this newspaper will therefore infer that the employees deserved to be discharged, and will be left only to wonder what the employees have done that was wrong.

Since the School Board trustees, acting on the recommendation of the of the School District Superintendent, have seen fit to publicly call into question our professional integrity, we feel obliged to publicly defend ourselves in the pages of your newspaper.

We wish to take this opportunity to declare to the people of Pecos that we have broken no laws, that we have committed no crimes, that we have harmed no one.

Although we are not members of any teachers' union and have retained no attorney to represent our interests, as public school teachers we feel sufficiently well educated to be more than ready, willing, and able to defend ourselves against any false charge that may be brought against us by any school district administrator, or any school board member, or any attorney they may hire at school district expense to work against us.

With or without our teaching positions, however, we fully intend to remain here in Pecos, for this is our home and here are our friends and family.

Nevertheless, by denying us the right to work in our chosen profession of public education, the Pecos School Board trustees acting on the recommendation of the Pecos School District Superintendent, have deprived the students of Pecos High School the benefit of instruction provided by two teachers who hold both Bachelor's and Master's Degrees in three different academic disciplines, and who are certified by the State of Texas to teach in seven different academic fields.

It is our opinion that the people of Pecos have a right to know why their children will no longer receive the instruction we have offered in the past and are willing to offer in the future.

It is our opinion that those entrusted with the governance of this school district be made to explain their questionable behavior. It is our opinion that we have been wrongfully discharged, and that our students will be wrongfully denied our professional services for a reason that remains hidden behind closed doors.

Sincerely,
Bruce A. Bauer
Brenilda R. Bauer
There are doctors who would like to live in Pecos
Letter to the Editor:
Recently, comments were made by incumbent hospital trustees that "doctors don't want to come to Pecos."

The comment is an example of how when a false statement is repeated ad infinitum, it becomes fact.

There is no basis in fact that doctors don't "want" to come to Pecos. In fact, there is no basis in fact that doctors don't "want" to locate in rural communities.

There are legions of physicians who would willingly leave markets with saturated insurance provider panels, high crime, high property costs, and a big city health care system which is largely impersonal.

There are a significant number of medical students who are interested in small town practices but they've never been shown the advantages to living in a small town.

Mine is a very limited specialty. Traditionally, most podiatrists locate in communities with populations greater than twenty-five thousand.

I came to Pecos in 1997 and did not receive (or seek) a salary guarantee. The population demographics of West Texas make it incumbent upon me to have satellite practices in adjacent communities. Our home is in Pecos, we buy hardware, housewares, and vehicles in Pecos, and we pay taxes to Reeves County.

I can state with absolute certainly that there are general practitioners and other specialists looking for a Pecos, Texas... I'm not an isolated anomaly. Practicing a specialty in a small town is not a financial cakewalk, but it does have its own set of rewards.

An increasing number of my colleagues are fleeing the cities for rural practices.

Dr. J. Marshall DeVall of Port Arthur, Texas (Podiatry Today, March Issue) tells freshman medical students, "I have done well in podiatry and am proud of the practice I've built with the help of my wife, the office manager... I can drive 100 miles and get all the Houston I can stand whenever I want... kiss the little old ladies, join the Rotary and sing in the church choir... you'll be able to put up with all of the unpleasant things about practicing medicine in the 21st century."

I have a close friend, an orthopedic surgeon, who will return from the army in eighteen months... he's seeking to build his practice in a community of less than twenty-five thousand.

My favorite mentor practices in a town of twelve thousand souls. Many of my classmates practice in small towns and they're glad they took the road less traveled.

We recently hosted a medical student from my alma mater and she left with a very positive feeling for our community and our people.

She indicated a sincere desire to come back to West Texas and begin her own rural practice. The student admitted that a large number of medical students don't consider a rural community for their practice because they've also heard the corresponding mantra that "you can't make a living in a small town" - another fallacy that's become fact through repetition.

I do agree that rural doctors cannot command the level of income possible in an urban setting. However, it's completely false that a doctor "can't make a living" in a small town.

Recruiting rural physicians takes much more than a "one size fits all" approach.

Reeves County competes with a huge number of equally desperate rural communities. Simply contacting a recruiting firm and waiting for the telephone to ring represents naiveté at its most profound level.

Doctors having the independent attitude requisite for a successful rural practice seldom utilize traditional location schemes (i.e. recruitment firms).

They prefer to seek out locations on their own and they have a profound ability to "smell a rat" when the community's attributes are overstated or mountains are represented as mole hills.

A "take it or leave it" personality on a recruiting mission can destroy a search committee's chances of landing a doctor bent on rural practice.

It's also difficult to sell the benefits of living and practicing in a community unless the seller lives, works, pays taxes, and schools their children in the prospective doctor's community.

It's simply untrue that doctors don't "want" to come here. It's equally untrue that physicians "cannot make a living" in a small town.

It's a matter of creating a set of matched goals and desires by the community and the physician. Physician recruitment for small towns can be difficult, but it's not impossible.

There are multifactorial reasons that Reeves County is lacking doctors. To lay a disproportionate amount of blame on doctors who've never been given an opportunity to see our community is a tremendous disservice to the medical community at large and to our community.

Sincerely,
Dr. JOHN C. LIBBIE
Podiatric Physician and Surgeon
Census Bureau ignores all of the rural residents
To The Editor:
1. Did you get your census questionnaire in the mail?

2. Did you or your wife read and answer the questions?

3. Did you mail your questionnaire back?

We rural folks in Reeves, Presidio, Brewster, Jeff Davis, Terrell, Loving, Culberson, along with the rural folds in El Paso Country did not receive our census in the mail because we have BOXES in a postal office.

The reason for this is the Census Bureau feels that "Rural America in Forgotten America" and "We don't want rural Americans to continue to be forgotten". This is more trouble for use rural folks to participate in the census.

I called one of the census biggies and he just kept saying everyone had to be counted and I said _ I passed the TCAT test and I can read and write.

Brewster County Judge and Commissioners have found a solution to the intuitive method of interviews. They have arranged for a number of "Be Counted" sets throughout the County. Folks can go to these centers and the questionnaire and then is no personal interview.

The county will provide the space and pick up the stuffing casts of these centers. Only persons who believe that they will be missed in the count should fill out a form.

And the Census Bureau requests that residents not to fill out more than one form per household.

SUE TOONE <!==========end copy==================>
---
---
Pecos Enterprise
York M. "Smokey" Briggs, Publisher
Peggy McCracken, Webmaster
Division of Buckner News Alliance, Inc.
324 S. Cedar St., Pecos, TX 79772
Phone 915-445-5475, FAX 915-445-4321
e-mail news@pecos.net
Associated Press text, photo, graphic, audio and/or video material shall not be published, broadcast, rewritten for broadcast or publication or redistributed directly or indirectly in any medium.
We support Newspapers in Education
Copyright 2000 by Pecos Enterprise
---