|
Daily Newspaper and Travel Guide
for Pecos Country of West Texas
Opinion
Tuesday, March 14, 2000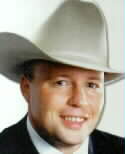 Sage
Views
By Smokey Briggs
<!=====paste copy here==========================>
Shots from the hip
Some days there just is not a nice, compact, column lurking around in your brain. (Some folks accuse me of that even on days when I thought there was one).

On days like that, great column writers revert to short comments about current events such as:

Gas prices soared to a national average of $1.59/gallon this week. This is getting ridiculous. (I know, it's good for West Texas, but if things get much better, I won't be able to afford any more prosperity). Maybe now is the time to repeal the $.40 in state taxes we pay at the pump on every gallon of gas. Also, didn't we win the Gulf War? If this is the result, then we need to rethink our Middle East policy.

The Pope's "Day of Pardon" Mass asking for forgiveness for the sins of the Catholic church throughout time is a nice thought, but mostly it's silly. It's like saying you're sorry for winning in many instances (which appears to be a growing trend among Western Europeans).

The apology also seems to be a step in the direction of a unified religion - after all, if all religions are equal, what's the point of having more than one?

And if you can't have a decent war about religion, just what is a justifiable reason to go to war? Gasoline?

United States Secretary of Defense William Cohen visited the Vietnamese capital yesterday. The Associated Press reported that he is the first U. S. defense secretary to visit that nation, "since the Vietnam War ended 25 years ago in defeat for America."

Just for the record - we didn't get beat, we just didn't have the national fortitude to win - and there is a difference. Our fighting men could have won that one in two weeks if we had taken the hobbles off. Of course, Vietnam would still be smoking.

The Associated Press also reported recently that beef is back on the supper table in America. American consumption climbed 2 percent in 1999 with Americans eating an average of 66.2 pounds of beef each.

Sixty six pounds? That's all? The San Francisco-veggie-only crowd must have really skewed the national average. At our house we measure beef consumption by the side, not the pound.

Mothers Against Drunk Driving (MADD) and People For the Ethical Treatment of Animals (PETA) have gone to war against each other over a PETA ad that encourages people to replace their milk mustache with beer foam. PETA's argument is that milk is bad for humans and the dairy industry is cruel to cows. MADD's argument, of course, is that anything with alcohol is bad.

It is simply heartening to see these two groups that typically spend their time minding everyone else's business minding each others instead.

Personally, I like my milk and my beer ice cold. But sometimes I get cold drinking it, so I put on a good fur coat.

EDITOR'S NOTE: Smokey Briggs is the editor and publisher of the Pecos Enterprise whose column appears each Tuesday. He can be e-mailed at:smokey@pecos.net
Our View
Use the whole train station for a train station?
There is an idea floating around Pecos that needs to be heard so here it is _ lets use the old train station as a train station, rather than as the home of the Rodeo Hall of Fame with a little space set aside for a train depot.

If Amtrak is going to make Pecos a regular stop, then Pecos needs to make sure there are good depot facilities.

We need to make sure that Amtrak feels welcome, and more importantly, we need to make Pecos as attractive as possible to Amtrak passengers. Who knows, eventually Pecos might become something more than a whistle-stop. If we play our cards right we might be able to create an atmosphere that would entice folks to make Pecos a destination, or at least a one-night stopover.

Using the depot as a depot might be a step in the right direction. The Rodeo Hall of Fame could be located in another building down the street and give passengers a reason to walk down the street.

If a few folks walk down the street to the Hall of Fame, it might give a business or two a reason to open up downtown.

There may be reasons this won't work. Maybe just sharing the depot between the Hall of Fame and Amtrak is the way to go. But usually, sharing is an unsatisfactory compromise for both sides.

Using the whole depot for Amtrak is a good idea, and it deserves investigating. As we try to revitalize the downtown area, it might be Pecos' ticket on the train to prosperity.
Your View
Resident unhappy with new sidewalks
Dear Editor:
In all the years I have lived in Pecos, I have need seen such poor workmanship as the one now being done on the sidewalks and curbs on Hwy. 285. Even after the second time around. Having worked for a while around concrete construction, I really fel that a few of us men could have taken the crew of the Pecos Enterprise, which consists of mostly women and done a whole lot better job.

Kick me in the head, but I though the old curbs were in a lot better shape then the ones we have now. There were only a few places along the whole road that needed repairs.

Boy, talk about tax dollars.

MAC ARTHUR B. PINEDA
Low flying jets leaving residents with pollution
Dear Editor:
This letter is to tell you that the low-flying jets are still going strong over our home in souther Reeves County. The following is my documentation of the number of flights and the approximate time the flights have occurred by Fri., March 10 at 11:10 a.m.

Wed., March 01 noon 1 jet

Thurs., March 02 11:30 am 2 jets

11:40 pm 1 jet

Fri., March 03 12:02 am 1 jet

(We were not home Sun., March 5th _ 7th.)

Thurs., March 09 around noon 2 jets

8:30 pm 1 jet

Also, I certainly hope that some folks from southern Reeves County who are having to contend with the pollution of noise and that black stuff that comes out of the low flying jets as thy make their turn to head toward the "target" and the little town of Toyah, are invited to go to Abilene also. The residents of the town of Pecos were the ones invited and I understand our commissioner Herman Tarin has a few spots delegated to him for other folks. It seems to me that half from Pecos and half from the areas in the county where the jets are flying would be a fair thing.

We'll see by next Friday I guess.

SUE TOONE <!==========end copy==================>
---
---
Pecos Enterprise
York M. "Smokey" Briggs, Publisher
Peggy McCracken, Webmaster
Division of Buckner News Alliance, Inc.
324 S. Cedar St., Pecos, TX 79772
Phone 915-445-5475, FAX 915-445-4321
e-mail news@pecos.net
Associated Press text, photo, graphic, audio and/or video material shall not be published, broadcast, rewritten for broadcast or publication or redistributed directly or indirectly in any medium.
We support Newspapers in Education
Copyright 2000 by Pecos Enterprise
---