Daily Newspaper for Reeves County, Trans Pecos, Big Bend, Far West Texas
News|Sports|
Main Menu|Archives Menu|Classified|Advertising|Monahans
OPINION
Dec. 13, 1996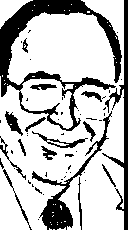 OBSERVATIONS
By Mac McKinnon
Riverboat ride on Pecos
worth trip and price
I want to recommend an outing that is nearby and good for the entire
family.
That outing is Christmas on the Pecos at Carlsbad, N.M. It involves
going on a big boat on the Pecos River on Lake Carlsbad through downtown
Carlsbad to look at some terrific Christmas lighting displays in the
back yards (or lakefront) of homes in the area.
I don't recall the exact cost, but it is something like $7 per person
with children under 3 free. You can make reservations by calling
1-505-887-6516.
They have about three boats - I'm not sure of the exact number - but
they go out about every 15 minutes. There are 12 rides in all. The ride
lasts about 45 minutes. The rides start at 5:45 p.m. and go until 9:15
p.m. Again, I'm not real sure but you can check when you call.
The last time I checked there were still spaces available. I've heard
about Christmas on the Pecos for years but had been put off because I
forgot about it until the last minute and had heard you had to book your
ride real early as it is sold out.
However, that is not the case as they almost always have some spaces
available.
We went Tuesday night and although a bit windy, the weather was nice
and the boat was real big so the wind didn't have any affect on it.
Normally, it is said to be kind of cold with the water making things
kind of chilly. A person would be well advised to take a blanket and
plenty of warm clothes.
The event gets started about Thanksgiving each year and goes until
Christmas. I'm sure weekends are the most difficult times to get on the
ride but then again, there might be space. You just have to ask about it.
They can take credit cards over the phone or you can send checks
although time is running out to get something by mail.
Kids get really excited seeing all the lights as there are some really
neat displays along the river. I just hope people don't get next to a
really young kid who isn't controlled by his or her parents like we did.
A little girl was climbing all over everybody and just about wore out
the tops of my shoes.
I guess that kind of thing goes along with doing anything where there
are a number of people. It certainly isn't crowded but it would be nice
if people would control their children.
Remember that New Mexico is an hour behind us when making your plans.
Also, there is a detour going to Carlsbad with the detour taking the
Black River Village route from Malaga to the El Paso highway so it adds
about 15 to 20 minutes to the trip each way.
If you get a chance, try to go. It not, remember it for next year. It's
a nice experience.
EDITOR'S NOTE: Mac McKinnon is editor and publisher of the Pecos
Enterprise. His column appears on Wednesday and Friday.
GUEST COMMENTARY
No easy fix for Social Security
People who pay close attention to the Social Security system are aware
of the financial crunch it faces. There is no shortage of sensible
suggestions to cure, or at least ease, the problem. The Senate's top
Democrat became the latest public official to make one of these
suggestions.
The idea, put forth by Senate Minority Leader Tom Daschle of South
Dakota, is to investigate the possibility of investing some of the
Social Security Trust Fund in the stock market. It's an idea that has
been floated by many experts, in government, at universities, on Wall
Street and elsewhere.
Currently, the payroll taxes that supply the funds are invested in
government bonds. These bonds are extremely safe, but they don't provide
much income. And the Social Security system is in dire need of more
income.
By 2012, as many of the nation's baby boomers become senior boomers,
the trust fund will start paying out more money than it receives, and it
could be insolvent by 2020. The system's problems are also aggravated by
the fact that senior citizens are living longer than ever.
Investing part of the trust fund in stocks would probably ease the
crunch. At least, as Daschle and many others argue, it makes sense to
authorize a pilot program that would help get some hard answers.
Even so, investment reform probably would not, by itself, rescue Social
Security. Congress should also examine the possibility of raising the
eligibility age for full Social Security benefits to age 70.
Reducing benefits for wealthy retirees and making small increases in
payroll taxes should also be considered. Several Latin American nations,
notably Chile, have privatized their pension systems, and these examples
should be studied.
Until now, entitlement programs, such as Social Security, have been
called the "third rail" of American politics, deadly to anyone who
touches them. That's understandable, since some 43 million Americans
depend on Social Security. They want - and deserve to have - a secure
retirement, and they don't want to be a burden on their children. But
the system faces serious problems. If relatively painless steps are
taken now, the nation's retirees can continue to be protected. But the
longer the wait, the harder the financial sacrifice.
EDITOR'S NOTE: The Milwaukee Journal Sentinel
OTHER VIEWS
Take tax off back of property owners
Public education in Texas was in deep trouble back in the late 1940s.
Following World War II, school districts were springing up everywhere
with few standards and even fewer funds.
Texas' new governor, Allan Shivers, and the state Legislature realized
something had to be done before public school systems fell into a
perpetual state of mediocrity. The result was the 1949 Gilmer-Aikin
laws, which overhauled the school administration, raised standards and
committed the state to pay 80 percent of education costs.
A half-century later, Texas schools are again experiencing a financial
dilemma. With the state now picking up only 47 percent of the education
tab, the burden has shifted to local property taxes.
Even the Texas Supreme Court acknowledges the serious inequities of
funding education with property taxes. The high court's convoluted
solution was the ``Robin Hood'' plan, which forced the state's 93
``wealthiest'' school districts to send $372 million to districts with
lower property values. It is a heavy-handed act of desperation that has
only increased taxpayer frustration in many parts of the state.
It's time for the Texas Legislature to admit school finance is in a
mess. It's time to muster the same courage lawmakers showed in the
1940s. ...
Several worthwhile suggestions already have been made:
- Gov. Bush wants to commit $1.2 billion from economic growth and state
savings to the tax relief effort.
- Lt. Gov. Bob Bullock is discussing a plan to raise the sales tax and
motor fuel tax by a half-cent. That would generate $1 billion a year. In
return, the state would require school districts to provide a $25,000
homestead exemption to all homeowners. He also would like to allocate
additional money from a change in the state lottery contract to
education. That could bring $500 million.
- Several speakers at the Citizens Committee on Property Tax Relief
hearings want to commit all lottery revenue to public education. ...
These all will be good discussion points when the Texas Legislature
convenes in January. But state lawmakers must adopt a broad-based school
finance package that won't simply transfer the responsibility for
education funding from one taxpaying group to another. Above all,
property tax relief must be achieved fairly.
Here are some suggested approaches:
- Commit $1.2 billion in budget savings to property tax relief, as the
governor suggested, and suggested, and challenge state officials to find
other ways to reduce costs in future years.
- Pledge half of the annual lottery revenues to education. ...
- Commit the state to pay at least 60 percent of the costs for public
education in Texas. Then work to increase the state's funding share in
the future.
- Lower the tax rate cap for school districts to ensure that property
owners benefit from the state's increased funding.
Also worthy of consideration:
- A business activity tax could take advantage of Texas' improving
economy. ...
An expanded state sales tax could include utility companies and various
business and professional services. ...
During the lean years of the 1980s, state officials shifted the burden
for education funding to the shoulders of property owners. ...
Now, there is a chance for lawmakers to rectify the wrongs of the past
decade. They can bring forth a school funding program that is both fair
and responsible. ...
-- The Dallas Morning News
Return to Menu
---
Associated Press text, photo, graphic, audio and/or video material shall
not be published, broadcast, rewritten for broadcast or publication or
redistributed directly or indirectly in any medium. Neither these AP
Materials nor any portion thereof may be stored in a computer except for
personal and non-commercial use. The AP will not be held liable for
any delays, inaccuracies, errors or omissions therefrom or in the
transmission or delivery of all or any part thereof or for any damages
arising from any of the foregoing.
_
---
Copyright 1996 by Pecos Enterprise
Division of Buckner News Alliance, Inc.
324 S. Cedar St., Pecos, TX 79772
Phone 915-445-5475, FAX 915-445-4321
e-mail news@bitstreet.com
Return to Home Page