Daily Newspaper for Reeves County, Trans Pecos, Big Bend, Far West Texas
News|Sports|
Main Menu|Archives Menu|Classified|Advertising|Monahans
OPINION
Dec. 10, 1996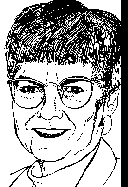 SQUARELY
PEGGED
By Peggy McCracken
Gift of body parts
keeps on giving
Eternal life is possible for the soul, but the body dies and returns to
dust, my Bible says. Now we've discovered a way to keep part of the body
alive, by transplanting it to another human. I wonder if that same organ
could be re-transplanted over and over, keeping it alive for eternity.
Some people oppose organ donation because they fear it will mutliate or
disfigure their bodies and they won't be allowed into heaven. Fear not,
because we will get a new body fit for heaven. This old one wouldn't
make the grade, even if it were perfect.
The need for organ donation is critical, and the Southwest Organ Bank
Inc. is trying to educate the public to give the "gift of life" that
touches everyone. A single donor can help more than 50 people, they say.
Donors and recipients are all ages and creeds and from all cultures and
social backgrounds.
I was wondering if anyone would want my worn-out parts when I die. Yes,
they say. Except for the heart, which has to be pretty young and strong,
body parts can be used well past the age of 60.
Statistically, there are enough body parts for everyone who needs a
spare, but not everyone is willing to donate. And even if you did sign a
donor card, doctors would still ask your family for permission to
harvest the usable organs. So tell everybody close to you what you want
done with your remains.
Never fear that doctors will let you die just to grab your good parts.
In order for organs to be harvested, you must be declared brain dead.
Wait, they could do that to me today! No, says Southwest. Brain death is
pronounced only after several tests have been performed and repeated
with the same results. After brain death, respiratory and circulatory
functions would stop immedidately without mechanical support.
And they don't just hack you up. Organ recovery is a sterile surgical
procedure. The body is treated with respect. The same is true for tissue
removal.
Did you know the first tissue transplant happened 174 years ago? That's
right, the first fresh autograph of skin - transplanting an individual's
own tissue from one site on the body to another - took place in 1822.
Transplanting skin from one person to another began in 1869.
Considering that Jesus sacrificed his whole body to buy our souls
eternal life, maybe the celebration of his birth at Christmas would be a
good time to consider giving the gift that keeps on giving.
"I will not die but live, and will proclaim what the Lord has done."
Psalm 118:17, NIV.
EDITOR'S NOTE: Peggy McCracken is an Enterprise writer and editor whose
column appears each Tuesday.
OTHER VIEWS
Teacher incentive
no pay substitute
Texas Comptroller John Sharp's proposal to pay tuition at state
colleges and universities for the children of public school teachers as
an incentive to stay in the classroom is a great idea - so long as it is
not an alternative to raising teacher salaries to reflect their crucial
contribution to society.
Relatively meager pay and attractive career options have caused a
growing turnover among Texas teachers in recent years. Retaining
seasoned teachers should be among the state's highest priorities.
Sharp deserves credit for his plan, which would provide full tuition
payments for the children of teachers who have accrued 10 years in the
classroom. After 15 years of tenure, the state would also pay all fees,
which at some institutions have almost equaled the cost of tuition.
Sharp estimated the cost at about $20 million a year.
Such a commendable, farsighted incentive could offer considerable
relief for those whose toil in the classroom has afforded little
opportunity to accumulate enough money to help support their own
children's college education.
Yet paying all classroom teachers the salaries that will be competitive
with other industries is the most effective long-term incentive to
attract and retain talented women and men who are entrusted with perhaps
the most critical responsibility of any state or nation: preparing
successive generations to take on the challenges of society's future.
It won't be cheap. Raising teacher salaries in Texas just to the
current national level would require $700 million in the next five years
- a sad commentary on the Legislature's parsinomy - but then, Texas
children are worth more than just an average investment.
-- Fort Worth Star-Telegram
Return to Menu
---
Associated Press text, photo, graphic, audio and/or video material shall
not be published, broadcast, rewritten for broadcast or publication or
redistributed directly or indirectly in any medium. Neither these AP
Materials nor any portion thereof may be stored in a computer except for
personal and non-commercial use. The AP will not be held liable for
any delays, inaccuracies, errors or omissions therefrom or in the
transmission or delivery of all or any part thereof or for any damages
arising from any of the foregoing.
_
---
Copyright 1996 by Pecos Enterprise
Division of Buckner News Alliance, Inc.
324 S. Cedar St., Pecos, TX 79772
Phone 915-445-5475, FAX 915-445-4321
e-mail news@bitstreet.com
Return to Home Page