Daily Newspaper for Reeves County, Trans Pecos, Big Bend, Far West Texas
News|Sports| Main Menu|Archives Menu|Classified|Advertising|Monahans
OPINION

Dec. 9, 1996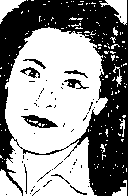 IN MARI'S
CORNER
By Mari Maldonado
Police reporter
will miss captain
I was saddened to hear that our current police captain, David
Montgomery, will be leaving the local police force to pursue a law
enforcement career with the Aurora Police Deparment in Colorado.
Along with Mayor Dot Stafford and Police Chief Troy Moore, I agree that
David was an asset to the force, will be missed and will be hard to
replace.
I understand the setbacks one experiences when working with the public
or dealing with "office politics." These things take a toll and often
times we feel a new beginning is necessary.
However, I don't feel that any of these things had anything to do with
David's decision.
My impression of the man is that he is always looking to enhance his
career for the benefit of others.
I dealt with him a good deal when I first joined the Enterprise and
never once felt I was getting the "runaround," or "brush off," as I
experience in other areas of my job.
He was always clear in letting me know the who, the what, the where and
the how of any and all incidents.
He made the police beat less intimidating to me.
He is the true public figure in that he understands the importance of
letting the public, taxpayers, know the truth and complete picture of
all that was happening within the police department.
I'm not in any way implying that other public figures lack this sort of
attitude, but am merely stating that David's was exemplary.
At times when people and organizations were criticizing the paper,
Montgomery used the Enterprise to the department's benefit.
I enjoy working with all members of the Pecos Police Department, but
will certainly feel the loss after David's departure.
I wish him and his family well.
EDITOR'S NOTE: Mari Maldonado is an Enterprise reporter whose column
appears each Monday.
OUR VIEW
Other nations need to be considered
President Clinton last week announced a number of appointments to his
cabinet for his second term in office.
Among those appointees which are subject to confirmation by the Senate
is Madeleine Albright as Secretary of State, the first woman ever named
to that high level post, a post that would be in line to succeed the
president should a disaster occur.
Albright has been serving as the United States' ambassador to the
United Nations.
All of this sounds great on the surface. We certainly applaud the
president for considering a woman for the post.
However, such a nomination is a slap in the face to the many nations on
earth who do not and will not deal with women in high positions. While
we may not agree with the positions of these other nations, it is their
culture.
The Secretary of State by nature of the office will be dealing with
these people and needs to be accepted. We realize that Albright has
dealt with many nations at the United Nations but the post of Secretary
of State is far different than that position.
The United States throughout its history has not dealt in a sincere
fashion with the many cultures of the world, thereby causing our country
many of the diplomacy problems it has encountered.
This nomination needs to be reconsidered with the beliefs of other
nations in mind.
CRITIC'S CORNER
Rodeo writers miss
best and oldest show
Wayne Wooden and Gavin Ehringer visited rodeos in Prescott, Ariz.,
Cheyenne, Wyo., Denver, Colo., Houston, Tex., Dodge City, Kan.,
Pendleton, Ore. and the National Finals in Las Vegas, Nev. before
writing their latest book, Rodeo in America.
But they didn't visit the granddaddy of them all in Pecos, home of the
World's First Rodeo. They did mention Pecos on Page 10, right after
Alpine, whose citizens also claim the first rodeo.
Taking the reader behind the chutes, Wooden and Ehringer reveal the
essential character of rodeo culture today and show why it retains such
a strong hold on the American imagination.
Contemporary rodeo has evolved into a much-publicized bigtime
phenomenon even as it strives to stay close to its fundamental cowboy
roots. The Professional Rodeo Cowboys Association now sanctions 750 to
800 annual rodeos worth more than $22 million in prize money, attended
by nearly 20 million spectators and watched by millions more on ESPN and
TNN.
The National Finals Rodeo alone offers more than $2 million in prize
money and is attended by 170,000 spectators every December.
The authors highlight rodeo's glamour and glory, hazards and hardships,
while clairfying its many dimensions as sport, profession, business,
community event, family tradition and pop cultural icon.
Bareback and bull riders, calf ropers and steer wrestlers, barrel
racers and saddle bronc busters, bullfighters and arena clowns, stock
breeders and local organizers, judges and journalists, the famous and
aspiring, winners and losers - all are given their due in a work that
reflects the enormous allure and demands of rodeo life.
Randy Witte, publisher of Western Horseman, calls Rodeo in America "the
definitive book on rodeo near the end of the twentieth century."
Published by the University of Kansas, 2501 W. 15th St., Lawrence KS
66049-3904, the 298-page hardback book sells for $24.95. For more
information call Susan Schott at 913-864-4155.
-Peggy McCracken
Return to Menu
---
Associated Press text, photo, graphic, audio and/or video material shall
not be published, broadcast, rewritten for broadcast or publication or
redistributed directly or indirectly in any medium. Neither these AP
Materials nor any portion thereof may be stored in a computer except for
personal and non-commercial use. The AP will not be held liable for
any delays, inaccuracies, errors or omissions therefrom or in the
transmission or delivery of all or any part thereof or for any damages
arising from any of the foregoing.
_
---
Copyright 1996 by Pecos Enterprise
Division of Buckner News Alliance, Inc.
324 S. Cedar St., Pecos, TX 79772
Phone 915-445-5475, FAX 915-445-4321
e-mail news@bitstreet.com
Return to Home Page