Daily Newspaper for Reeves County, Trans Pecos, Big Bend, Far West Texas
News|Sports|
Main Menu|Archives Menu|Classified|Advertising|Monahans
OPINION
December 5, 1996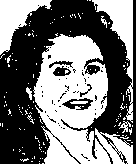 LOOKIN'
ROSEY
By Rosie Flores
It's time for the Christmas wish lists
It's that time again. Time for lists, extensive shopping trips and long
days at the mall looking for those perfect Christmas gifts.
And it seems like everyone's list just gets longer and longer every
year. Especially for all those youngsters who know about every toy out
on the market before anyone else.
It's a wonder Santa can keep up with all the new gadgets out on the
market these days. Everything from computers to talking dolls. Whatever
happened to the good old fashioned dolls that did nothing, but provide
comfort and security on a cold winter night?
Everyone has probably seen the video "Toy Story" by now and is familiar
with the plot. Those were old-fashioned toys. Woody the cowboy who
didn't have any fancy gimmicks except a holster attached around his
middle.
Slinky the dog, binoculars and a simple girl doll make up most of the
other toys featured in this popular video.
The main objective in the story seems to center around the fact that
all these older toys don't want to be replaced, either physically or
emotionally, by a small boy named Billy.
Remember all those green soldiers that were sold by the boxful. You
could make an army out them, poise them against each other and play with
someone else pretending to create a war.
It's hard to believe those little soldiers made out of plastic could
provide so much entertainment! But then again, maybe it wasn't the
little plastic figures creating the entertainment, but an active
imagination.
Computers seem to be a big thing on almost every student's wish list.
It's also a very practical item, since it can be used to do that
tiresome homework. A computer can also be utilized in different forms
and manners. Even parents can use such an important item.
Before these space-age items came into the picture, toys were a lot
less complicated and apparently a lot less expensive.
Whatever it is you're wishing for this Christmas, be sure to be good.
For you-know-who is constantly watching!
Mac McKinnon is editor and publisher of the Pecos Enterprise. His column
appears on Friday.
OTHER VIEWS
This Holiday Season, Give the Gift of Life
Most people associate good deeds during the holidays with dropping
change in a Santa bell ringer's bucket. And while that certainly is one
way of giving to the needy, consider a gift that costs nothing, yet also
fills a most urgent need.
This holiday season, please consider giving the ultimate gift ... the
gift of life. What more magnificent gift can one human being give to
another?
If you have not yet made the commitment to be an organ and tissue
donor, you are not alone. Most of us have trouble considering our own
mortality. We somehow get the idea as children that death happens only
when we get old.
The reality is that the majority of potential organ donors are young
victims of catastrophic events, such as car accidents or street
violence. They become potential donors because their brain has become
irreversibly damaged and has ceased to function, yet their vital organs
are still healthy enough to help someone else live.
If they had considered donation, and had shared that decision with
their family members, then most of those potential donors would likely
have become donors. But the sad reality is that, while most Americans
belive in donation, many never discuss it with their families because
the discussion is a difficult one to initiate. And, in the end, families
must consent to the donation of their loved one's organs. Without
knowledge of that person's desire, most families elect not to donate.
Of an estimated 15,000 people in the United States that die of brain
death each year, only 5,100 became donors in 1995. Those donors helped
to save almost 20,000 lives because most organ donors donate an average
of four organs. However, while we saved 20,000 lives, the national
waiting list is on the verge of hitting an all time high of 50,000 names.
Every one of those names represents not only the patient waiting for
the life-saving transplant, but also a family and friends whose lives
hang in the balance.
This is one national public health crisis that can be solved simply by
families sharing their thoughts on the issue.
This holiday season, consider becoming an organ and tissue donor. Make
the decision to share your life, and then share your decision with your
family. For more information about organ and tissue donation call
Southwest Organ Bank at 1-800-201-0527.
Pam Silvestri is the community service coordinator at Southwest Organ
Bank.
OTHER VIEWS
Tougher laws for drunk drivers
Drunken drivers in Texas face an automatic suspension of their driver's
licenses, starting with a minimum of 60 days for first offenders who
fail the breath-alcohol test.
Two DWI offenders, in cases in Tarrant and Harris counties, asserted
that they should not be punished for their crimes because the
suspensions were punishment enough.
In other words, they claimed that a sentence and fine would violate the
Bill of Rights' provision against double jeopardy.
The claims reached the Texas Court of Criminal Appeals this week, and
the court appropriately rejected the argument. License suspension is not
a punishment that would prevent future court action, the court said.
Judge Steve Mansfield wrote, ``The primary purpose of the
administrative license suspension statute is not to deter the licensee
or to seek retribution, but is to protect the public from the carnage on
the public roads of Texas caused by drunk drivers. This primary purpose
is clearly remedial, although it also has a secondary deterrent effect.''
Rather than try to find loopholes in the Bill of Rights to avoid
punishment, drunken drivers should place their highest priority on
striving not to repeat the criminal behavior in which they placed other
people's lives in jeopardy.
Lubbock Avalanche-Journal
Return to Menu
---
Associated Press text, photo, graphic, audio and/or video material shall
not be published, broadcast, rewritten for broadcast or publication or
redistributed directly or indirectly in any medium. Neither these AP
Materials nor any portion thereof may be stored in a computer except for
personal and non-commercial use. The AP will not be held liable for
any delays, inaccuracies, errors or omissions therefrom or in the
transmission or delivery of all or any part thereof or for any damages
arising from any of the foregoing.
_
---
Copyright 1996 by Pecos Enterprise
Division of Buckner News Alliance, Inc.
324 S. Cedar St., Pecos, TX 79772
Phone 915-445-5475, FAX 915-445-4321
e-mail news@bitstreet.com
Return to Home Page