Daily Newspaper for Reeves County, Trans Pecos, Big Bend, Far West Texas
News|Sports|
Main Menu|Archives Menu|Classified|Advertising|Monahans
OPINION
Wed., Dec., 4, 1996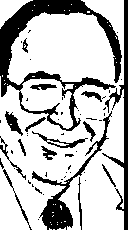 OBSERVATIONS
By Mac McKinnon
Pecos is better than it's actually made out to be
It seems everybody you talk to wants to get out of Pecos. That prompts
people to say there needs to be a billboard on the edge of town saying,
"Would the last person out please turn off the lights."
What makes people feel that way about our town? I know I've felt that
way at times. It seems the economy is depressing and there are some
amenities we'd like to have like a movie, bowling alley and more
shopping.
Some people complain that it is difficult to live in the midst of such
poverty and there are other various and sundry reasons.
But, every time I start to think this way, I stop and consider the fact
that while everything is not the way I'd like for it to be, maybe I need
to help make a difference. If we all got together and worked at it,
maybe we could make a difference.
Like many smaller towns, we're not ever going to have certain things
that the bigger cities have. It's just not financially feasible. But, we
need to support what we do have rather than running out of town for
everything.
There's a lot of things I like about Pecos. Everything's not negative.
First and foremost, I have a lot of friends here. I can't believe some
people move for no reason other than to get out of Pecos and leave the
people they know and like to go to a place where they don't know
anybody. I do understand that people always way to improve themselves by
getting better jobs and more pay but that's not the reason some people
leave.
Then there is the wonderful weather we have. It probably can't be beat
anywhere you go. Again, like anywhere else, there are some bad days but
I believe we have fewer bad days than anywhere else, Hawaii included.
Then there is the scenery. It's not to some people's liking but we are
centrally located where you can within a short period of time go
anywhere to find just about any kind of scenery. And beauty is in the
eye of the beholder. I like the rugged beauty that surrounds us. I
understand several couples have recently moved here in retirement.
Then there is something unique about Pecos. It's not like anywhere else
that I know of on earth. It's the place where there are legends. It's
unique in that way. I view myself as somewhat different and that means I
fit in a place that is somewhat different.
People just about everywhere know about Pecos. Our political legends
and disputes here going back many years are well known. Our rodeo,
Billie Sol Estes, Pecos Bill and other legends go on and on.
We seem to be a rebellious sort here in Pecos and I kind of like that
in a way. Some people aren't comfortable with that but that's the way
things have been done for more than a century here West of the Pecos.
Judge Roy Bean should have been here instead of Langtry because the Law
West of the Pecos is certainly in keeping with his legend.
Mac McKinnon is editor and publisher of the Pecos Enterprise. His column
appears on Friday.
YOUR VIEWS
Meeting reveals
interesting points
Dear Editor,
The meeting of the Zoning Commission revealed some interesting points.
Bill Fenn, owner of Hill's Thriftway, Bob's Thriftway and La Tienda is
against the current family - friendly C-1 zoning of Eddy Street because
he wants to use La Tienda to sell beer and wine.
Hill's Thriftway is located in a C-2 zone that allows the sale of
alcoholic beverages. Mr. Fenn bought Hill's and then closed it down,
eliminating a long time place of employment and adding another vacant
building to Pecos.
Mr. Fenn claims to have spent over $1 million bringing a full service
store to Pecos and that selling beer and wine is a matter of survival.
If that is the case, perhaps it would have been wiser to upgrade Hill's
Thriftway which sees a lot of local traffic as well as tourists.
According to a recent survey of over thirty items, La Tienda's prices
are an average of more than 25% higher than H.E.B. in Midland. I think
he is surviving quite well.
It was mentioned that stores were vacant are now full. Randy Castillo,
owner of Showtime, express how well his business has done. He had added
Pizza Pro and is bringing in another business. It must be noted that
these things have been accomplished under the current family-friend C-1
zoning and without the sale of one bottle of wine or one can of beer.
In a telephone conversation on Friday, Nov. 29, with Kenny Tubbs,
regional manager for Anthony's, Mr. Tubbs made it abundantly clear, that
Anthony's is adamantly in favor of maintaining the current family-friend
C-1 zoning.
It was obvious that the majority is in favor of keeping the C-1 zoning.
It should be noted that three or four of the few who were against the
family-friend zoning do not even live in Pecos.
Beer and wine sales at La Tienda would have to be taken away from
convenience and package stores that have been doing business in areas
zoned accordingly. These smaller stores depend heavily on the sale of
alcoholic beverages and associated items to stay in business. La Tienda
would sell in volume for less and since sales tax is based on a
percentage that would mean less tax revenue. Pecos would lose.
Sincerely,
R.L. Rich
P.O. Box 143
Pecos, Texas 79772
Return to Menu
---
Associated Press text, photo, graphic, audio and/or video material shall
not be published, broadcast, rewritten for broadcast or publication or
redistributed directly or indirectly in any medium. Neither these AP
Materials nor any portion thereof may be stored in a computer except for
personal and non-commercial use. The AP will not be held liable for
any delays, inaccuracies, errors or omissions therefrom or in the
transmission or delivery of all or any part thereof or for any damages
arising from any of the foregoing.
_
---
Copyright 1996 by Pecos Enterprise
Division of Buckner News Alliance, Inc.
324 S. Cedar St., Pecos, TX 79772
Phone 915-445-5475, FAX 915-445-4321
e-mail news@bitstreet.com
Return to Home Page