Daily Newspaper for Reeves County, Trans Pecos, Big Bend, Far West Texas
News|Sports|
Main Menu|Archives Menu|Classified|Advertising|Monahans
OPINION
December 3, 1996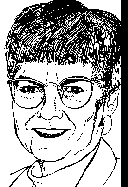 SQUARELY
PEGGED
By Peggy McCracken
Tiny coastal country
mecca for retirees
Belize is a small Central American country just south of Mexico, where
U.S. citizens are finding cheap retirement living.
Bill and Claire Gray were skeptical at first, but soon learned Belize
was to their liking. They recommend you stock up on toilet paper and
sunscreen before you go, bring your own solar shower and get a mosquito
net to sleep under. Cotton clothing and sandals are the attire
year-around, with straw hat and good walking shoes a necessity.
Before you sell the homeplace, the Grays suggest making a six-month
visit to be sure you like the tiny country. And stay away from Belize
City unless you like the crime-ridden streets of New York and Chicago.
What caught my attention was the 85-degree ocean waters, fresh seafood
and succulent tropical fruits. And I could enjoy scuba diving off the
second-largest barrier reef in the world.
I can hear you thinking that last month I was all set to move to
Mexico. Yes, my love of Mexico is one thing that makes Belize so
attractive. Belize has the same assets as Mexico without the need to
learn Spanish. An understanding of Creole is helpful, though.
Belize once belonged to England, thus the English language. Neighboring
Guatemala tried to claim them, but lost that battle. Although it is in
Central America, Belize is different in every way from its neighbors.
Caribbean style clapboard houses and rice cooked in coconut milk are
part of its own style.
And, like Mexico, the lifestyle is laid back, unhurried, restful. If
you like everything to come off on schedule, don't go there.
Pollution is one thing Belize does not have. The fresh food, fresh air,
lots of sunshine, walking and no stress makes it a very healthy
lifestyle, the Grays found.
Politics? Not to worry. Think of Belize as a kind of Central American
Switzerland. Nobody wants it badly enough to fight for. And citizens
would rather lie in a hammock, feel the tropical breeze and drink
coconut water than overthrow the government.
You can live in Belize full or part time without giving up your U.S.
citizenship, and with a permanent residency status costing $300 you can
even own land, work or start a business.
Joyce Morton has made two mission trips to Belize. She loved the
people, but was concerned about abject poverty. The Gray's don't mention
that. Maybe poverty is in the eye of the beholder.
"A little sleep, a little slumber, a little folding of the hands to
rest - and poverty will come on you like a bandit and scarcity like an
armed man." Proverbs 24:33, NIV.
Belize Retirement Guide, How to Live in a Tropical Paradise on $350 a Month, Preview Publishing, 18627 Brookhurst St., Ste. 192, Fountain Valley, Calif. 92708, Tel 714-650-0268. $19.95 plus $3.50 shipping.
Peggy McCracken is an Enterprise writer and editor whose column appears
each Tuesday.
OTHER VIEWS
Zero tolerance for teen drinkers
It is illegal except in a few narrow circumstances, such as with
parental supervision, for a person under 21 to consume alcohol. Yet
under current Texas law, a juvenile may legally drink and drive until
blood alcohol content reaches 0.07. This is a clear contradiction that
should be corrected when the Legislature convenes in January.
``Zero tolerance'' legislation, which would prohibit even trace amounts
of alcohol in a teen's system, would be an obvious and sensible cure to
the inconsistency, and lawmakers should get started mulling just such
laws. In the 38 states that currently have it, zero tolerance has
significantly reduced teen-age automobile deaths.
Another powerful reason for Texas to adopt a zero tolerance statute for
juveniles is that states that do not do so during upcoming legislative
sessions will lose 5 percent of federal highway construction dollars. In
Texas, that would amount to $37 million, and another $74 million by the
year 2000.
Nothing is simple, however. Some fear changes will give law officers
too much latitude in making juvenile arrests. Lawmakers will have to
debate the best course.
Sen. Royce West, a Democrat from Dallas who chaired the Senate Interim
Committee on Juvenile Driving While Intoxicated Laws, and Sen. Jane
Nelson, R-Flower Mound, are sponsoring separate zero tolerance bills
that would subject underage drinkers to fines, driver's license
suspension and possible criminal charges. Alcohol awareness classes or
community service could also be included.
There is no compelling reason to allow people under the age of 21 to
drink. And evidence suggests many are not yet mature enough to drink
responsibly. In passing tougher teen drinking laws, lawmakers should
hesitate only long enough to ensure that the new statutes are
enforceable, fair, workable and effective.
Houston Chronicle
---
Associated Press text, photo, graphic, audio and/or video material shall
not be published, broadcast, rewritten for broadcast or publication or
redistributed directly or indirectly in any medium. Neither these AP
Materials nor any portion thereof may be stored in a computer except for
personal and non-commercial use. The AP will not be held liable for
any delays, inaccuracies, errors or omissions therefrom or in the
transmission or delivery of all or any part thereof or for any damages
arising from any of the foregoing.
_
---
Copyright 1996 by Pecos Enterprise
Division of Buckner News Alliance, Inc.
324 S. Cedar St., Pecos, TX 79772
Phone 915-445-5475, FAX 915-445-4321
e-mail news@bitstreet.com
Return to Home Page