Daily Newspaper for Reeves County, Trans Pecos, Big Bend, Far West Texas
News|Sports|
Main Menu|Archives Menu|Classified|Advertising|Monahans
OPINION
November 27, 1996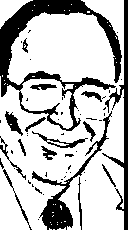 OBSERVATIONS
By Mac McKinnon
It's the Thanksgiving Feast time again
What are you going to be doing for Thanksgiving?
Most people will be with family either here or somewhere and be dining
on turkey and all the trimmings and hopefully watching the Cowboys whip
up on the Redskins.
Of course, I'm looking forward to seeing who gets the turkey legs that
John Madden gives out each Turkey Day.
Thanksgiving is not completely an American holiday although it is best
known as being something that only we celebrate. Other countries have
things that are similiar including Canada which has Thanksgiving the
second Monday in October.
I ran across some interesting facts about Thanksgiving in - where else
- this week's edition of U.S. News & World Report. They have a database
section that is really informative.
In the article this week, it is noted: "Feast of Thanks. Tradition has
it that Williams Bradford invited (chief) Massasoit to the Pilgrims'
harvest celebration at Plymouth in 1621, the chief brought 90 men and
stayed three days. Their banquet remains the enduring symbol of
Thanksgiving."
The database information goes on to note that the first Thanksgiving
feast included a menu of turkey, venison, oysters, fish, clams, boiled
pumpkin, corn cakes, cranberries. Those doing the cooking for 140
Pilgrims and Indians were four women and two teenage girls.
A special treat at the end of the feast came from the Indians when the
chief and his brother disappeared into the woods and returned with a
bushel of popcorn.
U.S. News says the person who helped get Thanksgiving declared a
national holiday was Sarah Josepha Hale, editor of Godey's Lady's Book
and author of "Mary Had A Little Lamb." This was achieved in 1863 when
President Lincoln designated the last Thursday in November as
Thanksgiving.
As we all know that has changed to be the fourth Thursday in November,
something done by President Franklin Roosevelt, leading some people to
call it "Franksgiving." He changed it to the fourth Thursday in
November, mainly to lengthen the shopping season during the Depression.
The article goes on to note that 45 million turkeys (15 per cent of
annual consumption of the birds) will be eaten tomorrow, as will 72
million pounds of mashed potatoes, 65 million pounds of sweet potatoes
and 55 million pumpkin pies.
The consumption of cranberries will amount to 80 million pounds, about
20 per cent of the annual consumpiton of that delicacy.
Incidentally, the article ads that the firt Macy's Thanksgiving parade
was in 1924 and is now viewed by 80 million people.
Whatever you eat or wherever you are, have a happy Thanksgiving.
Mac McKinnon is editor and publisher of the Pecos Enterprise. His column
appears on Friday.
Return to Menu
---
OTHER VIEWS
The whole 8.32 meters
Looking ahead to the European Community's year 2000 ban on importing non
metric products, the U.S. government has gotten metric fever once again.
As several previously unsuccessful efforts to move Americans from miles
to kilometers have proved, implementing the change won't be an easy
process.
The United States joined other nations as early as 1821 in calling for a
coordinated worldwide system of weights and measures; in 1866, Congress
legalized the use of metric measures in all contracts and court dealings.
That may have made metrics legal, but they have never been popular. In
1975, Congress passed the Metric Conversion Act, a voluntary law that
attracted few converts. ID 1988, the Omnibus Trade and Competitiveness
Act again declared the metric system the preferred form of measurement
again to little effect.
This time, the federal Department of Commerce is hoping to use a new
promotion campaign to sell the country on the power of 10. Arguing that
competitiveness on the world market makes conversion essential, the
campaign will be pitched in terms of economic stimulation and increased
jobs.
Many American manufacturers already recognize the world's metric
standard, especially in export products. The pharmaceutical, computer,
automotive and photographic industries are among America's metric
pioneers.
Even in America, nobody thinks about running to the drugstore for a roll
of 1.38 inch film; 35 millimeter works just fine. Runners are
comfortable with 5-K and 10-K runs, and we watch Olympic hopefuls run
100 meters where once we cheered 100 yards. Still, we're a long way from
asking McDonald's for a 113.4-gram burger or looking for a cowboy in a
37.85-liter hat.
Eventually, the tide seems certain to sweep away America's lingering
attachment to the hodgepodge of idiosyncratic measures we still cherish.
Until then, we can just hunker down and resist - along with Myanmar and
Liberia, the only two other countries that have failed to convert.
Copley News Service
Associated Press text, photo, graphic, audio and/or video material shall
not be published, broadcast, rewritten for broadcast or publication or
redistributed directly or indirectly in any medium. Neither these AP
Materials nor any portion thereof may be stored in a computer except for
personal and non-commercial use. The AP will not be held liable for
any delays, inaccuracies, errors or omissions therefrom or in the
transmission or delivery of all or any part thereof or for any damages
arising from any of the foregoing.
_
---
Copyright 1996 by Pecos Enterprise
Division of Buckner News Alliance, Inc.
324 S. Cedar St., Pecos, TX 79772
Phone 915-445-5475, FAX 915-445-4321
e-mail news@bitstreet.com
Return to Home Page