Daily Newspaper for Reeves County, Trans Pecos, Big Bend, Far West Texas
News|Sports|
Main Menu|Archives Menu|Classified|Advertising|Monahans
OPINION
November 21, 1996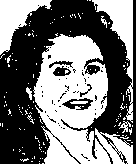 LOOKIN'
ROSEY
By Rosie Flores
Appreciating the
country you live in
I had the opportunity of interviewing two very interesting individuals
recently. The two were from Cuba, on a trip to the United States to
visit the churches here, but also to take back much needed medication.
The medication in question was simple over-the-counter medication, used
every day by most of us. Yet, in that country it's a rarity, that
regular citizens cannot purchase without visiting the doctor's office
first.
Most of us are used to driving to the nearest pharmacy and picking out
the exact medication needed for whatever ails us. Something so common
and so easy for all of us.
None of us here at the office could live like that. Not be able to take
aspirin every time you have a headache! I think everybody in our office
is too used to taking a pill for everything that ails us.
Other things are also scarce in their country at this time, following a
hurricane that destroyed several communities about a month ago.
Unfortunately, they are not as lucky as we are when disasters such as
these occur.
It was very interesting to find that like in all countries the people
pull together to help each other out.
It seems like we take everything for granted. Take the over-the-counter
medication. Most of us can't afford to go to the doctor for a simple
headache or minor aches and pains. We also don't have the time to be
running to the doctor's office for such small, simple ailments.
Most of the things we consider every day, regular things are something
of a rarity in other countries.
Like for instance, in some countries, most homes don't even have
running water. Not able to take a shower every day would drive anybody
nuts! But having to go outdoors to use the facility every time the need
arises is something only a strong person can endure.
Because that's exactly what we have become. Soft. What to us are
necessities, in other countries they are considered luxuries!
EDITOR'S NOTE: Rosie Flores is an Enterprise writer and editor of Lifestyles and Golden
Years. Her column appears each Thursday.
Return to Menu
---
Associated Press text, photo, graphic, audio and/or video material shall
not be published, broadcast, rewritten for broadcast or publication or
redistributed directly or indirectly in any medium. Neither these AP
Materials nor any portion thereof may be stored in a computer except for
personal and non-commercial use. The AP will not be held liable for
any delays, inaccuracies, errors or omissions therefrom or in the
transmission or delivery of all or any part thereof or for any damages
arising from any of the foregoing.
_
---
Copyright 1996 by Pecos Enterprise
Division of Buckner News Alliance, Inc.
324 S. Cedar St., Pecos, TX 79772
Phone 915-445-5475, FAX 915-445-4321
e-mail news@bitstreet.com
Return to Home Page