Daily Newspaper for Reeves County, Trans Pecos, Big Bend, Far West Texas
News|Sports|
Main Menu|Archives Menu|Classified|Advertising|Monahans
OPINION
November 18, 1996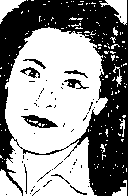 IN MARI'S
CORNER
By Mari Maldonado
"Zero tolerance," not an
option for younger kids
In a Legislative District 80 survey, conducted by the office of State
Representative Gary L. Walker, Reeves County responded 83 percent in
favor of "zero tolerance," law for youth, while 15 responded against and
only two percent avoided the question.
This past week's U.S. News and World Report features an
article about unyielding youth. It points out that social scientists
suggest focusing and learning from youngsters that succeed without
abandoning the failures.
An interesting point the cover story makes is that all kids are
motivated but more than often there are too few opportunities for them
to act out their sentiments.
A resiliency study shows kids born into unpromising circumstances, more
than occasionally, prosper.
So what's my point?
I think that instead of focusing on more severe punishments for
rebellious youth...which is what I get people are saying from the survey
results...we need to start thinking about local programs, activities,
etc. that bring out that youthful instinct to success.
Of course, it is also indicated that authoritative, and highly
involved, parenting is an important factor in directing children's lives
towards more resiliency.
At Thursday night's school board meeting, a taxpayer, parent, and
teacher husband, addressed the six trustees present. He stated, "I don't
know if you're aware of this or not," and added that there is a severe
discipline problem at the high school level.
Obviously, there's a problem. However, not so clear, is a solution.
I realize this, but am merely making a point.
In the past I've felt that punishment is <fn11>the <fn9>solution, but I
also realize, I'm not a parent and can't even begin to understand the
concept of parenting.
This article really made a lot of sense to me. I didn't live a very
underprivileged life, but I did face a lot more odds than some kids. It
became evident to me later that the more I was told I couldn't do
something, the more determined I became and I think that this is one of
the traits resilient children have.
I agree with "zero tolerance" attitude for older kids who I feel need
to be held accountable for their actions, but I think the younger
generations need the opportunity to develop their sense of
responsibility and awareness.
Then again, this is merely my opinion.
Mari Maldonado is an Enterprise reporter whose column appears each
Monday.
OUR VIEW
Bush says property
owners need a break
Texas Gov. George Bush has called on state lawmakers to give Texas
property owners a $1 billion tax break on school taxes.
This is possible, Bush says, because of higher than expected state
revenues and lower than anticipated Texas government expenditures,
thereby creating a surplus.
Some lawmakers have already responded that they are skeptical and don't
know where the excess funds are. It appears we could be headed for a
gridlock between tax and spend forces, those people who represent public
agencies and those of a particular political persuasion, and the people
who want to keep spending down and help taxpayers.
A different form of taxation in Texas - and the nation for that matter -
has been promoted for many years. A number of suggestions have been made
including an income tax or increased sales tax.
We are and have always been opposed to any form of state income tax.
We're not sure about the sales tax idea but the property tax as it
exists has got to go. It has never been fair and it's probably not
possible to make it fair due to the diversity of the state.
We like Governor Bush's proposal of trying to give property owners a
break. It is long overdue and hope lawmakers take it on as a challenge.
CRITIC'S CORNER
Read all about Southwest Airlines
What would you think if the recommendation was made to you to read a
book entitled, "Nuts!"?
Well, that's just what I'm going to do. Before you stop reading, let me
quickly explain that the title has a number of meanings. It's about
Southwest Airlines, its so-called crazy recipe for business and personal
success and of course, the nuts served on their planes as opposed to
meals.
The book, by Kevin and Jackie Freiberg, published by Bard Press, gives
an insider account of the airline ranked at the top for the past two
years in the Fortune Annual Most Admired Companies (airlines) survey. It
has been called, by one magazine the safest airline in the world and the
winner of the industry's Triple Crown for best baggage claim, on-time
performance and customer service for the last four years in a row.
The book is heavy on promoting Southwest Airlines and well it should be
with the people who have worked so hard and overcome a wide variety of
obstacles to create the company, get it in the air and keep it
profitable all of these years. It has earned a profit every year since
1973 even though there have been billion dollar losses throughout the
airline industry.
Plus, it has never laid off any employees.
There are a number of reasons to recommend this book. Not only does it
give you a feel good sensation, but it is a blueprint for success for
not only a company of any size but for individuals as well.
It's now available at book stores for $24.95.
- MAC McKINNON
Return to Menu
---
Associated Press text, photo, graphic, audio and/or video material shall
not be published, broadcast, rewritten for broadcast or publication or
redistributed directly or indirectly in any medium. Neither these AP
Materials nor any portion thereof may be stored in a computer except for
personal and non-commercial use. The AP will not be held liable for
any delays, inaccuracies, errors or omissions therefrom or in the
transmission or delivery of all or any part thereof or for any damages
arising from any of the foregoing.
_
---
Copyright 1996 by Pecos Enterprise
Division of Buckner News Alliance, Inc.
324 S. Cedar St., Pecos, TX 79772
Phone 915-445-5475, FAX 915-445-4321
e-mail news@bitstreet.com
Return to Home Page