Daily Newspaper for Reeves County, Trans Pecos, Big Bend, Far West Texas
News|Sports|
Main Menu|Archives Menu|Classified|Advertising|Monahans
OPINION
November 15, 1996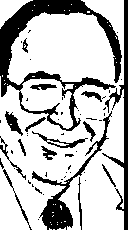 OBSERVATIONS
By Mac McKinnon
Changes in the cabinet occur frequently
Have you ever noticed the number of changes that occur in the cabinet of
any president of the United States?
Those changes occur on a frequent basis and there is little wonder. Do
you ever stop and wonder about when these people ever get a chance to go
home? They are always on the go or else in a meeting at all hours of the
day and night and on weekends with the president.
It seems that as a nation, there are many public servants of which a lot
is asked and much is given. These people in the cabinet are paid
relatively good money but that is usually not of concern to most of them.
Many of them come into those positions with great wealth, some more than
others. They obviously don't take the job for money and while there may
be momentary prestige, it doesn't last very long and few if any will go
down in history books.
It appears to me that many do these jobs simply to be of service. Of
course, some are power hungry but it wouldn't appear that is the case
with most. Some are getting on up in years and the duties they are given
seem to be exhausting.
Although President Clinton has been re-elected, it's almost as if there
will be an entire new administration in Washington as almost all members
of the cabinet are being replaced, some because they haven't done a very
good job or have caused the president problems, and others because they
want to have their own lives back.
Let's face it. In any of those jobs, you give up your own life. You
don't have time with family and friends and to pursue your own
interests. I'm not really sure why people want to subject themselves to
such hardships other than love of country.
On top of all this, many are subject to constant scrutiny by the public
(meaning the media) and everything they do is questioned and on many
occasions criticized. Would you want to live in that kind of fish bowl?
I guess it would be exciting, at least for a period of time but that
would wear thin real quickly.
I believe we need to be more appreciative of the work these people do
and of the president - whoever it is. Do you realize what the president
gets paid? I know whoever runs for that office does so without
consideration of the paycheck but many corporations have presidents and
chief executive officers who do far less work and receive far more
fringe benefits than does the president.
And yes, politics are big in corporations so they have to play that
game. Maybe we are too harsh on those who are in public office. We
should be appreciative and realize they can't satisfy everybody all of
the time. There's a lot of different people in this country.
Think about it.
EDITOR'S NOTE: Mac McKinnon is editor and publisher of the Pecos
Enterprise. His column appears on Friday.
YOUR VIEWS
Express your opinions to the Zoning Board
I am disappointed to read that Bill Fenn feels it necessary to sell
beer at his new store, La Tienda. Bill, and/or his father Joe, opposed
the sale of beer at Furrs before they purchased the store.
I have fought, along with Randy Reynolds and several others, to keep
the Eddy street corridor zoning intact. This zone was implemented around
40 years ago and has promoted a family-friendly mixture of businesses,
schools, churches and residences. The request for a zoning change, in my
opinion, is not in the best interests of our community. If this zone
change is allowed, several other businesses have expressed a desire to
sell beer along Eddy street as well.
I don't believe it would be fair to grant this right to one business
without granting it to all others who wish to do the same. I realize
that occasionally changes need to be made for the good of the community.
I don't believe that this change would be in our best interest and I
therefore would urge the good citizens of Pecos to express your opinions
to the Zoning Board and to the City Council.
Respectfully,
Jim Ivy
OUR VIEW
Technology takes a step
forward for this County
Technology has taken Reeves County one step forward with the
installation and inauguration of the Institutional Hearing Program (IHP)
at the Reeves County Detention Center.
This program will utilize video teleconferencing to conduct deportation
hearings for criminal aliens at the Reeves County Detention Center.
"Kudos" go to Reeves County Judge Jimmy B. Galindo who has been
researching and working on this particular project since last February.
Galindo researched the project by asking numerous questions and finding
out more about video teleconferencing and its benefits to both the
community and the inmates housed at the RCDC.
The IHP is a joint Federal effort by the Immigration Review and the
Federal Bureau of Prisons designed to identify, process and
expeditiously remove all deportable criminal aliens upon completion of
their sentences.
With this new program, some 600 inmates will be processed through this
facility within the next year.
The IHP will result in 10 new federal jobs in Reeves County and about
$250,000 or more revenue for the community, according to Galindo.
Bettering the local economy has been a goal of many officials, leaders
of the community and residents of Pecos and Reeves County.
Return to Menu
---
Associated Press text, photo, graphic, audio and/or video material shall
not be published, broadcast, rewritten for broadcast or publication or
redistributed directly or indirectly in any medium. Neither these AP
Materials nor any portion thereof may be stored in a computer except for
personal and non-commercial use. The AP will not be held liable for
any delays, inaccuracies, errors or omissions therefrom or in the
transmission or delivery of all or any part thereof or for any damages
arising from any of the foregoing.
_
---
Copyright 1996 by Pecos Enterprise
Division of Buckner News Alliance, Inc.
324 S. Cedar St., Pecos, TX 79772
Phone 915-445-5475, FAX 915-445-4321
e-mail news@bitstreet.com
Return to Home Page