Daily Newspaper for Reeves County, Trans Pecos, Big Bend, Far West Texas
News|Sports|
Main Menu|Archives Menu|Classified|Advertising|Monahans
OPINION
November 14, 1996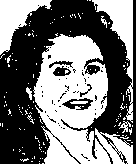 LOOKIN'
ROSEY
By Rosie Flores
It's time to prepare for the holiday season
It seems to be the perfect season for some "spring" cleaning and
sprucing up. Both the house and the individual.
Experts say that if you're planning to celebrate the holidays
surrounded by loved ones (or just individuals who have no other place to
go!), now is the time to start getting the house ready.
However, it's hard to be doing things like this with this crazy weather
creating havoc in your health life. The flu season, for instance, has
hit really hard. All we see lately is individuals with sore throats,
sneezing and coughing throughout the day.
Health officials stress the flu vaccination. But if you're like most of
us, needles are not on the agenda. They also stress good nutrition and
plenty of rest. This should enable us to celebrate or at least endure
the holiday season, a little bit healthier.
To ensure that the home looks its festive best, holiday hints have been
provided. One of the main tips includes learning the basics of spot
removal. Using the wrong solution on the wrong spot may set it. The
experts recommend the following tips for removing common spills.
For milk products, blot the spill with a white unstarched cloth and
cold water. Then wipe the area with a mixture of ½ pint cold water and ½
teaspoon liquid dishwashing detergent (not automatic dishwashing liquid
or any detergent with bleach). This hint especially comes in handy for
individuals who have toddlers at home.
Coffee or tea can be cleaned with the same water and dishwashing liquid
mixture, followed by another blend of three parts cold water to one part
vinegar.
For fruit juice, wipe the spot with a clean, white unstarched cloth and
cold water, then apply a little of the dishwashing detergent and water
mix, then a solution of a tablespoon baking soda and a cup of cold water.
If you spill red wine on your carpet, while it's still wet, pour white
wine on the spot and blot. The two wines neutralize each other. After
that you can drink whatever is left in both bottles!
If liquid shoe polish reaches your rug, apply a few drops of
non-flammable dry cleaning fluid with a teaspoon and blot with a dry,
white unstarched cloth.
Cleaning experts also suggest keeping an absorbent white cloth on hand
for blotting spots when they occur.
And to be sure your holidays are full of laughter, keep yourself fit
and worrisome free by just enjoying yourselves.
After all, you only get to do this once a year!
EDITOR'S NOTE: Rosie Flores is an Enterprise writer and editor of
Lifestyles and Golden Years. Her column appears each Thursday.
Return to Menu
---
Associated Press text, photo, graphic, audio and/or video material shall
not be published, broadcast, rewritten for broadcast or publication or
redistributed directly or indirectly in any medium. Neither these AP
Materials nor any portion thereof may be stored in a computer except for
personal and non-commercial use. The AP will not be held liable for
any delays, inaccuracies, errors or omissions therefrom or in the
transmission or delivery of all or any part thereof or for any damages
arising from any of the foregoing.
_
---
Copyright 1996 by Pecos Enterprise
Division of Buckner News Alliance, Inc.
324 S. Cedar St., Pecos, TX 79772
Phone 915-445-5475, FAX 915-445-4321
e-mail news@bitstreet.com
http://www.pecos.net/news