Daily Newspaper for Reeves County, Trans Pecos, Big Bend, Far West Texas
News|Sports|
Main Menu|Archives Menu|Classified|Advertising|Monahans
OPINION
November 8, 1996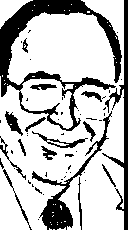 OBSERVATIONS
By Mac McKinnon
It's hard keeping up
with fashion nowadays
I'm about to write about another subject in which I have no expertise
other than as an observer.
This subject regards fashion. I've been told that I don't keep up with
fashions or styles which is one reason some people tell me that what I
have on used to be in style and it might come back.
I've been reading about controversy over fashion, designers and models.
It appears we are in a time when you can wear just about anything and be
in style. That's the way it should be. Everyone is an individual and I
simply don't understand people who want to wear designs that are just
like what other people have.
That, as most people are probably aware, has not always been the case,
particularly for women. Men's fashions don't change much but I do wish
leisure suits would make a come back. I finally got rid of the several
leisure suits I had but I sure did like them. They were comfortable and
I thought looked good.
For women, fashions and colors change with every season. Hem lines go
up and down and one particular color will be the latest rage. I've never
really understood the color thing as different people look good in
certain colors and to me, those are the colors they should wear.
The Associated Press recently transmitted an article out of Paris with
store owners complaining about the newest fashions. "Those won't sell in
my store," one owner complained. What he had reference to was clothes
and material that exposed just about everything.
I don't consider myself a prude but people should use some discretion
in their attire. I can't believe some people will buy certain things
that violate their personal feelings just to be fashionable.
The biggest problem I have with these fashion shows involves the
models. Real people simply don't look like that. I realize designers
don't want the models' looks and figures to take away attention from
their designs but that is ridiculous.
It appears that some people may be fooled into thinking they can look
sleek like the models if they buy certain clothes. But in this day and
time, more people are honest about their own feelings about themselves
and realize they are not going to look like those who are modeling
clothes.
Again, individuals are all different and what might look good on one
person might not look good on another.
The bottom line of all this is that in the past we as individuals have
been too easily led rather than act like the individuals that we are.
Let's not let somebody in Paris or New York try to dictate our styles or
how we feel about ourselves.
Mac McKinnon is editor and publisher of the Pecos Enterprise. His column
appears on Friday.
OUR VIEW
Get involved to
make a change
What if you held an election and nobody came?
That was almost the case Tuesday when an election viewed by the world
as "THE" election took place in the United States. Voters stayed away in
record numbers.
Preliminary estimates are that only 92.7 million voters out of 196.5
million registered to do so actually turned out to cast their ballots.
That number could change some when all early votes re counted but is not
expected to be by much.
That's only 47 percent, the lowest since 1824. In 1924, the voter
turnout was 48.9 percent but there were a lot fewer people registered to
vote at that time.
We can just imagine how this kind of turnout is viewed in other
countries where people are dying to try to get the opportunity to vote.
Have we as a nation become so jaded about politics that we no longer
care?
Granted, American voters didn't have a lot to choose from. Of the three
major candidates, one apparently has questions about integrity looming
over his head, another is as inspiring as watching grass grow and the
third is viewed as self serving although he helped get the vote out in
the 1992 election and the turnout could have been even lower this year
if he had not been on the ballot.
The man with questions on his integrity got elected. But, few people
seem to be satsified with the choices they had. And apparently things
aren't going to be any better what with the cost of running for election.
It's not that the voters don't like President Bill Clinton, they simply
don't seem to trust him. But, we've got him for another four years and
that's that.
We, as Americans, need to get involved in our system to help reform
campaign finance laws and possibly the way candidates are chosen so that
we can all get involved in the process of seeking a leader for our
nation.
There are obviously too many citizens who feel disenfranchised by the
way our system works now. However, it is obvious that staying away from
the ballot box is not going to solve our problems.
To make changes, everyone will have to get involved.
Return to Menu
---
Associated Press text, photo, graphic, audio and/or video material shall
not be published, broadcast, rewritten for broadcast or publication or
redistributed directly or indirectly in any medium. Neither these AP
Materials nor any portion thereof may be stored in a computer except for
personal and non-commercial use. The AP will not be held liable for
any delays, inaccuracies, errors or omissions therefrom or in the
transmission or delivery of all or any part thereof or for any damages
arising from any of the foregoing.
_
---
Copyright 1996 by Pecos Enterprise
Division of Buckner News Alliance, Inc.
324 S. Cedar St., Pecos, TX 79772
Phone 915-445-5475, FAX 915-445-4321
e-mail news@bitstreet.com
http://www.pecos.net/news