PECOS ENTERPRISE
Daily Newspaper for Reeves County, Trans Pecos, Big Bend, Far West Texas
News|Sports|
Main Menu|Archives Menu|Classified|Advertising|Monahans
OPINION
October 31, 1996
LOOKIN'
ROSEY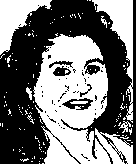 By Rosie Flores
It's time to prepare for the holiday season
The holiday season is right around the corner. Just visit any store and
you will see Christmas decorations and gift ideas set up.
What ever happened to Thanksgiving? Are we going straight from
Halloween to Christmas? Maybe it just seems that way, because time is
going by so fast, and everything is approaching much faster.
Not such good news for all middle-aged people!
To children it seems like an eternity until Christmas. I just can't
wait until Thanksgiving, since eating is one of my favorite pass times.
Isn't it everyone's?
Turkey and all the trimmings sounds pretty good right about now. Forget
all that Halloween candy, it'll probably still be around next year.
During spring cleaning, Halloween candy ghosts, pumpkins and goblins
will be found under the sofa cushions. Bubble gum will be stuck to the
carpet behind the television set.
And be careful when you sit down at the dining room table, there's no
telling what those little trick-or-treaters have hidden there!
With the Thanskgiving holidays approaching everyone wants to stay fit
and trim and of course, healthy. But with the strange cold, then hot,
weather its hard to stay healthy.
It seems like everyone is coming down with the flu or stomach virus, or
something worse.
That's why doctors are warning everyone of the dangers of food
poisoning during this time of the year. The time when everyone is into
the baking and cooking mood. Not to mention eating!
They advise that turkey and other poultry defrosted outside the
refrigerator too long are prone to contamination with salmonella
bacteria.
Salmonella poisoning occurs when the bacteria is eaten. They grow in
the intestines, causing stomach pain, nausea, vomiting, diarrhea and
dehydration.
Cooking tips offered to help avoid holiday food poisoning include to
wash hands before preparing foods. Check your turkey's temperature with
a cooking thermometer to determine if the meat has been cooked
thoroughly.
Wash countertops, cutting boards and utensils in hot, soapy water and
always refrigerate leftovers immediately.
Another piece of advice would be to avoid over-eating. But of course,
that's impossible!
EDITOR'S NOTE:Rosie Flores is an Enterprise writer and editor of
Lifestyles and Golden Years. Her column appears each Thursday.
Return to Menu
---
Associated Press text, photo, graphic, audio and/or video material shall
not be published, broadcast, rewritten for broadcast or publication or
redistributed directly or indirectly in any medium. Neither these AP
Materials nor any portion thereof may be stored in a computer except for
personal and non-commercial use. The AP will not be held liable for
any delays, inaccuracies, errors or omissions therefrom or in the
transmission or delivery of all or any part thereof or for any damages
arising from any of the foregoing.
_
---
Copyright 1996 by Pecos Enterprise
Division of Buckner News Alliance, Inc.
324 S. Cedar St., Pecos, TX 79772
Phone 915-445-5475, FAX 915-445-4321
e-mail news@bitstreet.com
http://www.pecos.net/news