Daily Newspaper for Reeves County, Trans Pecos, Big Bend, Far West Texas
News|Sports|
Main Menu|Archives Menu|Classified|Advertising|Monahans
Opinion
October 29, 1996
SQUARELY
PEGGED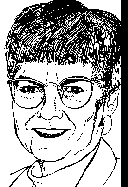 By Peggy McCracken
Good news travels
all over the world
"I see they finally muzzled Peggy McCracken," Mr. Anon Y. Mous
commented to one of my news sources last week - referring to the mask I
wear over my mouth and nose.
No, I haven't been muzzled, I just have allergies. And the mask doesn't
keep me from speaking my mind when the occasion arises. If that's not
enough bad news for my army of enemies, here's one more blow. I'm not
retiring, either.
Mac hired two reporters in an attempt to replace me, but neither worked
out. I had planned to at least retire from reporting in January and do
something different. But my sojourn in Mexico refreshed me, and I think
I can sit at this computer terminal another year or two.
Actually, it's not this terminal, but my Internet computer that keeps
me going. I worked hard to create our web site, and I don't want to see
it go down the drain. I knew it was valuable, and last week Jaroy Moore
confirmed it. Since he has moved to El Paso, he reads the Pecos news
every day on the Internet. People all over the world have the same
access to our page and can find out what's going on in Pecos, Monahans
and the area.
We have a news roundup from Marfa, Alpine, Presidio, Fort Davis and
Fort Stockton every week, and we are working to expand that coverage.
How would you like to see a listing of all the restaurants, motels and
service stations in an area where you plan to visit? Wouldn't that be
helpful to the traveler? I am working on that, as well. Tourists who
look up facts about the area on the Internet may be attracted to a town
that has some good restaurants and places to stay.
I think a listing of Bed and Breakfast facilities would be extra good,
since I stayed in one last summer and enjoyed it immensely. I know there
are some in the Fort Davis area, but there may be others I haven't heard
about.
We fixed up a Pecos data page that tells about the climate, population,
government, taxes, schools, churches, recreation, employers and work
force. It may or may not put our best foot forward, but it is fact.
What else would you like to see advertised on our page? I could use
some suggestions.
One suggestion I got last week was to write about something besides
computers. What else is there?
"O Lord, save us; O Lord, grant us success." Psalms 118:25, NIV
Peggy McCracken is an Enterprise writer and editor whose column appears
each Tuesday.
CRITIC'S CORNER
Show and tell book
chronicles old West
An epic period in our country's history is reborn in Images of the Old
West (Park Lane Press, October 1996). Bestselling author Dee Brown and
renowned historical artist Mort Kunstler combine talents to create an
extraordinary written and visual recollection of this volatile era in
American history.
The Old West has always held a fascination for young and old alike.
Images of the Old West tells the exciting story of the opening of the
West, little-known facts about the Gold Rush, the Civil War in the West,
the impact of the railroads, the plight of Native Americans and the
Plains Indian Wars. It brings to life the behind-the-scenes stories of
the frontier: mountain men and missionaries, feuds between cowboys and
cattleman and gunfights pitting outlaws against lawmen.
Dee Brown's insightful text and Mort Kunstler's striking paintings
depict these historic stories with strength and sensitivity that will
delight history buffs and all who are curious about this pivotal time in
our American heritage.
Dee Brown is the acknowledged authority on the Old West. He is the
best-selling author of 27 books on the American frontier, including the
classic Bury My Heart at Wounded Knee and Wondrous Times on the
Frontier. He lives and writes in Little Rock, Ark.
Mort Kunstler is considered America's foremost historical artist. There
is probably no other painter who has recorded so many events in the
history of the nation. Kunstler's book Images of the Civil War has sold
more than 70,000 copies. He lives and works in Oyster Bay, New York.
0-517-20012-0 Price: U.S. $40. More than 80 full-color paintings in its
192 pages.
Return to Menu
---
Associated Press text, photo, graphic, audio and/or video material shall
not be published, broadcast, rewritten for broadcast or publication or
redistributed directly or indirectly in any medium. Neither these AP
Materials nor any portion thereof may be stored in a computer except for
personal and non-commercial use. The AP will not be held liable for
any delays, inaccuracies, errors or omissions therefrom or in the
transmission or delivery of all or any part thereof or for any damages
arising from any of the foregoing.
_
---
Copyright 1996 by Pecos Enterprise
Division of Buckner News Alliance, Inc.
324 S. Cedar St., Pecos, TX 79772
Phone 915-445-5475, FAX 915-445-4321
e-mail news@bitstreet.com
http://www.pecos.net/news