Daily Newspaper for Reeves County, Trans Pecos, Big Bend, Far West Texas
News|Sports|
Main Menu|Archives Menu|Classified|Advertising|Monahans
OPINION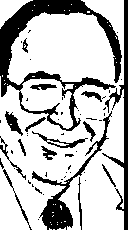 Oct. 25, 1996
OBSERVATIONS
By Mac McKinnon
How much news is enough for a person
How much news does a person need or want?
In recent years, we've seen a proliferation of news via many mediums.
The number of news shows on television and the number of all news
channels has increased. The number of magazines on every subject
imagineable has grown considerably with many dealing with the same
subjects, especially magazines offering some kind of advice on doing
things - hobbies, crafts, etc.
The number of newspapers around the country is dwindling but the
surviving newspapers have larger circulations, indicating readership of
newspapers is staying steady although it should be on the increase.
All news radio and talk radio has become a recent fad and those
stations seem to be very popular.
The only problem I see with all of this is that the broadcast media
lends itself to many opinions and some people tuning in don't always get
the entire broadcast, so what they hear is believed to be fact when it
is actually opinion.
For all the information that is available, much of it is
mis-information. That's one reason I got out of the television news
business. In television and radio you only have a short time to deliver
each story, 30 to 45 seconds they say is best. There's not many details
you can deliver on a story in that short of a time period.
Public television does a better job as they take the time needed to
tell a story. But in my mind, there is nothing like being able to pick
up a newspaper and read the entire story, concentrating on it to get all
the information. Of course, newspapers are written in a way that people
can get the gist of a story in a short amount of time without reading it
all. We try to write in a concise manner, giving as many details as
possible without getting to the point of being trivial. The thought is
that if a person wants the minute details, we've piqued their interest
and they can pursue it.
News magazines are among my favorite reading materials as they provide
brief information that I can pursue through other channels, including
the Internet, another new source of news and information.
I also enjoy the front page of the Wall Street Journal and USA Today.
Obviously, it takes a lot of time to do all this reading and no one
person has that much time. It's an occasional thing for me.
I depend on the Pecos Enterprise for my local, area, state and national
news and then I tune in to the NBC nightly news for video of things I
consider interesting for television coverage, and then I watch almost
all the news magazines on the networks. I rarely watch CNN unless there
is breaking news not available on other channels and I watch CNN
Headline News for brief takes on the news late a night. We don't yet
have access to the new CNBC news channel or the Fox news channel.
Some of the best television news coverage comes during the middle of
the night, but I can't stay up and watch much of it. It's more down to
earth and more like a newspaper in content. And I also like Nightline on
ABC but it comes on too late unless I just happen to be up that late for
some odd reason.
All the news that is available may be one reason so many people are fed
up with the election before it even gets here. We're over exposed. But,
I like a lot of news and apparently so does the public. The truth is
more interesting than anything Hollywood can write about and portray in
a show.
EDITOR'S NOTE: Mac McKinnon is editor and publisher of the Pecos
Enterprise. His column appears on Friday.
LEGAL MATTERS
Holiday gifts or give-backs?
By DAN MORALES
The holiday season is here once again, a time for family visits, good
cheer, and exchanging gifts with friends and loved ones. While we like
to think the gifts we select for others are exactly what they want or
need, this is often not the case. Clothes that are the wrong size, toys
that are inappropriate for your child's age, kitchen appliances that
break the first time you turn them on all of these are candidates for
repair, exchange or return at the stores where they were purchased.
Returns, exchanges, and refunds are a customer service voluntarily set
up by merchants to help customers find the right products. Most stores
are reasonably lenient about returns and exchanges of items received as
gifts. However, you will probably need to show a sales slip or other
evidence that the item was actually purchased at their store. It also is
a good idea to keep the box or packaging your gift came in, just in case
the store requires it for resale or return to the manufacturer.
For some items, the return policy may require that all sales are final.
Stores often adopt this policy for goods used as floor models, sold at
marked down prices, or sold at the end of a eason. In addition, health
laws forbid the return of some types of clothes, such as bathing suits,
undergarments, and hats.
Each time a good is sold, the seller makes two implied warrants to the
buyer:
* the item is not defective. (For example, a clock should keep accurate
time);
* the item will do what it is advertised to do. (For example, a radio
that is advertised as receiving overseas stations should receive those
stations.)
Under Texas law, the only exception to the implied warranty rule is for
goods sold "as is." As is means that you have no recourse if the product
does not work, unless the seller made an oral warranty, distributed
advertising making claims about the item, or gave you a sales pitch
promising that it would work.
Sellers or manufacturers also may make an express warranty on the item.
Under Texas law, express warranties are promises made to induce sales.
Express warranties include:
* Written warranties, which are governed by federal law;
* Advertisements, which include promises about the product;
* Samples or sales models, which warrant that the item you buy will
conform to the model;
* Oral warranties in the form of sales pitches that promise anything
about the product and its repair or replacement. The promise must be
made directly to you-ovesrhearing a promise made to another customer
does not count.
If your gift comes with a written warranty, you probably will need the
sales receipt to exercise the warranty. Keep both the warranty and
receipt together in a safe place. And make sure you complete all forms
required by the manufacturer for purchase or warranty registration.
If you need to exercise the warranty on a product, notify the merchant
as soon as you find a defect. If you are dealing with a reputable
merchant, chances are it will be relatively easy to get the problem
resolved. If your first notification does not produce the desired
results, repeat your complaint in writing.
Send copies of your complaint to the manufacturer, to the merchant where
the product was bought, and to your local Better Business Bureau. You
may also wish to file a complaint with the nearest Office of Attorney
General's Consumer Protection Office. We offer a mediation service to
resolve disputes between merchants and consumers. For more information,
you may contact our office at (800) 337-3928.
Have a safe, happy, and fun-filled holiday season
EDITORS' NOTE: Dan Morales is attorney general for the state of Texas.
His weekly column deals with legal matters that impact private citizens.
Return to Menu
---
Associated Press text, photo, graphic, audio and/or video material shall
not be published, broadcast, rewritten for broadcast or publication or
redistributed directly or indirectly in any medium. Neither these AP
Materials nor any portion thereof may be stored in a computer except for
personal and non-commercial use. The AP will not be held liable for
any delays, inaccuracies, errors or omissions therefrom or in the
transmission or delivery of all or any part thereof or for any damages
arising from any of the foregoing.
_
---
Copyright 1996 by Pecos Enterprise
Division of Buckner News Alliance, Inc.
324 S. Cedar St., Pecos, TX 79772
Phone 915-445-5475, FAX 915-445-4321
e-mail news@bitstreet.com
http://www.pecos.net/news