Daily Newspaper for Reeves County, Trans Pecos, Big Bend, Far West Texas
News|Sports|
Main Menu|Archives Menu|Classified|Advertising|Monahans
OPINION
June 24, 1996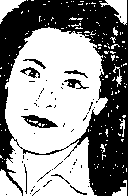 IN MARI'S
CORNER
By Mari Maldonado
Juvenile crime still a problem
If you've kept up with the local police you'll notice the increase in
the number of thefts and acts of criminal mischief reported - and these
are only the ones I'm able to get a report on.
It seems that a lot of these crimes coincide with the time of year, as
air conditioner equipment and lawnmowers have been listed more than once
on some of the more recent case records. Criminal mischief reports are
pretty much the same all year round, but just more abundant this time of
year.
I agree with one police official that these instances have a lot to do
with school being out and the migrant workers who are temporarily
visiting.
I remember interviewing another party about juvenile crime a while back
and this person told me that they didn't feel it was anything to worry
about.
Maybe it's me, but I think juveniles haughtily walking down an alley
with computer equipment that they've just stolen from the Pecos High
School Special Education Department is something to worry about.
- teens breaking into to local stores and stealing beer and cigarettes,
getting caught cruising the streets with drugs -
Excuse me! Yoohoo! I'm worried.
I realize it's not just a local issue and it's something that can't be
readily mended, but I just want people to open their eyes and see that
there is a problem and quit denying the facts.
The problems with the people in town for the work will eventually
subside as they leave, but the juvenile "thing" will remain to plague
local citizens. I feel that if something doesn't give, we're setting
ourselves and our children up for a point that offers no return.
Call me optimistic, or just plain stupid, but I honestly think that
there's still merit in a lot of young minds that just lack discipline
and hopefully we won't realize this too late.
EDITOR'S NOTE: Mari Maldonado is an Enterprise reporter whose column
appears each Monday.
Return to Menu
---
Associated Press text, photo, graphic, audio and/or video material shall
not be published, broadcast, rewritten for broadcast or publication or
redistributed directly or indirectly in any medium. Neither these AP
Materials nor any portion thereof may be stored in a computer except for
personal and non-commercial use. The AP will not be held liable for
any delays, inaccuracies, errors or omissions therefrom or in the
transmission or delivery of all or any part thereof or for any damages
arising from any of the foregoing.
_
---
Copyright 1996 by Pecos Enterprise
Division of Buckner News Alliance, Inc.
324 S. Cedar St., Pecos, TX 79772
Phone 915-445-5475, FAX 915-445-4321
e-mail news@bitstreet.com
Return to Home Page