Daily Newspaper for Reeves County, Trans Pecos, Big Bend, Far West Texas
News|Sports|
Main Menu|Archives Menu|Classified|Advertising|Monahans
OPINION
June 22, 1996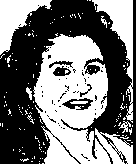 LOOKIN'
ROSEY
By Rosie Flores
Can a person change
into a good citizen?
Should convicted felons who are serving life or at least several years
in prison be allowed to ask for parole?
That was the question asked on a recent television show, Dateline, in
which they interviewed three convicted felons serving time in prison.
Most of the viewers (about 80-something percent) of those polled
answered an emphatic "no" to that question. But like one of the
individuals who was in prison stated, shouldn't you take into
consideration the fact that the individual has changed and could be a
productive part of society?
Should the board of pardons and paroles take into consideration that
the individual has been a model prisoner and has helped out other fellow
inmates?
One certain inmate thought so. At 22 years of age, he had killed his
girlfriend's son by beating him to death. Yet, now he's claiming that
he's been a model prisoner, has helped others in their studies and has
helped some obtain their GED's. He also claimed to have participated in
other endeavors.
He had already spent 15 years behind bars, and now he claims that all
this time has really changed him and he can be an active and productive
member of society.
It was not an easy decision for sure, for the board, but at the end
they denied his parole. They didn't feel like he should be out in
society after the brutal way he had killed that little boy. A life was
taken. He says he's sorry, but what about the mother of the child?
The second inmate asking for parole was a woman who had killed her
husband of many years. She claims she killed out of self-defense after
years of abuse.
But no records were available in which she had reported this supposed
abuse. No evidence was available on the matter either, neither physical
or mental.
Her parole was also denied, even though she has spent the last five
years in prison and claims she can be a good citizen again.
In cold blood she shot her husband with a shotgun while he slept. If
she had really been abused, wouldn't she have done this a long time ago
and not waited until after she had been married for years to this man?
The parole board thought so. She should have reported the abuse,
divorced him or just plain left the man. But to take a life, that's
something else.
The third prisoner interviewed supposedly assaulted and tried to rape a
nun. He also had spent many years in prison and throughout the whole
time denied ever doing that certain crime. Yes, he said, he had been
guilty of other crimes, but this time he claimed innocence.
Apparently the board believed him because he was granted parole after
all these years. It also helped that he broke down and cried during the
interview with the board. Now he's living happily with his wife and
child.
If you were asked that question what would you answer? The question is
a difficult one. One that has two sides, like all stories do.
We're all human and we know we're all capable of good and evil. Some
individuals actually can change for the better and sometimes it doesn't
take time in prison to do so!
EDITOR'S NOTE: Rosie Flores is an Enterprise writer and editor of
Lifestyles and Golden Years. Her column appears each Thursday.
Return to Menu
---
Associated Press text, photo, graphic, audio and/or video material shall
not be published, broadcast, rewritten for broadcast or publication or
redistributed directly or indirectly in any medium. Neither these AP
Materials nor any portion thereof may be stored in a computer except for
personal and non-commercial use. The AP will not be held liable for
any delays, inaccuracies, errors or omissions therefrom or in the
transmission or delivery of all or any part thereof or for any damages
arising from any of the foregoing.
_
---
Copyright 1996 by Pecos Enterprise
Division of Buckner News Alliance, Inc.
324 S. Cedar St., Pecos, TX 79772
Phone 915-445-5475, FAX 915-445-4321
e-mail news@bitstreet.com
Return to Home Page