Daily Newspaper for Reeves County, Trans Pecos, Big Bend, Far West Texas
News|Sports|
Main Menu|Archives Menu|Classified|Advertising|Monahans
OPINION
June 19, 1996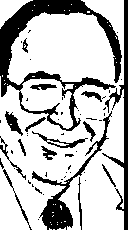 OBSERVATIONS
By Mac McKinnon
Years dissolve rancor
between old classmates
Have you had a reunion of your high school or college class, or a
family reunion for that matter, any time lately?
So many people don't go to these events, and I feel everyone should
make every effort to go. Family reunions are real important but class
reunions are also significant.
Too many times the only time families get together is for funerals, and
that's not the best time to get to visit and catch up on what's been
going on in other branches of the family.
My family doesn't have many reunions because we are so spread out it
just doesn't seem like we can all get together at any one time. A number
of my cousins are in ill health and can't travel so that lets them out
of attending.
But I do have a high school class reunion, the class of 1961 from
Dublin (TX) High School. We just had our 35th reunion on June 7-8 and
while we had a good time and a good number of the small class was in
attendance, it would have been better if more could have been there.
I don't really remember exactly how many were in the class, about 50
something, but we were a close-knit group as is usually the custom in a
really small school. Some members of the class who moved away before
graduation even come back to renew friendships.
I've been fortunate and been able to make all of the reunions, one
every five years, as has the secretary-treasurer of our class, Sharon
"Sha" Ward Moffett who now lives in Dallas. She has been the glue that
has held our class together, keeping up with everybody and letting
everybody know what's going on. You've got to have somebody like that or
else the class will scatter and nobody will know where anybody is.
I've been designated to put out a newsletter of this last reunion so
I'm working on it.
Our class has been very fortunate as we've only lost four of our
classmates, two to cancer, one to a car wreck and one to suicide. Two
others are reported to be in not the best of health but we hope they get
better.
One classmate who lives close to Dublin was finally talked into coming
to his first reunion. We've always been good friends and I believe he
had a good time. He looked the youngest of all - possibly, as I kidded,
because he has never been married. The female members of the class
didn't particularly like that comment.
Some of the prize comments at this last reunion - which coincides with
an all class reunion held every year in Dublin - was one who said what
happened to all these other classes? They've aged and we haven't changed.
It seemed like we were back in high school, talking about things we did
- and didn't do. It's amazing how much you remember when someone helps
jog your memory.
One big thing that happened was I noticed when I drove into town they
had renamed Dublin as Dr. Pepper - because the town is the home of the
oldest Dr. Pepper plant in the world, 105 years old. The town started
renaming itself for a week every year in recognition of the anniversary
of the plant when an open house is held.
Maybe Pecos could rename itself one or two weeks a year as Rodeo, Texas.
But, back to my reunion. If you have the chance to attend a class
reunion, please do so for your own enjoyment. Put aside any old
grievances that may have existed. You'll be surprised how those bad
feelings disappear when you see old friends, family members and
classmates.
EDITOR'S NOTE: Mac McKinnon is editor and publisher of the Pecos
Enterprise. His column appears on Wednesday and Friday.
Return to Menu
---
Associated Press text, photo, graphic, audio and/or video material shall
not be published, broadcast, rewritten for broadcast or publication or
redistributed directly or indirectly in any medium. Neither these AP
Materials nor any portion thereof may be stored in a computer except for
personal and non-commercial use. The AP will not be held liable for
any delays, inaccuracies, errors or omissions therefrom or in the
transmission or delivery of all or any part thereof or for any damages
arising from any of the foregoing.
_
---
Copyright 1996 by Pecos Enterprise
Division of Buckner News Alliance, Inc.
324 S. Cedar St., Pecos, TX 79772
Phone 915-445-5475, FAX 915-445-4321
e-mail news@bitstreet.com
Return to Home Page