May 1996
Archives Menu|Return to Home Page|
Judge wipes smile off McLaren's face
Return to Menu
By PEGGY McCRACKEN
Staff Writer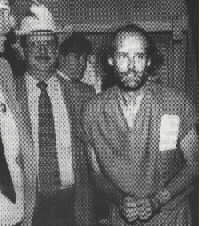 McLaren in chains
Deputy U.S. Marshal Gary Brown escorts Richard McLaren out of the Jeff Davis County Courthouse following a hearing on a burglary charge. He is being held in Ward County Jail on a federal contempt of court finding.
PECOS, May 17, 1996 - Richard Lance McLaren of Fort Davis strode into
federal court Thursday with a bright smile and a nod for his friends in
the "Republic of Texas."
He left an hour later more subdued and still in the custody of U.S.
Marshals after making a veiled threat of retaliation by his fellow
"citizens" and a grand jury indictment against Judge Bunton.
Refusing Judge Bunton's appointment of an attorney to represent him and
rejecting counsel by a "Republic" official who claims to be a lawyer,
McLaren presented his own case.
As an ambassador of a foreign nation, McLaren said he could not
participate in the hearing because he does not recognize the United
States court's jurisdiction. But he did agree to negotiate as a diplomat.
What he read was a long, rambling statement about actions the Republic
of Texas has taken in courts of its own creation. One of those acts was
to subpoena Judge Bunton to a "district court" hearing in an Arlington
motel room April 27.
That and similar violations of Judge Bunton's order not to proceed in
any forum without his consent led to McLaren's arrest last Saturday. His
refusal to agree to abide by Judge Bunton's orders earned him a
permanent jail cell until he changes his mind.
But first Bunton gave the long-haired 43-year-old farmer with a week-old
beard a chance to go free.
"I am going to adopt the orders that I previously entered in the
permananet injunction and ask you to see they are not violated again;
that you as a diplomat of the Republic of Texas, or whatever office you
hold, direct your friends and people connected with the Republic of
Texas to cease and desist" any filings or court proceedings.
"It just has to cease," Bunton said. "I don't want to jail you for
violation of the court orders. On the other hand, I can't allow you or
anyone else to thumb their nose or to maintain and claim that the
federal court doesn't have jurisdiction in these matters.
"To allow that would be to encourage anarchy so nobody would recognize
any of our departments in the United States government."
"We are currently talking with the State Department, so there are other
things going on," McLaren said. "Hopefully we can work something out
with Washington which may resolve this problem for everyone."
In the meantime, Judge Bunton said he had no alternative but to place
McLaren in the custody of U.S. Marshals. He was transported to the
Midland County Jail late Thursday, where Judge Bunton can talk with him
if he decides to cooperate. So long as he refuses to cooperate, McLaren
can be held indefinitely or until a higher court orders his release.
"Please be aware that the Republic of Texas is a living, breathing
entity, and the people will react," McLaren said. "I will not be
responsible for their reactions to what you do."
McLaren said he has asked for a grand jury indictment in his "common law
court of pleas" in Tarrant County against Judge Bunton, and the court
will proceed with or without him.
"Frankly, I have a hard time understanding where you are coming from a
lot of times," Judge Bunton said.
McLaren said that people of this country have lost all our values, and
people are upset when they see United Nations and German flags flying
over their land.
"Things are about to get out of hand," he said. "Can't we break that
barrier? Everyone says the only way they are going to take Texas back is
by violent overthrow. I say, `No, there has to be a way. We have tried
to do it under the law of nations, but we have had everything denied to
us. I have to follow my conscience, and the citizens of the Republic
have to follow their conscience."
Judge Bunton said that his ancestors were at San Jacinto and the signing
of the Declaration of Independence.
"I have been here a long time. Certainly, I feel very strongly about my
state and the United States," he said. "I don't think that now, or 10 to
20 years from now, any additional blood needs to be shed in this matter.
I am sorry you and others feel great discomfort with the way things are
in this nation at this time. If your avenues are better than mine, I
guess we will find it out."
Several officials with the Republic of Texas were present for the
hearing. Don Varnell, secretary of plans, powers, constitution and
convention, said he does not know how ROT citizens will react to
McLaren's continued incarceration.
"People are getting to the point where they have no recourse at law,
because the judges will not follow their own law," he said. "We have no
idea what the people will do. Probably nothing, but we don't know."
He said the Republic of Texas has 10,000 to 50,000 citizens who have
renounced their United States citizenship.
The elected council is composed of 12 members who meet every three weeks
in various locations across the state. The next meeting is set for 10
a.m. Saturday in the Clarion Hotel in El Paso.
Jury absolves state school staff
Return to Menu
By PEGGY McCRACKEN
Staff Writer
PECOS, May 16, 1996 - Deliberating only 30 minutes, federal court jurors
this morning obsolved the West Texas State School administration of a
wrongful termination charge lodged by a former cook and teacher's aide.
Catarina Garcia claimed in the civil suit that her termination as
teacher's aide was based on retaliation.
She had earlier filed a grievance over her termination as a cook after
being injured on the job and failing to receive medical clearance to
return to full-time duty.
She sued the Texas Youth Commission's executive director, West Texas
Children's Home superintendent Johnny Williams and his assistant, Kay
Doebbling.
Only a few of the 70 prospective witnesses testified during the 1½-day
trial presided over by Senior Judge Lucius Bunton.
The verdict closed out this week's docket.
No redress for damaged credit
Return to Menu
By PEGGY McCRACKEN
Staff Writer
PECOS, May 14, 1996 - Federal court jurors on Monday denied Carolyn
Hicks damages from the Credit Bureau of El Paso for their alleged
failure to correct her credit report.
Hicks, a Fort Davis school teacher, claimed that a bad credit record of
Carolyn Collier of Lubbock was included in her credit report. She said
she twice asked the credit bureau to correct her records, but that they
failed to do so.
She said she suffered fear, anxiety, sleeplessness, crying jags and
emotional depression over the credit report, although she had not been
denied credit because of it.
The jury found that the credit bureau did not violate the Fair Credit
Report Act and that Hicks is not due any damages.
Senior Judge Lucius Bunton presided for that trial, accepted a guilty
plea and sentenced one defendant on Monday.
Luis Alberto Gutierrez-Diaz drew 60 months in prison and three years
supervised release for possession with intent to distribute marijuana.
Carmina Pando de Madrid entered a conditional plea of guilty to
possession with intent to distribute marijuana after Judge Bunton denied
her motion to suppress evidence.
Border Patrol agents arrested Pando Feb. 21 whenr she turned around just
short of the checkpoint on U.S. Highway 67 and traveled back south
toward Presidio. They found two suitcases filled with marijuana in the
trunk of her car.
Pando said she had agreed to take the suitcases to Odessa for an
Ojinaga, Mex. resident whom she had approached for a loan. He refused
her the loan but offered her $2,000 to deliver the suitcases, she said.
She admitted she knew they contained illegal drugs, but she didn't know
it was marijuana.
Jurors began hearing testimony this morning in a civil damage suit filed
by Catarina Garcia against West Texas State School administrators and
the Texas Youth Commission in connection with her employment termination.
Lindsay freed on bail
Return to Menu
By PEGGY McCRACKEN
Staff Writer
PECOS, May 13, 1996 - Senior Judge Lucius Bunton this morning set bail
at $25,000 for Jeffrey Allen Lindsay on a federal indictment for
possession with intent to distribute marijuana and using a firearm
during a drug transaction.
Lindsay was arrested May 5 by U.S. Border Patrol agents as he traveled
north toward Van Horn on a road that leads to the Mexican border. Agents
found suspected marijuana and seven weapons in his vehicle.
Armando Salas, case agent for the Bureau of Alcohol, Tobacco and
Firearms, testified this morning that all but one of the weapons were
loaded at the time of Lindsay's arrest.
A .308 caliber rifle and a 9mm pistol were within his reach between the
front seats, and a UZI pistol was in the back seat, Salas said. One of
two shotguns found in the back seat floorboard was the only weapon not
loaded, he said.
In addition, 500 rounds of ammunition were found in the vehicle.
El Paso attorney Sergio Coronado said that Lindsay is a rancher, and
that he uses the firearms to kill predators. The UZI is an Israeli
weapon that was at one time banned from importation and could be
considered a collector's item, he said.
But Salas said that he has not found UZIs in antique gun collections.
Most narcotic traffickers like to carry the assault weapon, he said.
"It is not against the law, but it is against the law to use them in
narcotic trafficking," he said.
Coronado said that Lindsay lives in Reeves County with Alexa Gallego,
and he is not a danger to the community. He has already posted a
$150,000 bond in Culberson County on a state charge from the same arrest.
"I don't believe Lindsay is going any place," said Judge Bunton. While
free on bail, he will not be allowed to travel to any of the counties
bordering Mexico nor outside the Pecos Division.
He set trial for July 2 if Coronado's schedule permits, or for July 15
otherwise.
Also this morning, Judge Bunton presided for jury selection in two civil
cases. Opening statements were made before noon in Carolyn Hicks vs. The
Credit Bureau of El Paso.
Hicks claims the credit bureau failed to correct her credit history
after twice being told it was incorrect. That trial is expected to be
completed today.
Jurors in Catarina Garcia vs. The Texas Youth Commission's executive
director and West Texas Children's Home superintendent Johnny Williams
and his assistant, Kay Doebbling, begins at 9 a.m. Tuesday.
Garcia claims her termination as teacher's aide was based on retaliation
because she filed a grievance and was re-hired after suffering an injury
while working in the cafeteria.
Grand jury indicts Lindsay on drug, weapons charges
Return to Menu
By PEGGY McCRACKEN
Staff Writer
PECOS, May 10, 1996 - Federal grand jurors have indicted Jeffrey Allen
Lindsay of 1516 Iowa Street on charges of marijuana possession and
carrying a firearm during a drug transaction.
Lindsay, 37, was arrested by U.S. Border Patrol agents near Van Horn May
5 with more than 50 kilograms of marijuana and seven loaded weapons in
his truck, the indictment alleges.
Weapons included two semi-automatic rifles, two 12-gauge shotguns, 9mm
UZI pistol, a semi-automatic 9mm pistol and a .22 revolver, the grand
jury alleged.
If convicted, Lindsay could be sentenced to 30 years in prison and fined
$1.25 million. Initial charges of marijuana possession were filed in
state court in Culberson County.
Others indicted on marijuana possession charges in unrelated cases are:
Peter Bartsch, 35, of Staffordville, Ontario, Canada; Jose Alfredo
Rodriguez-Duran, 23, of Mexico; Carlos Nunez-Terrazas, 38, and Oscar
Saenz-Venegas, 29, of Juarez, Mexico.
Nunez and Saenz are also charged with conspiracy to import, importation,
conspiracy to possess and possession with intent to distribute marijuana
on January 25.
If convicted, they could be sentenced to 20 years in prison and a $1
million fine.
McLaren arrest stirs up Republic citizens
Return to Menu
By PEGGY McCRACKEN
Staff Writer
PECOS, May 14, 1996 - All is quiet today in the federal courthouse,
after a hectic day Monday dealing with members of the "Republic of
Texas" and reporters seeking information about Richard McLaren of Fort
Davis.
Deputy U.S. Marshals arrested McLaren at his rural home in Jeff Davis
County Saturday as he shredded weeds in a small vineyard. He remains in
Ward County Jail and is not causing any problems, his jailers said.
Despite a press release from the "Republic" stating that McLaren is not
eating, he was reported to be eating Monday, was in good health and good
spirits.
McLaren was arrested on a civil warrant for contempt of court, issued by
Senior Judge Lucius Bunton following a hearing in Pecos last Thursday.
The warrant was sealed until the arrest was made.
He will be held in the Ward County Jail until his appearance before
Judge Bunton, which is expected to be at 9 a.m. Thursday in Midland.
Billing himself as the legal counsel and foreign ambassador for the
"Republic of Texas," McLaren has filed numerous liens, lawsuits and
petitions against his neighbors in Jeff Davis County, county
commissioners and others across the state who have opposed him.
Judge Bunton ordered him to stop the filings, and Texas Attorney General
Dan Morales has directed county clerks not to accept them.
Reeves County Clerk Dianne Florez said today that she will follow
Morales' directive in the event members of the "Republic" attempt to
file anything in her office.
"They tried to post something at one time, but we didn't post it,"
Florez said. "We got with the other county clerks and didn't post
anything."
Meanwhile, the Jeff Davis County Mountain Dispatch reports apparent
dissension in the ranks of the "Republic."
McLaren, lead man in the group's bid to take over Texas and oust the
current state government as well as federal agencies, was suspended by
the Rebublic's president, John C. Van Kirk.
But McLaren and his cohorts tossed Van Kirk out of office in March.
Van Kirk said, "The scam operating under the leadership of suspended
council member Richard McLaren certainly does not lend itself to do
anything other than keep the people of Texas from understanding what the
Republic of Texas can do for all Texans," the Dispatch reported.
Claiming to still be president, Van Kirk said he suspended McLaren and
other members of the council "after an attempted coup by them and
militia groups in Texas to force a bogus impeachment of Van Kirk, who
had publicly stated that militias were not valid in Texas at this time
and when the Republic is fully reinstated will come under the authority
of county sheriffs."
Van Kirk plans a statewide speaking tour similar to the one McLaren was
on before his arrest. He says he agrees with Judge Bunton, who ruled in
early April that the Republic is an unincorporated business and not a
nation.
"Texas, as a nation, has to be first established at law, then accepted
by a majority of the people. That requires a political process and a
convention," Van Kirk said.
McLaren's agends "seems to bounce off the wall with frivolous filings,
creating bogus Common Law Courts, and subverting the truth," Van Kirk
said. "I believe his Republic of Texas will die a quick death. My job is
to get on with the task of brnging the true Republic of Texas to all
Texans."
Van Kirk signed numerous documents filed in the Pecos Division of
federal court in the Stewart Title Co. case that precipitated McLaren's
arrest.
The council, whose next meeting is set for Saturday in El Paso, claims
the state of Texas does not exist because its annexation by the United
States was not legal. They have renounced citizenship in the United
States.
Hart guilty of firearm possession
Return to Menu
By PEGGY McCRACKEN
Staff Writer
PECOS, May 10, 1996 - Federal court jurors on Thursday found Cleveland
T. Hart of California guilty of possession of a firearm by a felon.
Senior Judge Lucius Bunton will sentence Hart in July.
Hart had a .380 caliber pistol and a 9mm pistol in his possession when
he was arrested Dec. 15, 1994, court records show. He had previously
been convicted of a felony in California.
Prior to trial, Judge Bunton heard testimony from two arresting officers
in a hearing on motion to suppress evidence, which he denied.
Pleading guilty Thursday were Cruz Soto Lares, bringing in and harboring
aliens; David Eugene Dicus, misprison of a felony (not reporting a
co-defendant possessed marijuana with intent to distribute); Alfredo
Rigoberto Ordonez-Perez, re-entry of an alien after deportation; and Jim
Travis Coker, violation of probation.
Judge Bunton sentenced Coker to six months in prison on his original
conviction May 11, 1992.
Ruben Garcia-Hinojos was not let off so easily for re-entry after being
deported as an alien. Considering his criminal history, Judge Bunton
sentenced Garcia to 72 months in prison with three years supervised
release.
Claudia Carrillo, a fugitive since her conviction in 1993 of possession
with intent to distribute more than 50 kilograms of marijuana, drew a
sentence of 41 months in prison and three years supervised release.
Juan Nicolas Rios-Rios was sentenced to six months in prison and one
year supervised release for making a flase claim to citizenship.
Julie Kahrs, U.S. Customs investigator, testified in a motion to
suppress hearing that Border Patrol agents arrested Carmina Pando de
Madrid Feb. 22 near the Marfa checkpoint.
Pando was traveling north toward the checkpoint in the early morning
hours, but turned around and headed south after meeting with another
person driving a pickup, Kahrs said.
That tactic is used by people trying to avoid being checked at the
checkpoint, she said.
When agents stopped her, Pando, 34, said she was traveling from her home
in Andrews to Presidio to visit her mother. She gave permission for a
vehicle search, and agents found two heavy suitcases in the truck.
Inside were 10 tape-wrapped bundles weighing 84.3 pounds. The green
leafy substance inside field tested positive for marijuana.
Kahrs testified that when she interviewed Pando, the defendant said she
was very upset. She said she had been visiting her mother in Presidio.
Financially strapped, she asked an acquaintance for a loan, but he
offered to pay her to transport the marijuana to the Odessa-Midland area.
Pando said she drove to Ojinaga, where the man loaded the dope. She then
drove across the bridge and through the U.S. Customs Port of Entry at
Presidio, visited friends in Presidio, then headed north on U.S. Highway
67.
She gave no explanation why she would try to run the checkpoint at 1
a.m., Kahrs said, adding that there is very little traffic at that hour.
The two agents who arrested Pando were out of the state and unavailable
to testify, Kahrs said. Judge Bunton continued the hearing until they
can be present.
Litigants in a civil case set for trial settled before a jury was
selected. Attorney David Hilton represents Glen Leigh, who sued Arcadia
Ramirez etal. Richard Bonner of El Paso represents the defendants.
Bunton takes McLaren contempt under advisement
Return to Menu
By PEGGY McCRACKEN
Staff Writer
PECOS, May 2, 1996 - Senior Judge Lucius Bunton retained his keen sense
of humor this morning while considering a contempt of court motion
against "Republic of Texas" official Richard L. McLaren of Jeff Davis
County.
Mike Morgan, attorney for Stewart Title Co., noted that Judge Bunton is
one of numerous persons subpoenaed by the Republic of Texas to a court
of their own creation in Arlington last Saturday.
Fran Glaze, a Fort Davis resident who testified in an earlier hearing
concerning McLaren and Stewart Title, was also subpoenaed, along with
"an elderly widow in Fort Davis," Morgan said.
"I appreciate your not referring to the elderly old judge," Bunton said.
"I will take this under advisement. I am trying to figure out what is
the best thing to do."
Morgan said that McLaren's harassing actions have escalated from a
"cliquish club of those he doesn't like to what appears to be acts of
war" - threats contained in a letter to President Bill Clinton and other
national leaders.
"In all the terrible human events of late, there's wishing that someone
had stopped something earlier. This is the earlier time someone should
stop it," Morgan said. "I ask you to curb his activities before they get
worse."
McLaren's activities began with a claim of a few thousand dollars
against the Jeff Davis County Commissioners, escalated to a $10 million
lien against Stewart Title and subsequent "court judgment" for triple
damages, to letters to appeals judges and the United States Supreme
Court, Morgan said.
Stewart Title's original petition to Judge Bunton was to stop the sale
of their office buildings in Corpus Christi and Houston. Judge Bunton
entered an order stopping the sale and prohibiting McLaren from filing
any further action against Stewart Title or anyone involved in the suit
or proceeding in any forum without Bunton's permission.
"McLaren set about immediately violating the temporary injunction and
then the permanent injunction," Morgan said.
Neither McLaren nor any member of the Republic of Texas showed up for
trial. Numerous owners of property in the Davis Mountains Resort where
McLaren lives were present.