Daily Newspaper for Reeves County, Trans Pecos, Big Bend, Far West Texas
News|Sports|
Main Menu|Archives Menu|Classified|Advertising|Monahans
OPINION
Feb. 28, 1996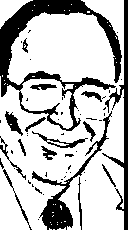 OBSERVATIONS
By Mac McKinnon
Simpson trial exposed nation's racial bias
It has been said that one good thing to come out of the O.J. Simpson
trial was that it ripped the mask off racism in our country.
Some people apparently had believed that racism existed only in certain
areas in this country and that all the government programs and efforts
of many had paid off. To some extent, that was my belief, although I
realized racial problems were pretty bad.
It seems that racial feelings have been simmering beneath the surface
and have actually gotten worse over the past few decades. Efforts by the
government to end prejudice seem to have only made the situation worse
than it was, at least to some extent.
I want to point out that I believe that racial biases are not as bad
now in many areas as they once were and I'm glad of that. However, many
things in our society, including a number of groups of all races, have
caused a polarization of racial feelings. The same might also be said of
other intolerances, including those involving religion.
Every time I get to feeling good about something, all hell seems to
break loose.
Racial prejudice and discrimination of any kind is like a cancer that
can eat away at our society. It can and will destroy our nation if we
continue to let it flourish. But let me quickly add that this is an
individual thing that can't be legislated. That may be one of the
problems, in that Washington and state governments have attempted to get
involved.
Racial discrimination and prejudice is only the tip of the iceberg, so
to speak, in our society. We have prejudice and discrimination in all
forms including that against fat people, those who are judged to be
ugly, plain looking people, gays, young people, those who are older,
those who are bald, those who have long hair, short hair, different
political views, and the list could go on and on.
And each of these categories is different from one individual to
another.
I guess I'm naive, but can't we try to get along with one another in
spite of differences? The outer person is not what makes up a person,
although it is a part, I realize.
I really enjoyed Andy Rooney Sunday when he took up liberal and
conservative views on a number of issues. He did so, saying he had a
difficult time making a decision on some candidates because he could see
and identify with both sides and things in between on those issues as
well as others.
Life is not all one way or another. There's a lot in between and that's
what we all need to realize.
We're on this planet together, and the sooner we learn to get along and
appreciate our differences, the better off we'll be.
EDITOR'S NOTE: Mac McKinnon is editor and publisher of the Pecos
Enterprise. His column appears on Wednesday and Friday.
OTHER VIEWS
Bread price fix hurts all of us
The Justice Department successfully prosecuted Mrs Baird's Bakeries
Inc. recently for a price-fixing scheme, winning a guilty verdict
against the corporation for fixing bread prices in East Texas from 1977
to 1993.
Actually, the prosecution was only partially successful in a sense. The
federal district court jury acquitted the bakery of fixing prices in
West Texas, and they also found the company's former president not
guilty of counts of price-fixing and bid-rigging.
But despite the fact that the verdict was not guilty on all counts, it
was a big victory for the Justice Department's antitrust division, which
has been involved in a broad price-fixing investigation of bakeries in
Texas and several other states.
The family-owned Fort Worth bakery now faces a fine as punishment for
the offense. However, board chairman Allen Baird indicated the company
would appeal the verdict on the one price-fixing count for which it was
convicted.
When price-fixing is mentioned in the news, many citizens have a mental
image of a situation like OPEC countries raising oil prices. However, it
goes far beyond that.
Price-fixing is a bane on consumers in all levels of economic trading,
from local to international. The participants of the scheme agree to set
certain prices for products, and consumers must meet the prices if they
want to buy the goods. Competition is, of course, removed from the
picture.
Consumers need a watchdog to make sure prices stay fair. The final
outcome of the Mrs.Baird's case has yet to be heard, but the
investigation of bakeries across several states indicates that the
watchdog is on duty.
- Lubbock Avalanche-Journal
Return to Menu
---
Associated Press text, photo, graphic, audio and/or video material shall
not be published, broadcast, rewritten for broadcast or publication or
redistributed directly or indirectly in any medium. Neither these AP
Materials nor any portion thereof may be stored in a computer except for
personal and non-commercial use. The AP will not be held liable for
any delays, inaccuracies, errors or omissions therefrom or in the
transmission or delivery of all or any part thereof or for any damages
arising from any of the foregoing.
_
---
Copyright 1996 by Pecos Enterprise
Division of Buckner News Alliance, Inc.
324 S. Cedar St., Pecos, TX 79772
Phone 915-445-5475, FAX 915-445-4321
e-mail news@bitstreet.com
Return to Home Page