Daily Newspaper for Reeves County, Trans Pecos, Big Bend, Far West Texas
Sports|Opinion|
Main Menu|Archives Menu|Classified|Advertising|Monahans|
OPINION
Jan. 17, 1996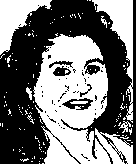 LOOKIN' ROSEY
By Rosie Flores
With the flu and cold season well underway many of us have already seen
the physician at least once or else have taken their children to the
pediatrician.
Most colds can usually be cured at home, but some symptoms that may look
like a cold can sometimes turn into something worse, like pneumonia.
Several people in our office have suffered through this or are going
through it right now.
Peggy, who is situated next to me at the office seems to have caught
some type of flu bug. (She thinks it might be the barley green she has
been taking and is causing an allergic reaction).
I think it's just the flu bug that has really been bad this year and has
hit practically everyone I know. The symptoms should not be ignored,
with so many other serious illnesses going around.
In Odessa a young girl died of meningitis. Her symptoms didn't seem so
severe at first, but turned out to be deadly in the end.
As I hear Peggy coughing and groaning I know exactly how she feels,
since I just went through all that recently. Only mine turned out to be
a severe ear infection. (I thought I was going to be deaf for the rest
of my life, but thanks to Michelle Cser, who knew exactly what was wrong
with me, I got my hearing back within a week).
Antibiotics which is the main medication prescribed by physicians to
combat or alleviate these symptoms seems to be misused more often than
not. All of us have been guilty of doing this at one time or another.
Most of us have at least one bottle of leftover pills or a pink liquid
solution left over from our youngsters, lurking in our refrigerator from
a prior doctor's visit. We also think we might be able to use it next
time someone else gets sick.
A survey released recently by the American Lung Association polled more
than 1,000 adults about antibiotic use. It found that about half the
people who had received an antibiotic prescription didn't finish it.
Most who stopped taking their antibiotics before finishing the
prescription did so because they felt better.
More than a third saved leftover medications. (Be sure and check your
bathroom medicine cabinet and refrigerator for leftover medication and
I'm sure you'll find at least one bottle!)
The survey indicated that improper use of antibiotics adds to the
growing problem of drug-resistant infections.
Suggestions were to finish all prescription drugs. Even if you feel
better, stopping your medication prematurely allows the hardiest
bacteria to survive and reproduce. Next time, you may need a more
powerful antibiotic. Eventually, you can develop an infection resistant
to some antibiotics, limiting your treatment options.
Don't take leftovers. A leftover antibiotic may not be the right drug to
fight your current infection. Using it allows bacteria to multiply and
delays your getting appropriate care.
Recognize uses and limitations. Antibiotics work against bacteria.
Almost 60 percent of those polled believe incorrectly that an antibiotic
would treat a viral infection such as a cold or flu.
Plenty of rest and liquids will also help to make you feel better. But
if you're like us, there's no time to rest, so just stick to the liquids!
---
Associated Press text, photo, graphic, audio and/or video material shall
not be published, broadcast, rewritten for broadcast or publication or
redistributed directly or indirectly in any medium. Neither these AP
Materials nor any portion thereof may be stored in a computer except for
personal and non-commercial use. The AP will not be held liable for
any delays, inaccuracies, errors or omissions therefrom or in the
transmission or delivery of all or any part thereof or for any damages
arising from any of the foregoing.
_
---
Copyright 1996 by Pecos Enterprise
Division of Buckner News Alliance, Inc.
324 S. Cedar St., Pecos, TX 79772
Phone 915-445-5475, FAX 915-445-4321
e-mail news@bitstreet.com
Return to Menu