|
Daily Newspaper and Travel Guide for Reeves County, Trans Pecos, Big Bend of West Texas
Opinion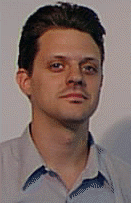 <!==========paste copy here=============>
Wednesday, March 4, 1998
LOOSE FISH
By Greg Harman
The price of
playing the game

When I was a young boy, before I ever even considered
smoking and being cool, I sometimes ran into a little
problem. My age, well reflected in my height, or lack
thereof. Playing football with the older boys, and for some
reason they were all either a few years older or a few years
younger (I fell in with the older crowd), I had to find a
way that I didn't get skipped over while the team captains
were choosing players and risk the possibility of getting
left out of the game all together.

It's not that I was clumsy. I wasn't. I was fast and
reckless. It's just that everyone else had a few years of
growing on me. Particularly one behemoth whose name I forget
and whose stature remains a mystery. But to my mere eleven
years, this thirteen-or fourteen-year-old seemed as massive
as my own father. And when he got the ball you better
believe a path cleared fast! Everybody had the sense to
shield themselves by diving out of the way when this titan
came marching down the rock-strewn lot with simulated
pigskin tucked under one brawny arm. Everyone but me.

Frustrated by my teammates' seemingly petty fear of broken
bones and bruised ribs, I threw myself at this adolescent
mountain time and again.

To any onlooker it must have seemed ridiculous. Imagine: a
twenty-foot (at least) teen lopping slowly down a stretch of
muddy field (which the kind old man that owned the property
generously let us ruin week after week with our cleated
feet) with a small child, his torn shirt waving and clenched
eyes swelling, wrapped around the runner's calf. And he
would continue running with me curled around his leg. At
least he would hobble, with the leg I had encumbered with my
fifty or sixty pounds as stiff and straight as if it were
wrapped in a plaster cast. And time and again I would wear
this giant down, apparently inches from the goal line. So
the opposing team would be forced to make one final play
before rolling over us for yet another touchdown, bringing
the score to seventy-something to our measly three.

But I never did break a bone playing as a child. And as far
as I can remember, I never bruised a rib. But one war wound
I did earn while in action was a sizable scab running the
near-length of my face, immortalized in a photo somewhere.

Brainiac that I was, I took a particularly dramatic dive for
one long bomb that was clearly out of bounds anyway -
planting my face right in the sideline, which happened to be
the kind old man's concrete driveway.

From then on I never had to sit out a game. Whether I was
personally known or not by either of that day's captains, I
was consistently one of the first picked: a real honor for
my weight class. This lasted the rest of the summer. Then it
was time to go back to school and I had other things to
worry about besides who would be picked first in the old
man's grubby lot. It was almost time for me to worry about
smoking and being cool.

EDITOR'S NOTE: Greg Harman is a reporter for the Pecos
Enterprise whose column appears every Wednesday. He may be
emailed at greg@pecos.net.
Critic's Corner
Alaska's wilderness, beauty is breathtaking

Crossing Alaska, with breathtaking photos taken by renowned
nature and wildlife photographers and essays by Michelle A.
Gilders, is a beautiful and captivating coffee table book
that would be of interest to anyone involved in the oil
industry or who has a love of nature.

Crossing Alaska commemorates the 20th anniversary of the
800-mile long trans-Alaska pipeline, built by Alyeska
Pipeline Service Company, that stretches from the Arctic
Ocean to Prince William Sound. The pipeline provides almost
25 percent of our nation's domestically produced oil.

Crossing Alaska also gives the reader a view of the
Alaskan's wilderness and her people through vivid pictures
and enlightening captions.

Crossing Alaska, ISBN 1-55868-309-7, is available in
bookstores at $42.50 or through the Pecos Enterprise's online
bookstore at a discount.

Cara Alligood

EDITOR'S NOTE: E-mail cara@pecos.net if you have any
comments or questions about this book review.
Critic's Corner
Hormone replacement for women over 45

I always wondered what role the little sesame seed on
hamburger buns play. Now Dr. Johnathan V. Wright and John
Morgenthaler tell me they can provide minute hormone
replacement.

Sesame seeds are among hundreds of foods that contain
phytoestrogens - vegetable hormones - that may or may not
replace human hormones as they diminish with age.

But natural hormones (progesterone, DHEA and melatonin) are
available over the counter in pharmacies and natural food
stores. Others (estrone, estradiol and estriol) are
available only by prescription.

These natural (human) hormones are superior to the estrogen
(from horse urine) and progestin most prescribed by doctors,
the authors claim. Most of their small, paperback book is
devoted to debunking well-known "facts" about the
replacement hormones.

"Natural Hormone Replacement" is a little hard to follow and
leaves one wondering if the authors are trying to sell their
own medicines.

Their claim is that big drug companies can make more money
selling patented synthetic drugs than natural hormones.
Natural hormones drastically reduce risks of unwanted side
effects and cancer while providing all the benefits of
conventional hormone replacement therapy, they assert.

Smart Publications, ISBN 0-9627418-0-9, $9.95 in bookstores
or at a discount through the Pecos Enterprise
bookstore.

Peggy McCracken <!=============end copy===============>
---
---
Pecos Enterprise
Mac McKinnon, Publisher
Peggy McCracken, Webmaster
Division of Buckner News Alliance, Inc.
324 S. Cedar St., Pecos, TX 79772
Phone 915-445-5475, FAX 915-445-4321
e-mail news@pecos.net
Associated Press text, photo, graphic, audio and/or video material shall not be published, broadcast, rewritten for broadcast or publication or redistributed directly or indirectly in any medium.


Copyright 1998 by Pecos Enterprise
---