|
Daily Newspaper and Travel Guide for Reeves County, Trans Pecos, Big Bend of West Texas
Opinion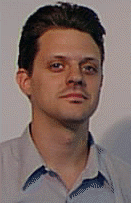 <!==========paste copy here=============>
Wednesday, February 25, 1998
LOOSE
FISH

By Greg Harman
A strange world
lies outside

Even the most adamant "Shop Pecos First" adherent must,
occasionally, take that long, tediously straight drive down
virtually billboard-free (an oasis for us metroplex folk, I
assure you) Interstate 20 for consumer goods simply
unavailable in our fine town. Such as one-hour color prints
on a Sunday. But, careful, once the ball of frivolous
spending gets to rolling it's hard to put it still again.
May this TRUE account serve as warning to all who would
brave a similar trek.

Where we ended up on our search after "the goods" I'm still
not certain. We landed innocently amidst seemingly limitless
acres of product that stretched far beyond us in all
directions. Bright things in boxes and bags, shiny things,
good things.

You wander as one entranced, I found, when presented with
such an affluence of finely-presented (if not necessarily
finely-crafted) and colorful items.

Strangers brush past with muttered excuse-me's, eyes
straining toward the end of every new aisle. To the next
gold-plated calf. This is why people make lists, I thought,
to refer back to when their focus has been broken, robbed
rather, by the sheer worship of wealth. Where the heck was
my list? I wondered desperately, as if waking from a
restless sleep.

Then I turned a corner.

A bright smile dressed in an attentive apron, name tag
reading simply "A Friend," interrupted my slowly mounting
nervosa. "May I help you?" was the simple and thoroughly
welcome question put to me. How could I say no? I needed, I
knew that much. Perhaps this kind attendant could help me.
Whatever it was that came out of my mouth, I cannot recall.
But the results would suggest it was something to the tune
of "General Electric, Sears Craftsman, Cheetos Cheetah,
Jello Pudding . . . "

Before I knew it I was wheeling my mountain of goods through
the labyrinth, my guide continually before me like a lamp
unto my feet. I noticed others being led in much the same
way; smiles, bright eyes assuring every one as product piled
on top of product in their glinting metal carts. Again,
briefly, I broke from my trance.

An army of workers, I thought. Then I saw the globe: a dark
sphere suspended ominously from the industrial ceiling.
Scanning the mega-store's upper reaches, I noticed still
more black spheres suspended from the ceiling - rows on rows
of them, mysteriously still and observant.

"What are they?" I asked of my loving guide. "Why, cameras,"
was the dull response. A thousand other questions
immediately raced to my quickened mind, and searching out
the smile, the reassuring eyes, I turned to meet with a
blankness in my guide's face I could not understand.

From where I stood, I could see without limit in all four
directions. I began to wander hopelessly and was intercepted
by another smile, another attentive apron with the deceitful
tag. "May I help you?"

Then my wife approached from an aisle of perishables, "Hon?
Are you ready to go?"

I saw my guide wheeling away my tower of merchandise,
disappearing just beyond the canned goods. The second
attendant was elevating up a step ladder, arms seeking
unruled packs of paper.

"Yes," I answered, sorely shaken. "Can we go now?"

"Just let me grab some new juice glasses on the way out,"
she responded, moving after a third attendant to the kitchen
wares department. And the globes glowered menaceingly
overhead.

EDITOR'S NOTE: Greg Harman is an Enterprise reporter whose
column appears each Wednesday. He can be e-mailed at:
greg@pecos.net.
Our View
Listening skills need to be tuned regularly

Has the art of listening disappeared? It appears that is the
case.

We at the Pecos Enterprise attend a large number of meetings
and functions. At those gatherings, many subjects are
discussed and questions asked.

There's nothing wrong with that in fact, the only "stupid"
question is one that isn't asked.

The problem here is the same question gets asked by a number
of people. In the process, people get confused and valuable
time is consumed. When there is a discussion going on,
people need to listen and they might have their question
answered before they have a chance to ask it.

One item on the agenda of a recent govenmental body went
unanswered and unresolved recently because the group got so
involved in discussing a semi-related issue they forgot the
matter at hand.

They simply weren't listening to what was being requested.
And, we as reporters and editors do the same thing so this
applies to us as well as other people.

Let's get our wheels of thoughts involved before engaging
the mouth! <!=============end copy===============>
---
---
Pecos Enterprise
Mac McKinnon, Publisher
Peggy McCracken, Webmaster
Division of Buckner News Alliance, Inc.
324 S. Cedar St., Pecos, TX 79772
Phone 915-445-5475, FAX 915-445-4321
e-mail news@pecos.net
Associated Press text, photo, graphic, audio and/or video material shall not be published, broadcast, rewritten for broadcast or publication or redistributed directly or indirectly in any medium.


Copyright 1998 by Pecos Enterprise
---