|
Daily Newspaper and Travel Guide for Reeves County, Trans Pecos, Big Bend of West Texas
OPINION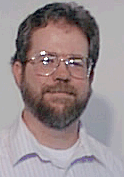 <!=================paste copy here=========>
Monday, Feb. 23, 1998
THE WAY
I SEE IT

By Rick L. Smith
Candidates just want to serve
As was expected, the county political battles are beginning to heat up. Accusations and rumors abound. It's dangerous to walk out on the street because you might get hit in the crossfire of the mud slingers. If you do step out, you have to be careful which side of the street you walk on.
Of course, each candidate is proclaiming he or she is the best and most honest choice for the office up for grabs.
Every candidate is claiming to seek the elected post only for the good of the entire community. I'm always a little skeptical of people who claim to be doing something for purely altruistic reasons.
I'm reminded of the story about the young city boy who was spending the summer on his grandpa's farm.
One morning the grandpa woke the boy up early and said, "Come on with me, we're going to get the cow serviced today." So the boy went along.
The next morning the boy was again awakened early by his grandpa who needed him to help take the a sow to get serviced. The boy obliged his grandpa.
On the third morning grandpa woke the boy up early again so he could come along to hear a local politician speak in the town square.
The boy looked in horror at his grandpa and refused to go, saying, "No! Every time I've heard him speak on the radio he says all he wants to do is serve us!"
Altruism is commonly defined as a concern for others without thought of personal benefit. While my recent series on local volunteers shows that some people do a lot of good deeds without thought of personal gain, I think even they at least gain a good feeling from their positive actions.
However, when it comes to politicians, I remain convinced that they often have personal motivations for seeking office. It stands to reason that those who fight the hardest to get elected probably feel they stand to gain or lose the most.
I guess all news reporters get a little jaded by some of the goings on in local elections. At election times we have "concerned citizens" come with claims of candidate campaign irregularities, unpaid taxes, secrete conspiracies and other wrong doings. Those who bring those claims usually refuse to take any action about the wrong doings themselves, rather, they want the newspaper to expose the alleged wrongs. That way they can hurt a candidate they do not favor without risking their own necks.
And, of course, no candidate would put one of his or her buddies up to making complaints about an opponent.
I'm sure that all of our local elected office holders have risen above these tactics. Hopefully, those who resort to unethical tactics are spotted by the informed voters of Reeves County and are not elected. In a perfect world the good and just always win and the not-so-good and just are always vanquished.
EDITOR'S NOTE: Rick Smith is the City Editor of the Pecos Enterprise whose column appears every Monday. He can be e-mailed at ricks@pecos.net
<!========end copy================>
---
---
Pecos Enterprise
Mac McKinnon, Publisher
Peggy McCracken, Webmaster
Division of Buckner News Alliance, Inc.
324 S. Cedar St., Pecos, TX 79772
Phone 915-445-5475, FAX 915-445-4321
e-mail news@pecos.net
Associated Press text, photo, graphic, audio and/or video material shall not be published, broadcast, rewritten for broadcast or publication or redistributed directly or indirectly in any medium.


Copyright 1998 by Pecos Enterprise
We support Newspapers in Education
---