|
Daily Newspaper and Travel Guide for Reeves County, Trans Pecos, Big Bend of West Texas
OPINION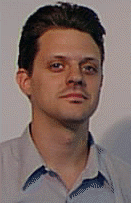 <!==========paste copy here=============>
Wednesday, February 18, 1998
LOOSE
FISH By Greg Harman
A feline for
blood pressure
A commercial on heavy rotation during the current dog show
I've been tuning in and out of for the past two days made a
tremendous boast: cats reduce blood pressure. I suppose that
the more cats you own the lower your blood pressure will be.
Our current three are obviously not enough!
Does this mean that kind old lady who took to feeding the
few neighborhood strays after her second divorce and wound
up with a home literally over-run with the proud,
needle-toed felines is really destined to see 100? Probably
not.
Are the producers of this particular commercial that are
making this claim (I forget even now what, exactly, they
were selling - besides added years to my lifespan) saying
that all cats fulfill this amazing role? Even the
cross-eyed, rat-eared ball of choking fur and fire that
actually tripped my dear Grandmother several years ago and
commenced to tearing on her legs with razor-like claws?
If that sort of behavior was allowed to continue, I
guarantee you, there would have been one dramatic loss of
blood pressure! Several pints worth. But let's not think
those thoughts. Sorry, Gram.
If cats really reduce your blood pressure, when will doctors
start prescribing them? And will this be covered under my
present insurance?
I take some ribbing at work over the number of pets my wife
and I have, but the process of acquiring our animals was
very gradual. Contrary to the direction I was headed with
this column, I do not dislike cats. I live with three of
them: Snake, Guadalupe and Melville. All fantastic in their
own, though sometimes puzzling, ways.
Melville is my cat. I found him in some bushes in a very
busy section of Fort Worth, and though I had never had a cat
of my own and could count but two on God's green earth that
I even liked (the other two I live with now, fortunately) I
took him home.
He became a welcome addition to my life during a difficult
time - as all times are I suppose - and I was really
grateful to come home from work late at night with him
anxiously waiting up for me to dump some more pellets in his
dish and hit the sack so he could chow down and commence to
curl up on my chest.
But as demands continue to be made on my time, whether its
work or play, one thing a cat will not let you do is forget
them. So, a word of advice to those out there who are
thinking of adding on to the family. All things in
moderation - even the best ones of all.
EDITOR'S NOTE: Greg Harman is an Enterprise writer whose
column appears each Wednesday. He can be e-mailed at:
greg@pecos.net
Your View
Sale should not be politically motivated
To The Editor:
I am writing in regard to Frank Perea and the school board's
failure to approve the sale of property which is located at
3rd and Mesquite to the Catholic War Veterans. Mr. Perea
objected to the sale because he stated that another had
resubmitted his bid for the property. Mr. Perea should voice
his real objection to the sale. The property has been
abandoned for several years and now that the Catholic War
Veterans want the property he remembers that a person had
made a bid for the property.
I approached the city council when I learned that they were
fixing to demolish the building on the property which would
cost the city approximately $3,000. As Commander of Catholic
War Veterans I made a complementary $10 bid for the property
so the building could be improved and used as a meeting
place for the Catholic War Veterans. The City Council
approved the bid and advised that I inform other taxing
entities. I then approached the school board and Mr. Perea
advised the board, the public and me of the pending bid.
Mr. Perea should remember that he is an elected official. He
should not use ulterior motives in making decisions that
affect our community. If a person had actually wanted the
property and was willing to pay for the property then it
should have been sold long ago. The sale of the property to
another party should not be politically motivated.
Rafael Hernandez, CMDR.
Pecos, Tx. <!=============end copy===============>
---
---
Pecos Enterprise
Mac McKinnon, Publisher
Peggy McCracken, Webmaster
Division of Buckner News Alliance, Inc.
324 S. Cedar St., Pecos, TX 79772
Phone 915-445-5475, FAX 915-445-4321
e-mail news@pecos.net
Associated Press text, photo, graphic, audio and/or video material shall not be published, broadcast, rewritten for broadcast or publication or redistributed directly or indirectly in any medium.


Copyright 1998 by Pecos Enterprise
---