|
Daily Newspaper and Travel Guide for Reeves County, Trans Pecos, Big Bend of West Texas
OPINION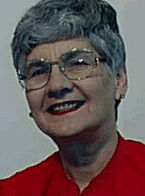 <!=====paste copy here==========================>
Tuesday, February 17, 1998
SQUARELY
PEGGED
By Peggy McCracken
Mind wonders into more interesting things
Whoa! Talk about a gourmet feast! I have enough mind food to
keep me satiated for three months.
Since I love to read, I agreed to judge new books for The
Ben Franklin Awards again this year. Last year I read 12-15
gardening books and loved every minute of it. Filling out
the judging forms is fairly simple, so it's not too much of
a chore.
Each judge chooses several categories s/he is interested in,
and the sponsors assign one of those and deposit the books
on your doorstep. This year I drew computers, and 29 books
arrived in a big, heavy carton. I have to be finished by the
end of April, so that's 2 1/2 books a week to read and judge.
Using poor judgment right off the bat, I started with a
3-inch thick tome on Internet security. If I got that big,
boring book out of the way, the remaining 28 would seem
easy, I reasoned. But after digesting the first of 10
sections without gaining much useful knowledge, my mind
wandered to subjects of more immediate interest - such as
creating a web page using frames.
In the middle of the night, I got up and checked to see if
some of the books could help me. Sure enough, in the first
stack I found two books related to creating web sites, and
both gave some information on frames. One of the books is so
well written and illustrated, I browsed through, feasting on
other topics I am pretty ignorant on.
Web page creation is frustrating at its best, but still such
a challenge that I keep digging to find better ways of doing
it. If every browser and every monitor displayed pages
exactly the same, it wouldn't be much of a problem. But they
don't. What looks great on one screen is a jumbled mess on
another of a different size or with a different browser.
Just this morning, Pat Brijalba called from Balmorhea to
tell me the new page I put up for them looks bad on the
school's computer. Yes, I told him, the text is a little too
wide for some monitors. But I plan to change the photo
anyway, and the new one may be skinnier - thus giving room
for the words. If it isn't, I will make the words smaller or
something to improve the page before it becomes official.
Another problem is the background color. What is burnt
orange on my computer may come out blood red on yours. Or
pale yellow. One of these books tells how to use
computer-safe colors that will display the same on most
monitors, so maybe that will help me.
Whatever the problems may be, everyone in the Internet crowd
agrees that it has invaded our lives permanently, and
hopefully, for the best. Anyone who has anything they want
to say or show off can create a page and post it on the web
at little cost.
That is, these books say there's little cost. But if you
consider the cost of a computer with modem, telephone hookup
to an Internet provider, rental of server space to host the
page, software to create the page, software to create and/or
alter images, camera to take digital photos, books that tell
you how to do it all, and a few other incidentals, the cost
creeps on up there. Not to mention the time it takes to
learn how to do all that.
So create your page and have fun. Leave off the pornography,
though. There's enough of that out there.
"My son, if sinners entice you, do not give in to them."
Proverbs 1:10, NIV.
EDITOR'S NOTE: Peggy McCracken is an Enterprise writer and
webmaster whose column appears each Tuesday. E-mail your
comments to her at news@pecos.net
Financial Focus
Consult a professional on 401(k) withdrawals
By JIM BOB McNEIL
FINANCIAL ADVISOR
Some things can't be repeated too often-for example, don't
let the IRS take a double dip from your 401(k) plan
distributions.
How you decide to receive your 401(k) money has significant
tax consequences. If your distributions are too early, too
late or too small, you may owe penalty taxes on top of
ordinary income taxes. Here are some suggestions to help you
avoid penalties.
Too Early: Generally, before age 59-1/2, distributions from
your 401(k) are subject to a 10 percent penalty tax in
addition to regular income taxes. This is the "early
withdrawal penalty."
There are exceptions to this rule, however. For example, if
you're 55 or older in the year you retire, you can begin
taking distributions without paying a penalty. If you leave
your job, you may begin receiving "substantially equal
period payments" regardless of your age, and you will not
owe the extra penalty. Once you start, however, you must
continue receiving the payments until age 59-1/2, or for
five years, whichever is longer.
Too Late or Too Little: When you reach age 70-1/2, you must
begin receiving a minimum amount from your retirement
accounts each year, based on your life expectancy. If you
withdraw less than this amount, the IRS will impose a 50
percent penalty on the difference between the required
minimum and the actual amount you receive. This is the
"minimum distribution penalty."
You do have choices for calculating life expectancy, and
this can make a big difference in your required minimum
distribution. Check with your financial professional before
you decide. After you begin distributions, it's too late to
change them.
If you're still employed after age 70-1/2 and do not own
more than 5 percent of the organization you work for, you
are not required to take distributions from your 401 (k)
account or other company plans. Money in an IRA, on the
other hand, is subject to the minimum distribution policy.
Obviously, federal regulations on withdrawal of your
retirement funds are complicated. But remember, tax
regulations are always subject to change. So, here's another
thing that can't be repeated too often: Consult your tax
adviser or financial professional before you begin making
withdrawals from your 401(k) or other retirement plan.
Ramblin's
The Pellizzari family makes shoes
By TUMBLEWEED SMITH
John Pellizzari was born in Thurber in 1912 when coal was
being mined there. He says people from several foreign
countries worked in the coal mines and since few of them
spoke English, each group had its own ethnic neighborhood.
When John was nine years old, his father decided to send the
family to Italy for a six month visit to see some kinfolks.
So John, his brother and their mother went to Italy. John
remembers his arrival in Italy vividly. Nit was just after
World War One and Mussolini was in power. When we got to the
hotel they had us sleep on the floor because there was some
shooting going on. Bullets were flying everywhere. But the
walls on that hotel were thick."
John enrolled in school, even though he couldn't speak
Italian. NYou know how kids are," says John. "They'd tease
me because I didn't know the language and we'd have fights
all the time."
The family's six month visit ended up being six years
because Mussolini wouldn't let them leave the country. The
Pellizzaris arrived back in the states in 1927. After three
days on Ellis Island they went home to Breckenridge, where
John's father had a shoe repair shop.
John enrolled in school. He couldn't speak English so kids
would tease him. He had fights every day. "I remember one
fight I was having and the principal came out and whipped me
with a mesquite branch,.' says John.
After John learned English he became an honor student and
was double promoted a few times.
While he was in Italy, John learned the family business. "My
father said since I was going to be in Italy for awhile, I
might as well learn how to repair shoes." John ended up
being an apprentice to the man who taught his father shoe
repair. John made his first pair of shoes all by hand when
he was twelve years old. Whey taught you then," says John.
John moved to Monahans and opened a shoe repair shop there.
A barber friend of his invited him to take an airplane ride
with a man named Buck Kent who owned a small plane. John
fell in love with flying and started flight training the
next day.
During World War Two he enlisted in the Army as a glider
pilot. One day he got a call from Buck Kent, who was
teaching flying to military pilots at Stamford. He told John
he needed some instructors. John ended up teaching at the US
Army flight school. John was soon made a flight commander in
charge of 40 students and 10 instructors.
When the field at Stamford closed, he went to Gurtis field
in Brady, received training in other aircraft and taught
more pilots.
John liked Brady from the start. He enjoyed hunting and
fishing in the woods and streams in the area. He talked to a
real estate agent and bought some business property and a
home.
You'll find John in Brady now, repairing boots and shoes at
his son's western wear store. If he's not at the store he's
fishing or hunting or having coffee with friends. Whatever
he's doing, he's enjoying it. John smiles a lot. <!==========end copy==================>
---
---
Pecos Enterprise
Mac McKinnon, Publisher
Peggy McCracken, Webmaster
Division of Buckner News Alliance, Inc.
324 S. Cedar St., Pecos, TX 79772
Phone 915-445-5475, FAX 915-445-4321
e-mail news@pecos.net
Associated Press text, photo, graphic, audio and/or video material shall not be published, broadcast, rewritten for broadcast or publication or redistributed directly or indirectly in any medium.


Copyright 1997 by Pecos Enterprise
We support
---