|
Daily Newspaper and Travel Guide for Reeves County, Trans Pecos, Big Bend of West Texas
OPINION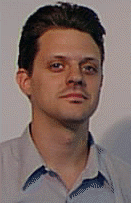 <!=================paste copy here==========================>
Wednesday, February 11, 1998
LOOSE
FISH
By Greg Harman
Answering those
sticky questions
Children want to know the "real" stuff. Often we try to
laugh off their brain-twisting, tongue-stumping questions.
After all, they're kids right? They say the darndest things.
There's always the classic, 'Why is the sky blue?' Now, I've
never personally been asked this question and I don't know
anybody who has, but the stickler has been around. When
adults do hear it posed to them, I suspect, there is a
nervous foot zig and a chuckle. What do you say to a
question like that?
"Well, you see, the sky isn't really blue. In fact, it's not
any color at all; But when light (which contains all the
colors in it's own electric white) enters your eye, it is
interpreted . . ." Is that what they're asking? Because I
bet I know what they're hearing: "blahblahblahblah."
What this terrible, and possibly fictitious, infant out of
history is wanting to know - as it tugs on your pant leg,
poutey lip begging an answer from you - is WHY is the sky
blue instead of red? Why not white or green?
With my own under-sized-one on the way, I am steeling myself
for the coming assault of WHY's. Here is what I've come up
with (besides, that is, my knee-jerk reaction "because") for
possible responses to the age-old blue sky dilemma.
1) "Because grass is green." This may temporarilly divert
attention from the orignal question, but you had better know
an awful lot about grass!
2) "You call that blue? You ought to see the ocean!" Drive
the child to the ocean. Hopefully, by the time you get there
the question will be forgotten. If not, take the child to
Disney's Planet.
3) Work on their sympathy. "I don't know. I'm color blind."
4) If the above doesn't work, you could try bumping into
things, claiming total blindness. Most children, however,
may treat this form of response as a game, start running
around with you, bump into something harder than they are
and get hurt.
5) Tell them the WHOLE story, other-wise known as the Great
Stall:
"You see, in the beginning, before there was a blue sky, or
any green grass, or even the dirt that is brown but used to
be grey and before was black, there was another color that
was never named. This color that was never named owned some
killer stock that only went up, up, up. And, anyway, (back
to the subject) this is before I was your age, and it was
told to me by your Grandfather, who always liked the color
blue . . . "
This last answer requires stamina. It must continue until
the questionee is fast asleep, dreaming the answers to the
great shared dilemmas in simple picture language.
EDITOR'S NOTE: Greg Harman is an Enterprise Reporter whose
column appears every Wednesday. He can be e-mailed at:
greg@pecos.net.
Critic's Corner
Guilt feelings can be used productively
The title of a new book gives rise to the imagination -
"Guilt is Good."
However, the subtitle, "What Working Mothers Need to Know,"
indicates what the book is specifically about.
The book is published by Parenting 101 Publications, P.O.
Box 3575, Manhattan Beach, CA. 90266. The 112-page softbound
edition sells for $14.95 plus $3.50 shipping and handling if
ordered by calling 800-699-0773 or can be ordered through
the Amazon book store link on the Pecos Enterprise web page
www.pecos.net/news or at your favorite book store.
The author, child psychologist Dr. Muriel Savikas explains
that there are more than 55 million working mothers in the
United States, many with one trait in common - GUILT about
not being good moms at home with their children and families
and GUILT about leaving their kids to be raised by others
while they go to work.
She explains in the book how working moms can identify and
use guilt feelings productively to be better parents. She
also explains how to control guilt by controlling emotions,
manage stress, build support, understand how your upbringing
affects parenting, and how to balance your career with
motherhood to be a better parent and working mom.
The book is written in a very readable fashion with
expressions we can all identify with. While it is written
with working moms in mind, it is good reading for all other
family members, including parents to be.
Dr. Savikas explains just how to make guilt work to make a
woman a better mom and not let guilt get out of hand. It is
recommended reading.
Mac McKinnon <!=============end copy===============>
---
---
Pecos Enterprise
Mac McKinnon, Publisher
Peggy McCracken, Webmaster
Division of Buckner News Alliance, Inc.
324 S. Cedar St., Pecos, TX 79772
Phone 915-445-5475, FAX 915-445-4321
e-mail news@pecos.net
Associated Press text, photo, graphic, audio and/or video material shall not be published, broadcast, rewritten for broadcast or publication or redistributed directly or indirectly in any medium.


Copyright 1998 by Pecos Enterprise
---