|
Daily Newspaper and Travel Guide for Reeves County, Trans Pecos, Big Bend of West Texas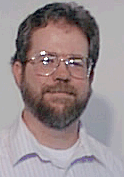 <!=================paste copy here=========>
Monday, February 9, 1998
THE WAY
I SEE IT
By Rick L. Smith
A measure of love and romance
With Valentine's Day approaching, for most of us, our
thoughts turn to love and romance. Let's take a hard look at
the statistics of love as viewed by the U.S. Census Bureau.
There are about 2.3 million marriages and 1.2 million
divorces each year in the U.S., or 6,400 marriages and 3,200
divorces every day. That does not necessarily mean that half
of all marriages end in divorce though. Many marriages
endure for the long term However, those who marry, divorce
and re-marry and get divorced multiple times skew the
statistics. I suppose they believe that practice makes
perfect.
Marriage and divorce seem to be on the decline. From 1990 to
1995 the number of marriages each year dropped by 107,000
and the number of divorces each year decreased by 13,000.
Middle aged people seem to like marriage the most. Young
people, especially men, seem to like being single. About 75
percent of those in the 35 to 54 year-old age group are
married. Among young people (18- to 24-year-olds) only about
a quarter of the women and about 15 percent of the men are
married.
For those 55 and over, the percentage falls to 53 percent
for women, but increases to 79 percent for men.
The median age for a first marriage for a woman is about 25
years while men tend to wait until they are about 27 to tie
the knot.
There are about 120 single men for every 100 unmarried women
in the 18- to 34-age group. But in the 35 to 54 group there
are 105 single women for every 100 single men. The odds
really favor men 55 and over with almost 300 single women
for every 100 available men.
Almost 14 million people age 25 to 34 have never been
married, almost a third of that age group.
Only 5.9 million of those 35 to 44 have never married, about
14 percent of the total in that group.
Of course it comes as no suprise that Nevada is the U.S.
marriage and divorce capital. Nevada has the nation's
highest marriage rate at more than 88 mariages per 1,000
population and the leading divorce rate at 8.1 divorces per
1,000 people.
What would Valentine's Day be without chocolate and flowers?
Each year 169 American chocolate companies employ about
11,000 people and ship almost $3.5 billion worth of sweets.
As if that wasn't enough chocolate, the U.S. imports more.
Canada is the largest supplier of chocolate to the U.S.,
shipping in more than $250 million worth of chocolate each
year.
There are more than 26,500 florists nationwide, employing
more than 123,600 people. Colombia supplies more than $301
million worth of cut flowers to the U.S. between January and
October, making it the largest supplier of cut flowers to
the U.S.
EDITOR'S NOTE: Rick Smith is the Pecos Enterprise City
Editor whose column appears every Monday. He can be e-mailed
at ricks@pecos.net
Critic's Corner
Cancer side effects can be controlled
If you are facing chemotherapy and/or radiation for cancer,
a registered nurse has just the prescription for you.
Marylin J. Dodd, RN, PhD, has written a guide for patients
and their families called "Managing the Side Effects of
Chemotherapy & Radiation Therapy."
Following a brief introduction, Dodd lists the possible side
effects, signs and symptons for each of 60 agents a patient
may receive in chemotherapy. Then she gives suggestions for
managing their side effects.
In part 2, Radiation Therapy, Dodd suggests ways to manage
radiation side effects.
Part 3 is a behaviors log and patient appointment worksheet.
Dodd said she got the idea for the book because more than 90
percent of cancer care is provided on an outpatient basis,
so patients and their families must learn to cope with the
effects of treatment at home.
The book suggests when to contact a physician or a nurse
about a particular symptom and includes useful nutritional
advice for patients.
To order a copy by mail, send a check for $26 per book to
USCF Nursing Press, 521 Parnassus Ave., Room N535C, San
Francisco, CA 94143-0608. To order by VISA or MasterCard,
call 415-476-4992. Also available through the Pecos
Enterprise online bookstore at
www.pecos.net/news/pages/pegpicks.htm.
Peggy McCracken <!========end copy================>
---
---
Pecos Enterprise
Mac McKinnon, Publisher
Peggy McCracken, Webmaster
Division of Buckner News Alliance, Inc.
324 S. Cedar St., Pecos, TX 79772
Phone 915-445-5475, FAX 915-445-4321
e-mail news@pecos.net
Associated Press text, photo, graphic, audio and/or video material shall not be published, broadcast, rewritten for broadcast or publication or redistributed directly or indirectly in any medium.


Copyright 1998 by Pecos Enterprise
We support
---