|
Daily Newspaper and Travel Guide for Reeves County, Trans Pecos, Big Bend of West Texas
OPINION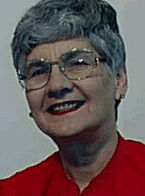 <!=====paste copy here==========================>
Tuesday, February 3, 1998
SQUARELY
PEGGED

By Peggy McCracken
Plank in critic's eye obscures clear view
Typing microfilmed Estes-era stories for our Internet
archives has transported me back in time 36 years, reminding
me of so much that was only a dim memory.
During the time that Billie Sol Estes was fighting to save
his crumbling empire and getting his name on the front page
of the local paper semi-weekly, I made the society pages as
a member of the West Park WMU's Florence Pinkston Circle.
Missionary circles have gone the way of the Estes Empire,
though for different reasons. Women who once enjoyed getting
out of the homemaking routine every week to fellowship with
other Christians now look forward to getting home after a
hard day's work and shutting out the world.
But what do we hear when we get home and turn on the TV?
Another slick talker's empire is crumbling on the loose talk
of women who apparently enjoyed socializing in a circle far
removed from mission work.
Many these days are defending President Bill Clinton with
almost the same words their predecessors defended Billie Sol
Estes. "Leave him alone and he will work his way out of
trouble." In Clinton's case, talk his way out might be a
better term.
I argued at the time that Estes was nothing but a con man
from the start, and he deserved to have his empire, built on
hot air, crumble around his ears. But I find myself wishing
people would leave our President alone so he can do the job
we elected him to do.
Political parties are supposed to watch each other and bring
to light underhanded dealings that affect the public
welfare. Is that what is really happening in our nation's
capitol? Or is the "out" party just trying to "oust" Clinton
by any means, fair or foul? I wonder if their private lives
could stand the same bright light of publicity they are
focusing on the White House Oval Office.
I didn't vote for Clinton, and I don't know anyone who will
admit to it. But someone must have voted for him, or he
wouldn't now occupy the highest office in the land - and in
the world, for that matter.
Maybe now would be a good time to re-examine that act of
Jesus in refusing to condemn the woman caught in the very
act of adultery. "Let him who is without sin first cast the
stone at her."
It's no wonder we get so many self-serving people in public
office. What upstanding citizen wants to subject himself to
such scrutiny - and downright persecution - to serve his
nation?
Remember Jimmy Carter? He merely confessed that he had
committed adultery as described in Matt. 5:28 "But I tell
you that anyone who looks at a woman lustfully has already
committed adultery with her in his heart." He was almost
lynched for that.
"Do not judge, or you too will be judged...Why do you look
at the speck of sawdust in your brother's eye and pay no
attention to the plank in your own?"
Matt. 7:1,3 NIV.
Our View
Chamber banquet a success
The annual Pecos Chamber of Commerce banquet Friday night
was a rousing success with almost 300 people in attendance
in spite of many other activities going on in town.
All those involved in planning and putting on the banquet
are to be congratulated. The Reeves County Sheriff's Possee
prepared a delicious meal, Pecos Ambassadors greeted those
coming to the banquet and the Women's Division of the
Chamber was in charge of a very unique decorating scheme.
Many local businesses contributed items to decorate tables,
items that people attending could take home.
The speaker, State Rep. Pete Gallego of Alpine, gave an
inspirational speech on community involvement as did
outgoing Chamber President Paul Hinojos and incoming
President Richard Crider.
Hinojos and Crider are both well known for the "can-do"
attitude and the activities reviewed from the past year by
Hinojos showed that the chamber is busy and Crider's plans
for the coming year revealed that the chamber will be busy
again this year.
Although there was a great crowd, it could have been even
better as there were segments of our community that were not
represented. The Chamber represents our entire community and
we need to all be involved to get things done. This work
can't be left up to others.
Financial Focus
Be responsible with your 401K plan
By JIM BOB McNEIL
FINANCIAL ADVISOR
The 401(k): It might sound like a top-secret code name, but
in fact, it's one of the most popular and well-known ways to
save for retirement.
With 401(k) plans, wage earners can contribute before-tax
dollars to a retirement account. Employers like 401(k) plans
because they're not subject to many of the federal
regulations and penalties imposed on traditional retirement
plans. Employees like 401(k)s because they provide more
investment flexibility.
Along with flexibility, however, comes responsibility.
Employees - many of whom have limited investing experience -
face important decisions with their 401(k) plans.
One of the biggest mistakes individuals make with 401 (k)
plans is treating them like short-term trading vehicles.
Because of 401(k)s' tax-sheltered status, some individuals
use them in an attempt to jump out of equities at the top of
the market and hop back in at the bottom. Professionals call
it market timing but know it's almost impossible to do.
Besides, market timing is a technique based on short-term
expectations - yet the objective of 401(k) investing is
retirement. That alone indicates a long term focus.
It's also important to remember that your 401(k) is only
part of your portfolio. As such, it should be included in
your overall investment plan when considering the proper
allocation of assets. A balanced portfolio includes a mix of
equities, bonds and money market funds. Some of these
investments are more appropriate for 401(k) plans than
others.
For example, growth stocks, equity mutual funds and
corporate bonds that can add capital gains and income to a
portfolio are typical investments to shelter within a
401(k). Cash investments such as money market funds and CDs
can better serve you outside a 401(k). These are
shorter-term vehicles that allow you to withdraw cash for
emergencies or other needs.
While 401(k) plans are not designed for short-term needs,
some plans allow employees to borrow from their 401(k)s.
Before you make such a move, be sure you understand the true
cost of doing so.
When it comes to saving for retirement, 401(k) plans are one
of the best deals going. They offer flexibility and choices,
but it's important to be well informed and responsible in
making those choices. <!==========end copy==================>
---
---
Pecos Enterprise
Mac McKinnon, Publisher
Peggy McCracken, Webmaster
Division of Buckner News Alliance, Inc.
324 S. Cedar St., Pecos, TX 79772
Phone 915-445-5475, FAX 915-445-4321
e-mail news@pecos.net
Associated Press text, photo, graphic, audio and/or video material shall not be published, broadcast, rewritten for broadcast or publication or redistributed directly or indirectly in any medium.


Copyright 1997 by Pecos Enterprise
We support
---