|
Daily Newspaper and Travel Guide for Reeves County, Trans Pecos, Big Bend of West Texas
OPINION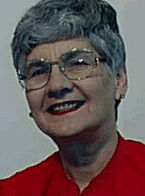 <!=====paste copy here==========================>
Opinion
Tuesday, January 27, 1998
SQUARELY
PEGGED

By Peggy McCracken
A good book follows hard outside work
Weather so warm it has made some fruit trees blossom drew me
outside to work on my tractor the past two weeks. Boy, was
it fun!
You can't appreciate hard work until you've been cooped up
inside with a job that exercises nothing but the brain. It's
such a relief to stretch and bend, lift and hammer after
staring at a computer screen all day.
My tractor mower has been ailing for quite some time. Only
the middle of three rotor blades was turning. That cuts a
pretty good-sized swath, but it's impossible to get up next
to the fence or a curb that way. So, finishing up my mowing
for the winter by cutting all the tall salt grass on my
south 40, I parked the tractor and set to work.
First I took off the mower, which is attached underneath the
tractor's midsection. That was fairly easy: I always enjoyed
taking things apart. Then I turned it over and found no
problem with the blades. It was fairly obvious that the belt
was broken, which meant I had to take off several screws to
remove the cover. Some of the rusty screws came right out,
while others broke off. And one refused to budge, so I cut
around it with a chisel.
Sure enough, the belt was broken. The reason for it was
pretty obvious when I found the compartment stuffed with
dirt and grass that was pulled in through a rusted-out hole
in the deck.
Laying that project aside, I turned to repairing the scraper
so I could grade my roads (aka walking track). A thin piece
of metal on the front-end lift had torn, which left one side
of the blade dragging the ground. Rather than hunt up
someone to weld it back together for what I figured would be
a short life, I jerry-rigged it by replacing the short
trunion pin with an 8-inch hitch pin that would go all the
way through the torn part and halfway through the lift bar.
Forgetting that I had run out of gas as I finished up the
last mowing, I ran down the battery trying to start the
tractor, so had to recharge it before I could test out my
invention. That took the rest of the weekend. Monday I was
out of town, and when I got back Tuesday I was so exhausted
I went straight to bed and slept 12 hours. Wednesday was
church night.
Thursday after supper I hooked the compressor up to the two
front tires to air them up, since they go flat in a few
hours. Then crank, crank, rrrrrrrr! The motor caught right
away and I was in business. Backing up off the jack I leave
under the front axle to keep the flat tires from cracking, I
got it hung up in the scraper. Tried to raise the scraper,
but the lift wouldn't work. Got it out, finally, and headed
for the road. Fortunately, the lift was set at just the
right height to drag the roads, and I went around and
around, digging out clumps of grass that were encroaching on
my trail.
My, what satisfaction. By this time, I am relaxed and
good-tired enough to sit in my recliner and read "Lonesome
Dove" until bedtime.
"The sleep of a laborer is sweet.." Eccl. 5:12a, NIV
EDITOR'S NOTE: Peggy McCracken is an Enterprise writer and
webmaster whose column appears each Tuesday. Her e-mail
addrress is news@pecos.net. <!==========end copy==================>
---
---
Pecos Enterprise
Mac McKinnon, Publisher
Peggy McCracken, Webmaster
Division of Buckner News Alliance, Inc.
324 S. Cedar St., Pecos, TX 79772
Phone 915-445-5475, FAX 915-445-4321
e-mail news@pecos.net
Associated Press text, photo, graphic, audio and/or video material shall not be published, broadcast, rewritten for broadcast or publication or redistributed directly or indirectly in any medium.


Copyright 1997 by Pecos Enterprise
We support
---